Comms Business reports from FCS Comex 2023.

FCS Comex was the first event that encompasses all areas of the Federation of Communication Services (FCS) community, with attendees ranging from communication service providers, through to installers and those who work in business radio.
Held at the Telford International Centre in Mid-October, the event featured keynote speeches, panel discussions, networking opportunities, workshops and training sessions, an exhibition and the FCS Comex Gala Dinner.
The packed conference programme kicked off with a welcome from David Alldritt, chair of the FCS (pictured below). Alldritt discussed the convergence that he is seeing at the infrastructure layer as we move towards all-IP.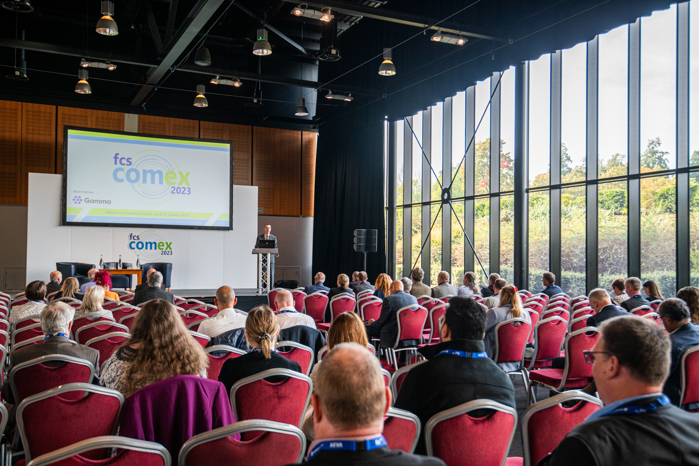 Alldritt said, "There is no doubt that the evolution of comms technology continues to move very rapidly. Perhaps one consistent theme of the last 20 years has been that of convergence. And we've heard of convergence in many different ways – from voice and data convergence to fixed mobile convergence – with separate pillars starting to come together. The next generations of full fibre and mobile connectivity will revolutionise our world.
"FCS members have been and will continue to be at the forefront of taking those technologies to market and delivering practical solutions for end-user customers. Those solutions are entirely dependent on high-quality and robust connectivity which is driving a new convergence at the infrastructure layer to support all-IP networks. Therefore, there has never been a better time to bring the different communities of business radio and communications service providers together into one event."
Next, a panel with Andy Rawnsley, chief architect, Gamma (pictured below, right), and Richard Russell, senior business development manager, Tait Communications (pictured below, centre) and Itret Latif, CEO, FCS (pictured below, left), examined infrastructure convergence in an all-IP world. The three participants discussed how fibre, wireless and 5G will coexist.
Latif asked, "How important is it for the FCS community to start understanding IP and the different types of infrastructure that is available?"
Russell responded, "From a business radio perspective there is a high degree of knowledge about that already because a lot of the systems that have been around for some time have moved towards IP connectivity, certainly with major manufacturers that have adopted that technology. [The adoption ranges from] systems-level down or from a systems-up approach, a lot of radio RF people have had to learn IP technology.
"And vice versa as well, there are a lot of IP savvy engineers who have had to use knowledge of radio communications. There is still further work to do, and the FCS can help with that and support training on this. Ultimately, recognising this as an industry skill is essential."
Rawnsley raised the topic of redundancy for copper alternatives. "The key here is you're losing your dedicated copper path and you're replacing it with something that is very likely access to a shared resource in terms of packet transmission onwards.
"That says to me you need to have some kind of surveillance and monitoring to detect when that path is impaired so you can establish an alternative path, perhaps via a 4G or 5G modem. But that comes at a cost and requires integration. This is where solution providers could start to deliver connectivity services that meet the needs of niche requirements."
One Touch Switch
Next, Megan Corcoran, head of industry liaison, FCS (pictured main image above, centre), led a panel discussion on gaining provider-led switching for business.
Lee Turner, head of industry engagement and regulatory affairs, FCS, discussed the 'One Touch Switch' process, where customers will only need to contact their new broadband provider to switch, and won't need to speak to their current provider before making the move.
This applies to all home broadband users, including cable and full fibre customers, but often residential customers are not separated from business customers. This means users can switch between different networks or technologies – for example, from a provider using the Openreach network to one using CityFibre's, or from Virgin Media to Hyperoptic – and requires industry collaboration.
Turner said, "There are several thousand business providers out there. How are you going to get consistency around processes and design? And that's why we formed the Gaining Provider Led (GPL) Business Steering Group. What we currently have is notification of transfer, and that's been in place since 2015 on the Openreach network.
"In its simplest form, all it does is it tells you to write 'sorry to see you go' letters to your customers. And if the customer comes back to you and says 'I'm not going' there are processes in place to stop that switch happening.
"That functionality is coming out to other networks, but the problem we have for business providers is Openreach can't differentiate between a business line and a residential line. It falls upon the retailer to follow the GPL process."
The rise of tech giants
Elsewhere, Lucy Green, CEO of Larato, chaired a panel examining the threats and opportunities for the Channel created by hyperscalers such as Microsoft, AWS and Google. Dave Reynolds, managing director, Xelion UK, Dave Williams, group commercial director, Gamma, and Dale Parkinson, managing director, connectivity, Giacom, shared their thoughts.
Parkinson said, "Microsoft, AWS and Google – and there are others – are now very prevalent. Microsoft has, since 2020, taken 17 million of the 84 million global UC users. Just to reflect on that for a second, that is 20 per cent market share in three years. These are hugely powerful global businesses and our view is that you need to think through which of these houses you want to align with.
"We have aligned ourselves very strongly with Microsoft. They are, as far as we are concerned, best in breed at this right now. And, as the UK's biggest Microsoft distributor, we feel that having that breadth of service from legacy comms products through the all-IP suite and into cloud is a very important service offering that we can give the Channel."
Williams added the hyperscalers and cloud adoption are important, but opening the conversation around the PSTN withdrawal and the move to all-IP could be a better tactic.
He said, "If you take the things small businesses ought to be concerned about and should be thinking about right now, I would put the WLR withdrawal ahead of how they might improve their Microsoft estate.
"There is a keep the lights on moment the industry needs to get across, and then there will be an opportunity for growth that comes from having that conversation and being that advisor to end customers. That's where the Channel can add its value."
Fit To Switch
Another highlight was a session on the move to all-IP, with discussion from James Lilley, director for all-IP, Openreach, Martin White, product manager, voice services, Giacom, David Halliday, from the office of telecommunications adjudicator, Sara Sheikh, head of product management, Gamma, and Chris Pateman, consultant editor, Comms Business.
Sheikh highlighted the difficulties Gamma and other CPs face in the absence of either a national government-led campaign or a wide-reaching Openreach advertising campaign.
She said, "As a CP, one of the issues we have is: it is very hard to do a campaign out to end-customers because often we are not dealing with end-customers directly. Gamma is quite hidden, we sit behind the scenes, and CPs don't always have a direct relationship with the end-customer.
"And, even if a CP does have that direct relationship, it's really hard to have a communication message that doesn't end up sounding like a hard sell. Having a national campaign would add to our message and give us legitimacy."
She explained she understood Openreach's hesitancy to commence a national campaign at this stage, with legitimate reasons why that might not be the best course of action. Some CPs, for example, are concerned about attracting a large and unmanageable volume of customer queries.
But Sheikh concluded, "It is complicated, there are quite a few changes going on and it's confusing. Having a consistent story out to end customers would be a difficult story to tell – but that doesn't mean we shouldn't tell it. When you have such a big change, one of the most important things you need to get right is communication. The communication needs to be clear and it needs to be consistent.
"At the moment, my sentiment is: communication is happening, but it's happening all over the place in different ways. There's not a level of consistency and that's why you're getting these pockets of people who are just not aware of what is coming."
White, from Giacom, added channel companies can prepare for the switch-off with with an "analysis of the 4 As". He explained, "Analyse your assets: what is your estate? Is it PSTN? Is it broadband? Acknowledge what's on the line: have you got an alarm line? Telecare? Broadband? Arrange and prepare for migration: get customer communications out, let them know what's happening every step of the way, and keep that communications line open.
"Adhere to the best practice guidelines: we've developed these using our own experience alongside Openreach advice, as well as a partner pack that allows partners to fully understand what they can do in regards to the switch-off. And this is updated on a quarterly basis so hopefully it's super simple for the general user. Then we also have a kit bag to further support customer migrations."
Pateman, from Comms Business, emphasised why the Fit To Switch campaign can help. He said, "British business is still woefully ignorant. And one of the reasons is that, whilst within this room we might be comfortable with what's happening, most businesses haven't got a scooby about the telecommunications infrastructure they're using. They probably think about it slightly less than they do about the water or the electricity they are using. They think about it as a utility.
"They may well have looked very closely at things like the switchboard during Covid. Many businesses at that time simply would have gone bust if we hadn't of provisioned excellent good-quality all-IP frontends for them so we could hunt incoming calls and forward them to mobile phones for remote workers. That isn't the problem.
"The problem is: sitting in a cupboard somewhere is a little automatic dialer that is still hardwired into that copper network. Very often, this isn't perceived as part of the comms estate. It's just something a third-party provides and, as far as businesses are concerned, it is quite invisible. And they haven't had to think about it. Even in a power-cut it kept on working.
"Now it won't and we need to know how many of them there are and how to reach them. And it's really hard for comms providers to raise awareness on their own – at least without businesses thinking they're trying to flog them something. Fit To Switch will talk directly to those businesses to raise that awareness."