Daisy Partner Business got its partner community together to spotlight shared objectives and growth opportunities. Comms Business reports from the event

Last month, Daisy Partner Business brought its partners together in the Midlands for Partner Business Live. The event focused on the digital gold rush and spotlighted the ways in which the company is working with its partners to achieve joint success in a changing marketplace.
Julien Parven, director, Daisy Partner Business, kicked proceedings off with a deep dive into how the company is progressing, as well as an overview of the market trends he and Daisy are seeing. He said a digital gold rush is underway, and partners need to move quickly to capitalise on these opportunities.
Parven explained, "The digital gold rush is not just about the PSTN switch off. That is a part of it, but we are at a moment in time where we are seeing a collision of forces. The retirement of the WLR copper network is underway, and it's not just happening in December 2025 – we're not sitting here with a two-year window – the switch-off is here and now.
"In September this year, the nationwide stop-sell programme will ramp up. We have to be preparing ourselves and your businesses to guide your customers on a strategic digital transformation journey.
"We also have the sunsetting of 2G and 3G mobile networks, and that is a huge opportunity to unlock potential that hasn't previously been possible because of technical constraints. And then we've also got a huge groundswell of customer movement towards cloud computing.
"Cloud is the future, and it runs across the entire spectrum of what we do and what we engage customers with. We've got demand from customers to help them be more in control of their business. They want to understand what is going on within their business better. These forces colliding is creating massive uncertainty and confusion on one hand, but massive opportunity on the other."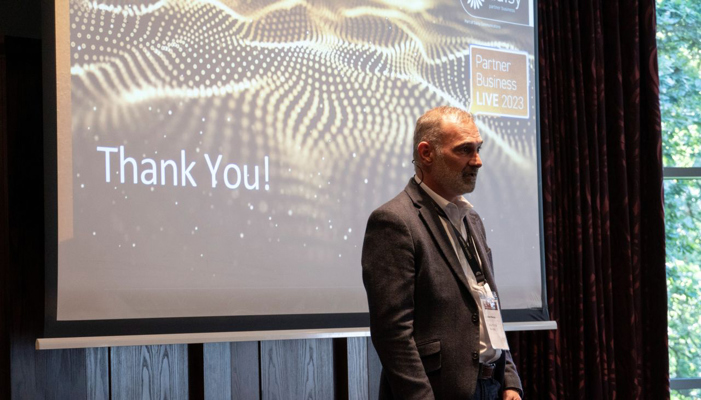 Long-term solutions
Elsewhere, Daisy Partner Business' vendor partners took part in a panel session, hosted by Comms Business, discussing the new possibilities for their solutions in this new era of improved connectivity.
Participants in the panel were Mark Boden, channel director for the North at Gamma, Will Taylor, senior account manager at Bytes, Gary Brown, senior channel account manager at Webfleet and David Mitchell, business development director at Pangea.
Boden, from Gamma, said, "The opportunity in this room is to give businesses long-term solutions that offer all the tools employees need to either work remotely or in a hybrid workspace. The opportunity is here and now and, if you're not offering your customers the right technologies, look to the left and right of you – because someone else will."
Taylor, from Bytes, added that new technologies were quickly adopted during the pandemic, but the solutions chosen then aren't necessarily the best fit for those businesses in the long-term.
He explained, "The biggest opportunity is that typically our customers are not necessarily au fait with the new software and technologies that are now available to them. It's our job to guide them on best practices and how to deploy these solutions."
There was also plenty of insights from speakers including Sean Clarke, associate coach from Smarter Not Harder, as well as networking and a celebration of shared successes with the event concluding with partner awards.
Clarke, from Smarter Not Harder, pinpointed a few techniques that can help manage the capacity gap that can prevent businesspeople from reaching new heights.
He used the example of the last working day before annual leave, where people are often at their most productive due to: the speeding up of decision-making, effective delegation, the need to decisively close loops, and the reward mechanism giving you the momentum to power through your to-do list.
Collectively winning
Daisy Partner Business said collaboration is at the core of its values, and this event emphasised the indispensable role its partners play in its success.
Parven highlighted the opportunities that are within reach of every partner and explained the importance of focusing on delivering a good service. He said, "If we can't serve, we can't sell. We haven't earned the right to sell to customers if we can't provide the right level of service, because satisfaction comes down to service.
"So, what's next? We've got a path ahead of us and we're on a journey. But we believe we can collectively win in this race because of the partners and vendors that we have with us."