What should we expect on the journey to the UK's gigabit future? Comms Business reports from Connected Britain 2023.

In mid-September, the UK's connectivity leaders from across the public and private sector gathered at Connected Britain to reflect on the progress made to connectivity upgrades and discuss where the focus should now be. The busy event moved this year to London's ExCeL, giving a new feel to the two-day conference and exhibition.
The keynote programme opened with individual interviews and presentations followed by a panel debate. Karen Egan, senior telecoms analyst at Enders Analysis, spoke to Andrea Donà, chief network officer, Vodafone, Howard Watson, chief security and networks officer, BT, Phil Siveter, chief executive officer, UK and Ireland, Nokia, about industry challenges (pictured below) including network build progress, network switch off preparations, inflationary pressure and price increases amidst the cost-of-living crisis.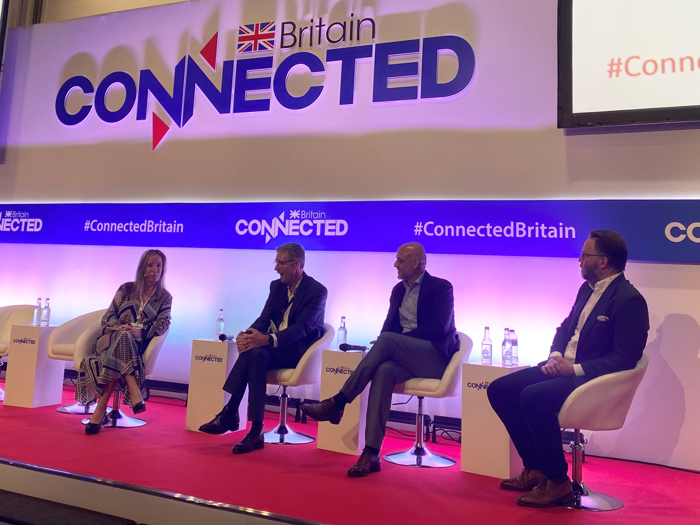 First up, Watson discussed a number of challenges facing BT, in particular in preparing for the switch off of the PSTN, scheduled for 2025. He said, "We know that this is a difficult migration, but the important message is that the landline is not going away. For most customers, it's a seamless unplug it from your NTE5A plug it into the back of your broadband router.
"We are working hard with the digital voice advisory group, which is set up by people that represent vulnerable people in our society and also charities, and we're now starting again on the back of some successful trials to push regional rollout again."
Watson emphasised his view on why the switch off needs to happen. He said, "The reason we have to do this – and let me be very clear – is because the infrastructure behind the PSTN is well over 30 years old. In the summer, it fails on a regular basis, and it is hard to keep it running for customers.
"There is limited life left in that infrastructure and therefore we have to do this analogue to digital migration."
Egan then raised the topic of the debate about the split between BT and Openreach, which she said had come to the fore again. Watson questioned whether that debate had come to the fore again.
He added, "We don't spend any time focusing on plans to split Openreach. We think that the record on the fibre rollout over the last few years and Ofcom's Wholesale Fixed Telecoms Market Review demonstrates that Openreach is very separate from BT Retail. From a BT Group and a BT Group shareholder perspective, there is no intent to separate."
Donà discussed Vodafone's perspective on its planned merger with Three and reiterated the company's belief that the CMA should not intervene. He also talked through how the company navigating the cost-of-living crisis.
Donà explained, "No one takes increasing customer pricing lightly. We take it very seriously we have to do it in a responsible way. We have to safeguard the most vulnerable in society, such as families on social benefits. We have introduced social tariffs to help with that.
"But at the same time we have to be realistic that in the current climate, with the cost-of-living crisis and the cost of investing in our network, we had to take the decision to increase prices. They are just a reflection of the increase in costs that we incurred to continue expanding our network and providing a service to customers."
Donà added that criticism of rising prices can unfairly focus on network services. He said, "If you look at the impact, [our price increases equate to] 80p per week and, if you look at the ONS data, connectivity only contributes to 2 per cent of the inflationary pressure today felt by families in the UK. 27 per cent, as a comparison, comes from household services including energy.
"While we had to make that difficult decision, we did it in a responsible way and it is a reflection of our reality. Any help to change our reality would be welcome."
Fibre investment
Later in the morning, Scott Appleton, principal, strategy, Cartesian moderated a panel session (pictured below) looking at the changing investment landscape for the fibre market.
The panelists were Peter Bachmann, managing director, sustainable infrastructure, Gresham House, Benjamin Weland, managing director, head of healthcare and TMT, Lloyds Banking Group, Oliver Bradley, managing director, digital infrastructure investing, Macquarie Capital, Rafał Bortnik, business development manager, Comarch, and Philippe Vanhille, executive vice president, telecoms, Prysmian Group.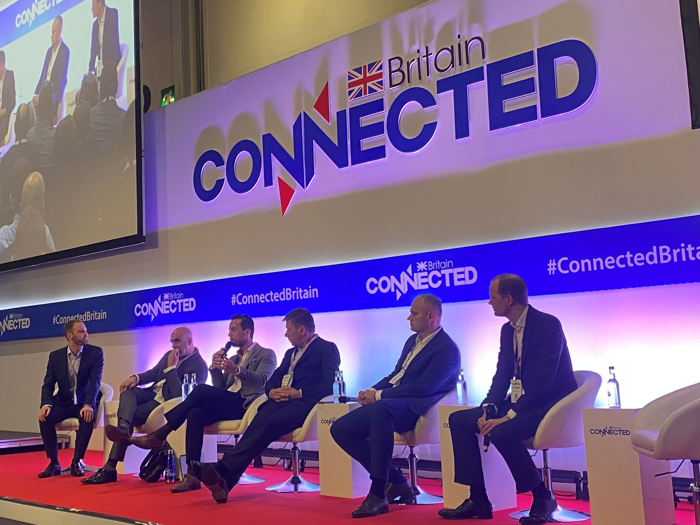 Bachmann cautioned that the environment has changed, but the telecoms sector can still outperform other sectors. He said, "The biggest thing that has changed is the magic money tree has stopped shaking. We had almost a decade of almost-free money. And that has driven a lot of capital to come into the market.
"Base rates have gone up so what we're seeing now is a rebate in the market. What is good for our sector is that we can ultimately generate still attractive returns in this new environment whereas there are other sectors that can't."
Vanhille added that time will ultimately show the result as the unique elements of the UK market, with its large altnet community, make it "difficult to assess from a global perspective".
Inevitable consolidation
Elsewhere, a panel session moderated by Matthew Howett, founder and CEO of Assembly Research, discussed where the UK fibre market is headed (pictured below).
The participants were Clive Selley, CEO, Openreach, Greg Mesch, CEO, CityFibre, Dana Tobak, founder and CEO, Hyperoptic, Daren Baythorpe, CEO, ITS, and Martyn Taylor, chief commercial officer, Building Digital UK (BDUK), the government body set up to deliver Project Gigabit.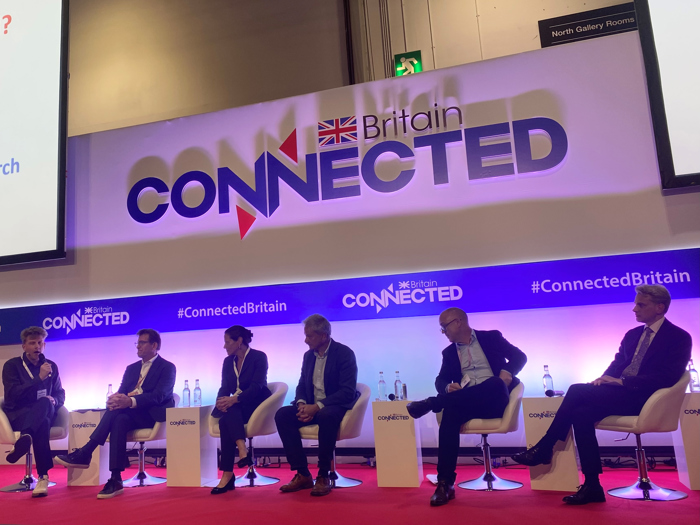 There was a lively discussion about the definitions behind key delivery metrics such as homes passed and ready for service, with all participants agreeing customers should be able to quickly access services if their location is marked as being able to access full fibre.
Baythorpe said ITS runs the largest business-to-business (b2b) fibre network in the UK, covering 25 per cent of the UK's commercial business premises with plans for that to rise to 35 per cent in the next year. He pointed out how the channel will help plot the UK's fibre future and also explained that altnets have always been seen as critical in making Gigabit Britain a reality, but the market is now forcing construction businesses to become customer-led businesses due to the focus shifting from homes passed to active connections.
Baythorpe explained, "It is now the age of connections and giving returns to investors. This, for me, is about having the right propositions for the marketplace, a world-class delivery model, a seamless customer engagement model from both a people and digital perspective."
In this environment, Baythorpe said market consolidation is "inevitable". He added, "The market is rife with rumours: Sky is acquiring TalkTalk Business Direct, Vodafone is merging with Three, CityFibre is eyeing a couple of businesses. The reality in my view is that stage one [of market consolidation] is happening now. Stage two is beginning and will ramp up in 2024 to 2025.
"By 2030, this room will look a lot different. The smartest thing for company value is to decide where you are, where you want to be, and understand your position."
PSTN caution
Sophie James, head of telecoms and spectrum policy, techUK, spoke to three connectivity leaders about the challenges in their nation or region.
Theo Blackwell MBE, chief digital officer for London, Greater London Authority, Ceren Clulow, programme director for Connecting Cambridgeshire, Cambridgeshire County Council, and Robbie McGhee, deputy director, digital connectivity, Scottish Government (pictured below), shared their perspectives on the challenges they are facing in ensuring their citizens can benefit from the best connectivity and digital services.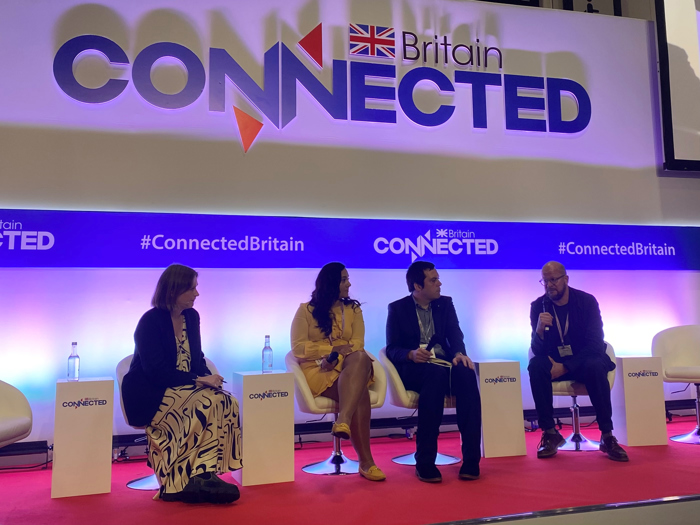 In answer to a question on the upcoming general election, which will be held no later than January 2025, Blackwell said the government at that time will be facing a challenge with the PSTN switch off at that point just months away. The issue, Blackwall argued, is not getting the national profile required and local authorities require funding to ensure the transition can be smooth for citizens.
He said, "The costs that are coming in at the local authority level are very high as they need to replace all telecare for older people and the way it is being done, with communications providers contacting an older person about switching off their telecare, is pretty insane. This is an example of not thinking long-term from the government. Whoever comes in will face that in their inbox because it's happening now and is scheduled to be ended by 2025.
"Just to give you an example, one local authority in London is citing costs of £8 million just to deal with [upgrading telecare]. And more and more problems are being thrown up each day. It hasn't got the national profile it deserves, and I think there are going to be some really bad case studies of actual people coming out of this. There are issues like this that are well into the long grass now."