What innovative connectivity projects are happening across the North? Comms Business reports from Connected North and brings you the highlights from the event.

Connected North returned to Manchester Central last month, with the North's infrastructure progress and transformative connectivity projects firmly in the spotlight.
Brian Potterill, director of mobile network strategy, Ofcom, opened the conference programme with an overview of Ofcom's role as a competition regulator in telecoms. He also highlighted the importance of competition in delivering benefits to society, as well as level-headed thoughts on the limits of competition.
Potterill explained, "In telecoms, the three important things we get from competition is innovation, and that comes through in the challenge of lowering costs and developing new revenue opportunities. Investment to improve the service quality – if you don't invest to improve services, your competitors will, and you will miss out. And then, delivering value for money. You are always competing on price to make sure customers don't go somewhere else. Those three factors are important outcomes to competition."
He mentioned the regulator's ongoing assessment into Equinox 2, a proposed pricing offer for full fibre broadband from Openreach. This proved to be a salient point, with Equinox 2 coming up in panels and keynotes throughout the event.
Potterill said, "You will hear people talking this week about Equinox 2. This is Openreach's terminology for a pricing offer that it has [proposed] put[ting] into the market. We have allowed Openreach a degree of pricing flexibility on many of its services. We set the price of its 40 Mbps service, but it has some flexibility on others.
"We were concerned when we did that that Openreach could exploit that flexibility to set prices in a way that could be described as loyalty inducing. They could leverage loyalty from their customers in a way that would stop ISPs buying from competitors.
"Equinox 2 is going through the regulatory process at the moment, and it is a matter of quite a lot of contention between Openreach on one side and competing networks on the other. The important thing for us is making sure that the level playing field works and delivers for everyone."
Potterill (pictured below) also discussed the potential need to address challenges to competition that could be presented by handset manufacturers.
He said, "In a world without any switching between Apple and Android, there is tremendous scope for all of the market power to shift. That would suck the value out of the mobile operators, reducing their ability to monetise their investments into innovation. That is a particular challenge for the mobile industry going forward.
"It's not as straightforward as operators competing against operators. They are also competing against their customers and providers that work in tandem with them – both downstream with the likes of Apple and upstream with some of the cloud providers. That is a particular challenge for mobile going forward that we need to think about."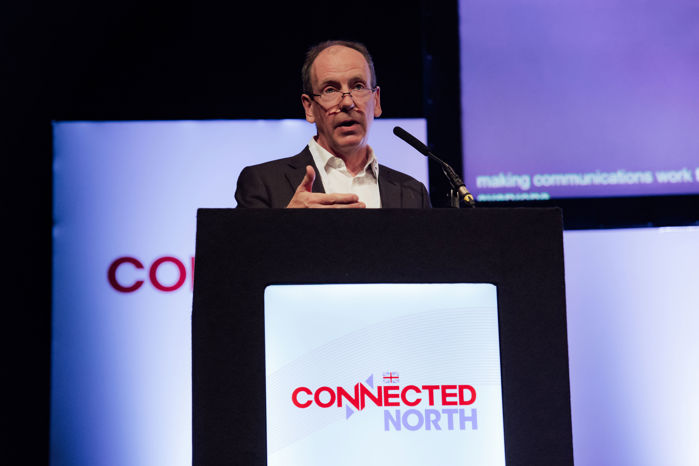 Private and public collaboration
Next up, Daren Baythorpe, CEO, ITS Technology Group (pictured below), highlighted the importance of collaboration.
He said, "A key element that underpins our approach is collaboration. We are holding this conference in a city built on partnerships and a vision of a cooperative society, and the North of England epitomises that word too. A great example of how the private and public sectors can work together is the Cooperative Network Infrastructure, commonly known as CNI.
"This originated in Tameside and in Blackpool, and it now operates in other areas of the UK. We are one of the founding members of this venture and today we sit on the board. And we are really proud of our leadership in this space.
"The CNI brings public and private interests together, reusing public assets and further investing together in creating fibre networks. Today the membership includes Manchester City Council, Greater Manchester Combined Authority, Tameside Council, Blackpool Council, Lancaster Council, as well as many other public sector bodies.
"We welcomed our latest member to this venture, Neos Networks, just last week. ITS has helped pave the way in the private sector in making this venture work, and we hope this collaboration continues."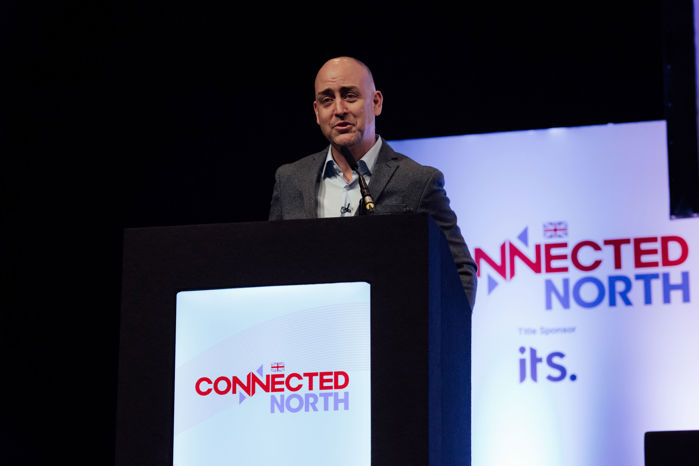 Levelling Up
Next was a panel discussing Levelling Up (main image, above), with insight into whether we are making inroads on the Project Gigabit agenda in the North, chaired by Karen Egan, senior telecoms analyst at Enders Analysis.
The panellists were Conal Henry, founder and chair, Fibrus, Matt Tully, director of fibre upgrade, Virgin Media O2, Rob Hamlin, chief strategy officer, CityFibre, Daren Baythorpe, chief executive officer, ITS Technology Group, Matthew Hemmings, managing director of fibre and network delivery, Openreach, Martyn Taylor, chief commercial officer, Building Digital UK (BDUK).
Hamlin referred back to Potterill's discussion of Equinox 2. He said, "It is positive to see Ofcom taking seriously some of the issues to protect and nurture competition in the market. Competition in the market is driving forward investment and consumer uptake in fibre.
"It is critical that continues, so we're really pleased to see Ofcom looking very seriously at the Equinox discount, and taking more time to consider that. [In addition, Ofcom is] also moving to consider issues which have been important for some time in terms of fibre advertising and fibre terminology advertising standards. So I think it is a positive time for the industry."
Tully highlighted the importance of offering all customers the broadband access they need, with resiliency and reliability core to Virgin Media O2's strategy. He said, "Our job as utility providers is to provide this country with an always-on network. The fibre rollout will help with future reliability but for today's customers, we need them to get what they pay for all of the time.
"It is the same with the mobile rollout, 5G is coming but it is also important to make sure those using 4G get exactly what they are paying for. We are investing massively in [ensuring our networks can meet] capacity."
Taylor gave an update on BDUK's role working with suppliers and communities to ensure that people can access fast and reliable digital connectivity.
He said, "There has been really good progress on Project Gigabit, and we are very excited to have a number of contracts in place. We have 27 procurements either complete or currently running, which is well over half the pipeline of the £3 billion that has been committed so far and covers 750,000 premises."
Taylor explained there has been "healthy and managed competition" across all procurements. He added BDUK has also seen good results in areas where projects have begun. He said, "We are seeing a high level of coverage in contracts than we initially expected, so we are seeing fewer areas that will have gaps [that will affect the targets we are aiming to reach]."
Later in the session, Hemmings, from Openreach, responded to a question from the audience regarding Equinox 2. He explained, "We agree with Ofcom's initial response. It's not anti-competitive. It is right that Ofcom takes the time to reflect on the responses and information it has received, and we await the outcome of that.
"For us, this is a direct response to our wholesale customers asking us for better pricing and, ultimately, we think better pricing is good for UK plc."
Ingredients for growth
A keynote from Bev Craig, leader of Manchester City Council, followed, with Craig reflecting on the work being done across Manchester to transform it into a world-leading digital city.
She said, "Manchester was the home of the industrial revolution but was in steep decline in the 80s and 90s, struggling in the post-industrialised world. Compare that to the city now. It is a city reborn, with a strong economy and a growing population. It is a city on a mission for inclusive economic growth. A city that lifts everyone together and leaves no one behind."
Craig (pictured below) discussed how the city has strengthened its economy. She said, "It has been one of intentionality. It came from design and ambition, not by accident. That is why we are able to say Manchester is the fastest-growing tech city in Europe.
"Our digital economy is worth over £5 billion each year and employs 88,000 people. It is home to over 10,000 digital or tech businesses that range from nationally and internationally recognised brands, through to small-scale startups and entrepreneurs."
She said four key ingredients enabled the city to deliver this growth: intentionality, collaboration, talent and people, and infrastructure.
On that second point of collaboration, Craig said, "If we don't tap into the business expertise in our cities and city regions, we don't truly unlock the growth and innovation that we can all achieve."
This is the space in which the Channel can thrive, with resellers and MSPs providing local technology expertise within regions, so the UK can meaningfully reach its digital ambitions.