Cisco has made several announcements at its annual partner summit that opened yesterday and finishes today. This included the unveiling of a new, simplified partner programme and digital partner experience platform. In addition, the company debuted new features – for its security, cloud and data center platforms – aimed at delivering new levels of agility, simplicity, and resilience.

Cisco, like many organisations during this time, is holding its 25th annual partner summit digitally for the first time. Whilst there are of course numerous advantages to holding such events in person, the business has seen some benefits to this revised approach.
Elisabeth de Dobbeleer (pictured below), vice president and EMEAR partner lead at Cisco, explained, "With the in-person experience we have about 2,100 attendees, but now we'll be able to connect with close to 15,000 partners all across the globe. Our reach, our messaging and our connection with our partner community is bigger than ever before thanks to this digital platform.
"It's also special, because we're all in quite special circumstances with the global pandemic, and Covid-19 is hitting all of us in rather unexpected ways, whether it's at a very personal level, or in our professional and business life as well.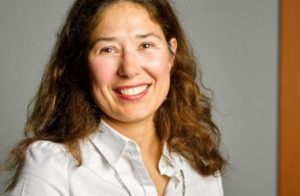 "As we're facing this crisis and we're trying to address critical needs in society, whether it's healthcare or government, the scale and the speed with which we can respond and react to things with our partners is amazing. I think that – more than ever – our bond and partnership with our ecosystem and our partners is really critical. This may be the most important partner summit we've ever done."
De Dobbeleer explained that the company's new product features and revised partner programme address changing business needs. "Pre-Covid, people were thinking about how to deal with efficiency – efficiency of workforce, supply chains, sourcing, outsourcing, and the like. Now we're very much talking about resiliency [and] how we cope with agile and fast-changing circumstances. As [businesses are] doing that, they really need IT.
"One of our customers said to us a couple of months ago, this is probably the defining moment of IT. More than ever, our partners are the bridge between what we as a technology vendor have to offer, and what our customers need in terms of that business resiliency, and agile IT. They are looking to us to help them as trusted advisors in addressing these challenges."
De Dobbeleer pointed to Cisco's updated partner programme as one way the company is evolving in line with what's happening in the world. She said, "Our partner programmes have existed in a very robust, differentiated way for over 10 years but we needed a big overhaul in two ways. One is very much [about] simplifying. We've been simplifying over a dozen different partner programmes into four key buckets." Those buckets are shown in the below illustration.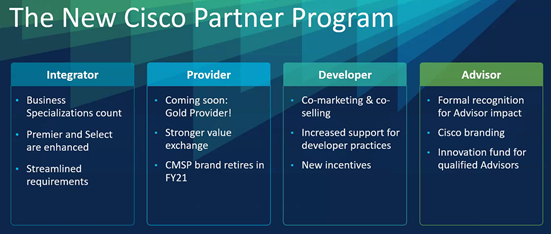 De Dobbeleer continued, "The other is about reflecting trends and shifts in the market in terms of how our partners are showing up and how we at Cisco are working with different types of partners to ultimately address customer needs.
"Cisco wants to double down and accelerate our focus on enabling partner-led managed services. The programme that was formerly known as CMSP, or Cisco Managed Services Program, will retire this year and we will replace it by this 'providers' [programme]. We're going to make it simpler, easier, and improve the value exchange. We want to acknowledge the reality that a lot of our partners have very well-established managed services practices based on our portfolio. And we want make it easier to promote and incentivise that."
Gordon Thomson, Cisco's vice president for EMEAR specialist sales, then talked through the technology announcements that Cisco will be sharing with partners over the course of the summit. He said, "What you're going to hear over the course of the next day or so is a real focus around the move to cloud. [This] has been accelerated by everything happening with Covid but, at the same time, it's about how we drive more simplicity into our infrastructure."
That focus on simplicity, Thomson explained, spans many different areas – from agility and managing costs, to driving efficiencies – but "the heart of [Cisco's] strategy" will centre on the experience it delivers.
He added, "Although you'll hear us talk a lot about simplicity and agility, embedded behind that is delivering an experience that is no longer about satisfying the customer. It's not about customer satisfaction. It's about delivering customer delight."
These product feature announcements included an update to SecureX, a cloud native security platform that Cisco launched in June. The platform now offers enhanced capabilities in Extended Detection and Response (XDR), Zero Trust, and Secure Access Services Edge (SASE).
In addition, Cisco unveiled the Cisco Intersight innovations and the Cisco Nexus Dashboard for its cloud products. These offer real-time insights and automation to help customers gain more value from cloud and on-premise investments.
Finally, the company shared an overview of its business resiliency solutions for government. A new cloud solution, Webex Legislate, enables remote and hybrid legislative bodies to convene safely and securely; whereas Cisco's Connected Justice Solution for Courts, Correctional Facilities and Community Corrections can offer secure real-time virtual judicial proceedings.