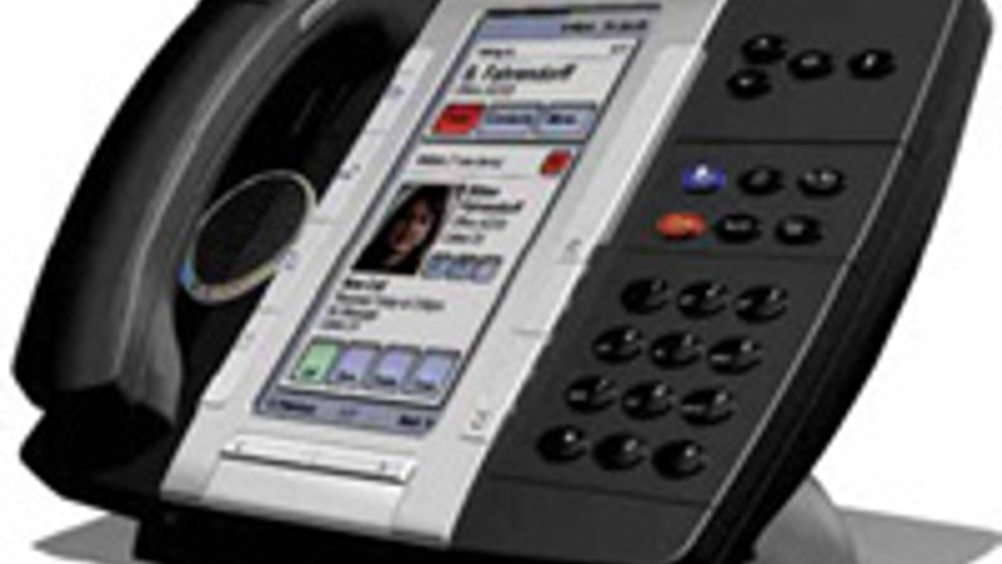 2007 & All That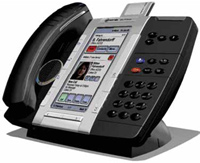 Mitel's new 53XX IP Phone: The average channel systems sales is 37 extensions – Mitel doubles that figure.

Editor Ian Hunter looks at Seven Significant Events in 2007 and how they may impact the channel in 2008
People tell me it is a classic sign of getting older but 2007 seems to have vanished in the blink of my eye. There has been a hell of a lot of consolidation in the market this year and there are an awful lot of channel personnel sitting at different desks in different places to where they started the year – see the 2007 Mulberry Bush later in this article.
At the time of writing the UK monetary policy Group had just held off changing the bank base rates and talk in many circles is of recession. I'm not anywhere near qualified to give informed opinion on that possibility but what I do know, because I have a variable mortgage, is that the rises
in UK interest rates during 2007 were painful. So my first significant event for 2007 is interest rates.
1. Interest Rates
Mere mortals such as you and I cannot hope to know where interest rates are going in 2008 – indeed who really does know. What I do know is that for a large proportion of the population a chunk of disposable income has disappeared and the same would be true of any business with borrowings. What I also know is that I am therefore a bit more cautious about spending and very cautious about increasing or adding to longer-term commitments. In fact there are no new additional spending plans in the household. It can't be unreasonable to assume therefore that for many businesses the same caution will be there. Successive interest rate rises will affect the economy and a turn around (rate reductions) will take a while to have a positive affect.
What does this mean in practical terms for resellers? Well for one thing, if the market slows down or heaven forbid, we enter a recession in 2008 it means that fewer PBX systems will be sold. The fact that modern comms platforms can drive productivity and IP applications increase efficiency may be true but how many ears are going to be deaf to the message because the board says 'no spending'?
My prediction for 2008 will be that our markets will become even more competitive. Analyst MZA says that all the major vendors predict a pretty flat year ahead which means that any growth they do achieve is likely to come from a market share grab rather than an expansion of the market.
The same will be true of course for resellers who will have to look to maybe different sales techniques for 2008 which will include taking business from their local competitors.
2. PBX Sales
Despite the fact that we talk of communications platforms and unified communications systems and applications the vast majority of UK communications resellers have PBX sales at the heart of their operations.
With the overall PBX markets set to look flat in 2007 it was encouraging for readers of Comms Business Magazine to see that within the total market shape there are pockets of gold. We are still awaiting the MZA figures for Q3 2007 but their Q2 figures show that whilst the over 100 extension market declines by almost 10% on the same period in 2006 the corresponding under 100 extension market rose by 14%.
That is good because the average size of PBX system sold by the channel is 37 extensions. Aastra Telecom, NEC, Samsung, Panasonic and Toshiba for example all have averages that are below this figure whilst Siemens, Avaya, Alcatel and Mitel all have averages above but still below the 100 extension mark. If the trend continues in to 2008 then the pain will be felt by the likes of Cisco and Nortel.
3. Transition to Mobile
The third significant event to note is that we are rapidly becoming a mobile nation. In fact the world is going mobile. The facts speak for themselves; in the UK, since 2003 fixed line revenues have declined by some 20% whilst in the same period the revenues generated by mobile calls and fixed charges has risen 21%.
The table below puts the details on the financials but that is nowhere near the complete story; the cost and margins on fixed minutes as we all know have fallen during this period and sub-plots affecting the fixed line revenues are not solely restricted to mobile transition – there will also be a future transition from time and distance-based fixed line call charges to VoIP with 'on-net' calls between elements of the same IP network being free.
The move to mobile is also yet to see the impact of fixed mobile convergence. Here there is threat to both fixed and mobile revenues on the horizon: reduced mobile phone call costs due to cheaper calls being available from the mobile when in the office being routed over the fixed (or Voice over WLAN) and cheaper calls from mobiles over WLAN when in range of public hotspots around the UK.
Segmentation of UK Telecommunications Revenues by Sector, 2003-2007 (£Million)
Description
2003
2004
2005
2006
2007
Fixed Telephony: Call Revenues
7335
6611
5730
5278
5014
Fixed telephony: Exchange Lines & Access revenues
4575
4589
4540
4534
4412
Mobile Telephony: Calls & Fixed Charges
8898
9705
9880
10457
10956
Mobile Telephony: SMS & MMS
1782
2014
2242
2394
2521
Source: Ofcom 2007
4. Gaining Traction
2007 at last saw some big wins for hosted IP telephony by companies such as Wireless LAN Source, ATC and VanillaIP though we have not yet witnessed a deluge of hosted sales nor seen any real impact upon the sales of CPE-based solutions.
All the big guns this year were trained on the unified communications market with vendors such as Alcatel, Avaya, Siemens, Cisco and Mitel to name but a few launching and promoting their brands of UC (ask ten random people and you get 12 different definitions!) Added to these vendors came the October launch of Microsoft's much heralded OCS 2007 and the year could certainly be said to have been characterised by more people talking about UC than people actually selling it let alone by the number of customers buying in to UC.
Applications that gained traction in 2007
Applications likely to gain traction in 2008
– Hosted Telephony
– Fixed Mobile Convergence
– Unified Communications
– Hosted and Managed applications e.g., telephony, email etc.
– VoIP
– More mobility
– Enterprise Mobility
But don't think I am a cynic nor a detractor – the reverse is true and I love joined up thinking and joined up communications that help me be more productive. I just think the market is confused by all the UC messaging and I am not the only one. At the recent Avaya EMEA Partner Event in Paris I spoke at length with Jorge Blanco, their VP of Solutions Marketing about the UC market and he believes in the confusion theory as well but offers up the following advice for resellers, "listen to your customers as they will provide you the answers on what they want. It could be mobility, integration of video or IP and presence. Ask your customers about their infrastructure and topology of their business and you will most likely be told about the 'plethora of vendors' products and applications that they currently use. What we need to supply that customer is the glue to bring all these disparate vendor applications together whether that be Microsoft, Lotus, Polycom or Tandberg etc."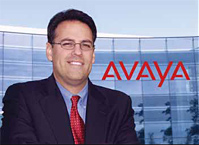 Jorge Blanco, Avaya VP of Solutions Marketing, "Our competitors are causing confusion in the market."
Blanco continued, "Some of our competitors have indeed confused the market. There is no room for a 'Control-Alt-Delete' approach to UC where the user will stop and start over. Customers will not throw out their existing infrastructures – they need them to be integrated into a new UC solution."
5. Distribution & Resellers
Every year is eventful for resellers and distributors and 2007 was as good an example as any with a number of changes to channel strategies by vendors having significant impact to a larger or lesser degree on the channel partners.
Alcatel laid down a marker early in the year by basically saying their existing distributors did not have sufficient focus on their product range – they wanted more emphasis on Alcatel and as result jettisoned all existing distributors in favour of Manchester-based Sphinx. Alcatel told us recently, with backing from key resellers, "The distribution agreement with Sphinx has been an unqualified success from both a strategic and a financial perspective, and we're delighted to be in a position to start growing our channel coverage so soon after the initial appointment," said Doug Rodgers, enterprise and corporate sales sector leader for Alcatel-Lucent's enterprise activities UK&I. "Thanks to Sphinx's motivation and technical capabilities, it has never been easier to deal with Alcatel-Lucent. This is the reason why the partnership has resonated so well with our channel, and going forward, it presents a strong argument for new resellers to switch to Sphinx as well."
Three months later, in April, Mitel moved on the last day of their financial year to cease distribution altogether and adopt a single-tier UK strategy. We have documented elsewhere in this issue Mitel's reasons and the results of their decision so let's talk Siemens.
Here the German vendor has moved in an opposite direction with the announcement of a brand new channel-only product the HiPath OpenOffice ME. This looks to press a lot of the right buttons for resellers as I see it. An open (Linux)-based server that can't be fiddled with plus a host of today's hot applications all dished up out of the box in a reasonable, easy to price package. There's a lot of thought gone into this product and the old channel KISS maxim is seen here at its very best. What will be interesting for 2008 is to see just how well it does and to see when Siemens will bring out the larger LE version.
6. Microsoft OCS 2007
A version of the old WWII adage about Americans came to mind as I stood back and witnesses all the fawning adulation that followed the release of OCS in October – 'Over hyped, over priced and now over here' was my initial thinking but this is Microsoft and they do have some muscle so we had better listen up.
But, as our own survey revealed most of our readers believed OCS 2007 was more suitable for Enterprise customers rather than those they sell to – after all remember the average system sale in the channel is 37 extensions – hardly an enterprise deal.
One of the things that concerns me about OCS is that not many people understand it; sure Microsoft have 80 plus partners undergoing UC specialisation and it will fall to them to evangelise the concept to users but it's going to take time. Then again, this is Version 2.0 comms for Microsoft and as I keep getting reminded, it take until v3.0 before mass adoption takes hold but even then, is OCS too big, too complex and too expensive for all but the largest of SMEs? Will there be an OCS Lite?
7. Next Generation Networks
And finally in my list of seven significant events is NGNs. It's hard not to focus just on BT's own 21CN but the fact of the matter is that size really does matter and theirs will be the largest NGN in the UK. BT has moved beyond the few Welsh residential customers and is now starting to embrace business customers.
Key for the channel however remains what is in it for them? Information is scant and concrete evidence of opportunity scarce but I guess that could be explained through the fact that we just don't know beyond super fast DSL what we are actually going to do with the network.
History tells us that applications will grow and expand rapidly to consume all available bandwidth so as Tim Hubbard of BT 21CN Group said at the Convergence Summit Panel Debate on NGNs, "I have been working on next generation networks since I joined BT and I don't ever see that changing."