Comms Business takes a look over the horizon at what we can expect to see in the channel  next year. We hear from key players with their views on how markets will fare and what applications are likely to be hot in the next 12 months.
Whilst we do operate in a fast moving and dynamic market the pace of change at ground zero – where reseller meets customer, always lags behind announcements of the latest set of better mousetraps from suppliers.
There's a few reasons for this, firstly channel resellers covet and protect their own customers and are generally risk adverse when it comes to selling them anything a bit bleeding edge. Customers are hard won and jeopardising that relationship with new products and applications could mean the customer takes their revenue generating business elsewhere.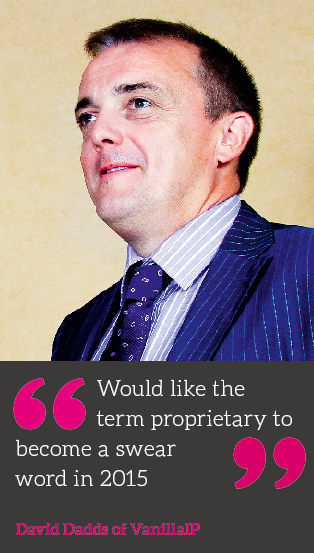 But you have to balance that risk against another fear of loss factor – that of failing to provide your clients with the latest, greatest, best thing since sliced bread. Today that fear is heightening due to the way in which the business technology agenda is being driven by the consumer. Decisions huh? You used to be indecisive but now you are not so sure?
As ever, picking the next technology or application focus for your business is not just about evaluating the products but also getting your timing for market entry right. It's a tricky job but that's why marketing people drive Porsches and I have an Astra.
So let's take a look at what some of those drivers are betting the farm on in 2015.
Phil Reynolds, Joint CEO at Oak told us that often when he gets to write about the year ahead it's a struggle to see where change might come from in the telecoms industry but this year seems to be different.
"I can smell change in the air. Simple things like the dramatic increase in the sale of SIP trunks or the increasing use of virtualisation and data centres are making a difference.
I don't see an end to CPE as we know it but there is a gradual change going on, a slow migration to hosted or cloud based telephony mostly for those businesses that warrant it. With so many manufacturers virtualising their switches, end users effectively have their CPE equipment located in a datacentre so perhaps the migration to hosted or cloud where the benefits of DR and managed equipment is happening but not exclusively for hosted solutions.
There's an increasing demand not just for telephony but for complete solutions that help businesses improve customer service in their constant drive to get more customers and to retain them. Call recording is fast becoming a de-facto choice for every business as is its integration to a businesses' CRM system. In fact more and more businesses are looking into having proper well-considered CRM systems or bespoke customer record systems to underpin their businesses going forward."
Entanet's Head of Sales, Stephen Barclay says he believes the market for connectivity services will continue to be buoyant throughout 2015 as resellers expand their knowledge of what's available and their customers rely more and more on IP for everything from day-to-day communication to business continuity.
"While there remain a good number of resellers who are focused principally on selling broadband to business – and they're encouraged further by the continued rollout of fibre – we're witnessing a sharp increase in contact from resellers who are capitalising on the opportunities that Ethernet creates.
On the point of value, we expect 2015 to bring even greater pressure on connectivity pricing as customers see it more and more of a commodity while the applications they use are the 'shiny bits'. The challenge for resellers will remain promoting the critical importance of the right connectivity and positioning its value highly."
Carrier Problems
In 2015 carriers will continue to have a problem with hosted telephony according to David Dadds, Managing Director of VanillaIP.
"The problem is that carriers cannot hit their financial targets by selling the application. The global market is still so small – analysts generally estimate that only around three per cent of the world's PBX extensions are really deployed from the cloud and Broadsoft, the most dominant hosted telephony platform, claims to have around nine million lines installed worldwide.
Growth is evident in all cloud-based sectors for apps and every day more and more apps are developed and released. The key issue for developers however is differentiation and of course some apps are good whilst others are not so good.
For resellers the dilemma is how to partner with the right supplier in a market that is still very much driven by the consumer."
Dadds believes that today we are not in the telecoms market we are in the technology market and that PBX vendors should note this.
"Today we are also looking at the 'come back' of maths where the smart guy will make sense of the Internet of Things (IOT) and Big Data for today everyone 'lives in a browser'.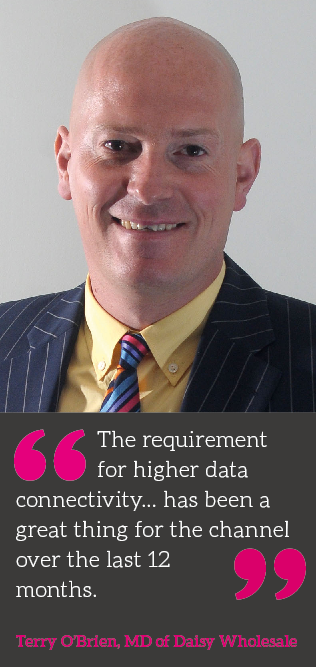 Most services today are single applications and we'll see a lot more apps converging from home to business as the consumer continues to drive the market forward – in particular younger people – the Millennials.
We see WebRTC (Real Time Communications) having a massive transformational effect for mankind. Stop and think about it - who mentions TCP/IP these days? WebRTC is open and immediate.
What would I like to see? Well all the disparate IM platforms talking to each other for a start and then for the term 'proprietary' to become a swear word."
Someone else that foresees WebTRC having an impact next year is John Donaldson at iHub.
"Platform providers are starting to experiment with voice services delivered via WebRTC. At the moment I think there is a level of thinking still required to decide on the best route to monetise products delivered by WebRTC, as it is effectively an open source API definition. The ease of deployment, massive potential to tie in voice services to a web environment and potential deployment in the mobile space will see advances made in this area in 2015.
Portals will be another area that will receive a lot of investment to make the life of partners and resellers easier. The focus will be on extending the interaction the partner has with the portal by integrating disparate portals that separately allow ordering, provisioning or service management onto a single platform.
Finally, price compression on VoIP services as BT enters the market more aggressively in the second half of 2015. As a relatively unregulated market with BT losing traditional market share across its ISDN services, they will be looking to regain customers in this space and competitors will have to react."
Prime Time:
Terry O'Brien, MD of Daisy Wholesale says the continued growth of cloud technologies, products and services will continue to be an important factor for the channel in 2015.
"The requirement for higher data connectivity whether through fixed connectivity or mobile 4G connectivity, and the growth in this area has been a great thing for the channel over the last 12 months.
We have found that more and more small businesses really want to get to grips with what these advancements could mean for them and how they can support a different more effective way of working. I believe that this represents a real opportunity for channel partners to take an increased market share of SME customer telecoms and IT services.
The next 12 months will be the prime time for resellers to step up and dominate the SME marketplace.
I think that 2015 will hold continued growth in cloud products and services, further drive to a more mobile-centric working approach and sustained rapid growth and requirement for data connectivity solutions."
Paul Taylor at Voiceflex echoes this cloud sentiment.
"The trend over 2015 will continue to be cloud based. We have seen the emergence of a number of channel focused companies launching cloud products such as remote desktop, hosted and SIP. They may not be astounding new entrants into the market but the difference is we will see the channel (companies at the coal face) selling the application as opposed to the manufacturers talking up the applications. This is all driven by connectivity and with prices continuing to drop and speed increasing the land grab will continue.
We will also continue to see companies selling additional products into the channel base, SIP and hosted carriers selling data services and we'll see a greater emergence of data companies selling voice and data storage applications into their channel. With more companies promoting the allocations to make this happen, prices will drop, but the smart providers will continue to enhance their offering adding additional features."
Chelsea without Mourinho?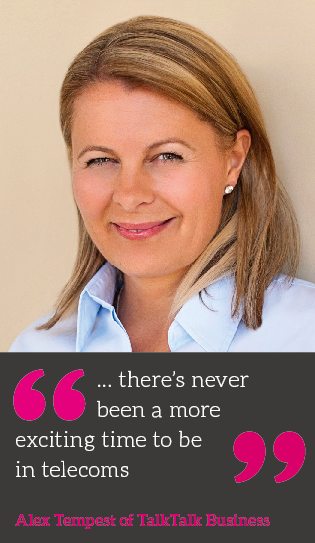 Robin Hayman, Director of Marketing & Product Management at SpliceCom, is not forecasting a new manager at Stamford Bridge but drawing a comparison between voice and mobility.
"2015 looks set to be the year when customer choice is put fairly and squarely back on the agenda. Choose what device (or devices) you want to handle your voice calls on, choose where your system lives, choose if you want to own it or lease it, choose how you want to pay for it. After the single device and the common platform comes the flexible payment scheme.
Mobility - that's FMC to you Grandad!, moves centre stage. Voice without mobility is like Chelsea without Mourinho – all the right ingredients, yet still somewhat lacking in ambition. We've been conditioned through our ever increasing use of mobile and SmartPhones over the past twenty years to be able to talk wherever we are, both in the office and out of it. When mobility is ubiquitous, why should we expect anything less from our business communications? Sure we still need to capture usage data and record calls for real time and historical Business Management analysis, but be tied to our desks when conducting a phone call? Get real!"
James Arnold Roberts, director at Genius Networks, believes one of the key areas to watch in the networking reseller world in 2015 is Global SIP.
"Strong demand for international connectivity presents resellers with a great opportunity for growth but there have been many barriers for the channel in taking advantage of this opportunity so far: Provisioning international connectivity is complex and latency again is one of the biggest challenges. Managing multiple carriers across numerous countries can be laborious. Trying to provide contracts and SLAs to customers is also tricky when you're pulling together solutions from numerous suppliers. Legislation and billing across different countries can also be problematic.
Resellers have to find a way to overcome these obstacles if they're looking to grow in 2015. The ability to deploy an innovative range of turnkey voice, SIP and intelligent number services across other territories, without capital expenditure, will provide resellers with a good revenue stream. For those highly dependent on voice quality, the right partner will have a peer-to-peer relationship with carriers, a network specifically configured for voice and ensure seamless service transaction."
Transition from DSL to FTTC
According to Alex Tempest, Director of Partners at TalkTalk Business, there's never been a more exciting time to be in telecoms.
"Businesses are more confident than ever and are planning for growth, many of them for the first time in years. Connectivity and technology will be crucial as companies take their next steps, and channel partners have a clear opportunity to make British business better off.
TalkTalk Business' research, carried out by OVUM, shows 58% of firms do not believe they have the technology to future-proof their businesses, and the same amount say connectivity is the most important thing that can improve their agility. Meanwhile almost three quarters of IT spending goes towards 'keeping the lights on' rather than upgrading for expansion, according to Cisco.
The transition from DSL to FTTC will accelerate during the coming year. We expect DSL's share of the market to fall from 48% to 18% as more businesses make the switch, so it's never been more important for partners in the channel to stand up against Openreach and call for a better deal.
Right now 75% of FTTC connections are with BT retail, and we're doing what we can to persuade Ofcom to intervene. Partners can play their part by calling for a better deal and a fairer market. Meanwhile SIP and VoIP are important areas for growth. We've cracked this in the enterprise market but there's a huge opportunity in SMEs."
Explosion!
According to Richard Carter from Nimans wireless LAN will be one of the largest growth areas.
"One of the major growth areas that's not being talked about that much but is already happening is Wireless LAN. In our view the market is experiencing 25% year-on-year growth and it's already larger than the PBX market - which may surprise a few people," he explained.
"It will absolutely become the norm in SMB businesses over the next 3-5 years so there's huge sales potential for the reseller community. Most small businesses do have a wireless LAN but they don't tend to be very good and often they still use wires. The technology being developed now is very high performance and capable of transmitting much further, much faster, providing resellers with a great sales platform to build on.
"Demand is already very high in schools and in hospitality and it's going to accelerate tremendously in general offices. People will no longer be plugging in equipment with cables. Those days are gone."
Carter says general industry trends will see hosted services continue to get bigger in 2015, with the PBX 'continuing to hold its own'. He added: "Low cost video conferencing will be another important area next year. In the SMB sector it's been relatively slow so far but the traction is building due to new products with low cost entry points that are easy to use… and can even utilise existing telephone lines."
Ed Says…
2015 looks set to be yet another land of opportunity for the channel reseller. Elsewhere in this issue we feature Gartner's predictions on technology for 2015 and one of the key issues raised there is connectivity – it's getting more and more vital to get it right to enable application to function correctly. Apologies if we missed out your contributions to this article – we were swamped!