If you speak to channels about their outlook for the coming year, you'll hear a range of opinion most likely based upon immediate issues that concern their own business and possibly receive a wider perspective on the market as a whole.

The big picture is easy. The issue that is exercising both the enterprise boardroom and the ICT sector today and will continue to do so for the next few years is Digital Transformation (DX) and I'll argue the case all day long with anyone that disagrees and if you want to test the waters just type #DigitalTransformation.
Some people say that DX has come out of nowhere to become the number one topic and the recipient of over half of company ICT spending today but that's just not the case. It's been coming for quite a while and can be traced back ten years or so to analyst talk of 'The Third Platform' (IDC) and 'The Nexus of Forces' (Gartner) and, more recently, 'The Digital Vortex' (CISCO).
Today these concepts and ideas and now solutions have been collectively distilled to appear under the umbrella of Digital Transformation. And, just like umbrellas, DX can come in many shapes and sizes. There are no set definitions in this game.
Microsoft commented in their recent research paper, 'Digital Transformation: The Age of Innocence, Inertia or Innovation?', last month, "A swathe of new technologies has arrived. All with almost unlimited potential, and most with a price point that makes their commercialisation feasible. There has never been a time when strong technology leadership was so important. Not just in the CIO, but in all the leadership roles."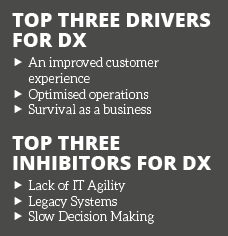 The challenge for businesses will be to harness the disruptive force of technology to shape their own destiny – but, DX is not simply about technology.
Businesses will also need to fully grasp the concept of digital transformation and its potential to more effectively engage customers, empower employees, optimise operations and transform products and services.
Below are my bullets made at a recent Microsoft conference.
Many are (still) limiting the scope of their digital transformation strategies to customer experience and operational processes.
Digital transformation should be regarded as a transformation of business culture in a digital age.
DX requires leaders to re-envision entire business models and embrace a different way of bringing together people, data, and processes to create value for their customers.
In an age where uncertainty has replaced business-as-usual and competitive advantage is fleeting, a fundamentally new approach is required.
Many organisations are still in an age of innocence when it comes to digital transformation, whilst others seem bound by inertia.
Matthew Townend at analyst firm Cavell Group, is having a close look at Communication Platforms as a Service (CPaas), as a key constituent of a DX and commented, "As we move into a period of Digital Transformation, we want to have real-time communications embedded into all sorts of business and consumer applications, and users want communication delivered in the context of their business and personal lives, however, not in the way vendors and communications providers prescribe it. Communications providers are going to have to deliver CPaaS platforms and capabilities that enable this change.
We are already seeing Business customers who demand their communications be imbedded in their vertical applications, as in their business they spend their life in say a hospitality business process tool. They do not want to receive it in the PBX or Cloud vendors UC all singing all dancing portal."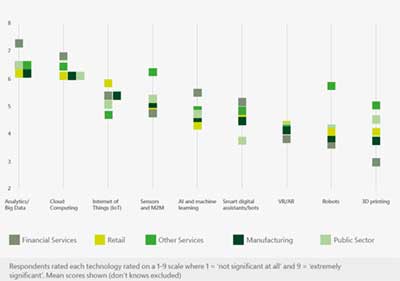 Throughout 2017 in editorial and at our events Comms Business will have a focus on digital transformation but as this article title says, there's a micro as well as a macro and here we report on the immediate key issues and opportunities for 2017 beyond DX that our readers wanted to let us know.
Nick Sacke of Comms365 is anticipating a growing adoption of Software Defined Networking technologies (SDN) and says a recent market report and survey by SDX Central confirms a growing interest in and adoption of SDN technology; in particular, virtualised Customer premises equipment (vCPE) and software defined WAN (SD-WAN) variants.
"In our 2016 survey, when end users were asked to pick what they saw as the main reasons for installing virtual equipment or a software-defined WAN (SD-WAN), respondents chose greater service flexibility and application agility as the primary benefit (33%), followed by centralised network management (27%) and better security controls (13%). The top second and third choices of respondents were fairly equally divided, with centralised management (22%) and reduced Opex or management costs (20%) getting close to a fifth of the vote.
Network administrators across SMB and Enterprise are tired of complicated, proprietary networks that require specialised knowledge to configure and operate, and are looking at alternative ways to build and operate their Wide Area Networks. A growing number of Service providers are capitalising on SDN architecture to push services out to their customers quickly and cost effectively. Coupled with an increased use of Cloud-based applications, we predict increased revenue spend in these technology areas, positively impacting channel companies seeking to partner with SDN-enabled service providers and educating their customers to the positive benefits of technology adoption."
More Challenging Year
2017 could be a more challenging year for resellers, distributors and suppliers, according to Richard Carter from Nimans. The company's Group Sales and Business Development Director cited higher import prices sparked by Brexit as a major factor in a potential market slow down. However, there's still lots to be positive about with continued high demand for WLAN and hosted end points as well as traditional comms platforms, he forecasts.
"End points will grow strongly with more focus around quality and functionality rather than just being a simple device. People are looking more at what that phone can do and how it can enhance the overall platform. Skype for Business will continue to accelerate particularly in the enterprise space where functionality and integration will be important factors. Here at Nimans we've invested heavily in a new auto provisioning service to help resellers maximise market opportunities. We also offer buy-back and refresh programmes to reduce the cost of technology."
Carter added, "Inevitably a lot of the market is going hosted but for us the majority of the market remains on premise. In terms of Brexit and exchange rates the plunging pound will result in higher prices which doesn't make things any easier. But exports and home produced products will benefit."
The Swathe of Technologies
We mentioned earlier the array of new technologies that were arriving on our doorstep so let's put a name to those as identified by Microsoft in their DX research and see how each is forecast to have an impact – not just in the CIO but all the enterprise leadership roles.
As Microsoft says, looking at which technology trends will be most prominent over the next three years, the relative significance of the technologies is generally reflective of their maturity, which is to be expected.
And what of the industry analyst giant Gartner?
Gartner predicts that, by 2025, every industry will be transformed by digital business. This transformation is already happening and in leading organisations, the digital business strategy is now the business strategy. Digital business affects every aspect of the business model, from the products and services the company offers, to back-office processes. This creates the demand and opportunity for new technologies.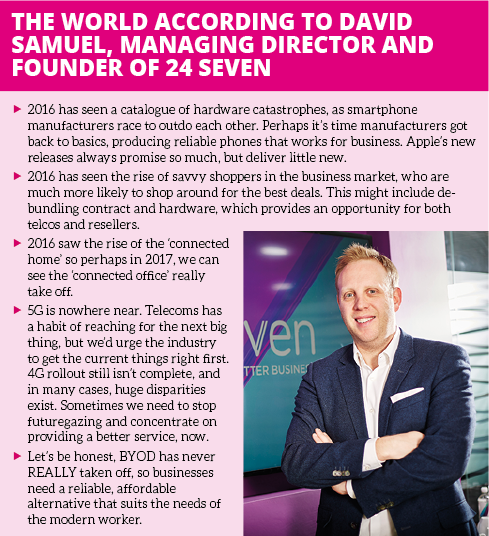 For 2017 Gartner published their top ten trends in mid-October and broke them down in to three key areas; Intelligent, Digital and Mesh
The firms says that digital business is an overarching theme that covers how the blurring of the physical and virtual worlds is transforming business designs, industries, markets and organisations.
'The continuing digital business evolution exploits new digital models to align more closely the physical and digital worlds for employees, partners and customers. Technology will be embedded in everything in the digital business of the future. Rich digital services will be delivered to everything, and intelligence will be embedded in everything behind the scenes. We call this mesh of people, devices, content and services the intelligent digital mesh. It's enabled by digital models, business platforms and a rich intelligent set of services to support digital business. As an enterprise architecture or technology innovation leader seeking to exploit the intelligent digital mesh, you must respond to the disruptive technology trends enabling this future'.
Strategic technology trends have substantial disruptive potential. The Gartner list highlights strategic trends with broad industry impact that aren't yet widely recognised but remember too that disruption can happen very quickly in any particular market.
Technologies related to the strategic trends are experiencing significant changes or reaching critical tipping points in capability or maturity.
Foresight Snapshots
Chris Spain, VP of Cloud Solutions at Cradlepoint:
The Wide Area Network (WAN) as we know it is dead. Why build a private network to backhaul traffic to a data centre only to pass the majority directly to the Internet?
The WAN needs to connect people, places and things to internal and external applications. For instance, mobile healthcare workers and first responders need their equipment, uniform with cameras attached and vehicles to be securely connected and managed whilst they are working in the field.
This is all now possible through the cloud and I believe that in 2017 we will see Software Defined Networking truly come to the fore.
Campbell Williams, Group Strategy and Marketing Director, Six Degrees Group
Businesses have continued to rapidly adopt cloud computing in 2016 and IT leaders have become more business focused. Now, IT is not just about 'keeping the technology lights on', it is a way to transform organisations. Cloud technology may have high levels of automation, but it doesn't run itself. Businesses now realise that human expertise is central to the success of cloud strategies.
Moving into 2017 we are seeing the growth of a broader 'cloud culture' where the influence of IT leaders is going far beyond just tech teams and instead going right into the boardroom. IT leaders in 2017 will have to be more business savvy than ever before and those in the boardroom will need to be receptive to this change.
Michael Hack, Ipswitch's SVP of EMEA Operations
An increased pace of adoption of Intelligent Systems and the complexities it creates for IT teams will come to the fore in Q4. Dealing with busier and more complex to monitor network infrastructures, as a result, is perhaps the most significant challenge facing IT professionals currently. This presents a significant opportunity for VARs and MSOs as, now more than ever, companies need help in monitoring and managing their networks and in dealing with the added layer of complexity that has been introduced by official and un-sanctioned Intelligent Systems in the workplace.
Rob Darby, Sales Director at Comms-care
The market will also see the emergence of more 'born in the cloud' start-ups offering cloud-based propositions to end-user organisations. We believe this new generation of channel partners will require support, managed services and professional services to help integrate their propositions with on-site 'traditional' IT through hybrid cloud.
Paul Taylor of Voiceflex
Web Real Time Communications (WebRTC) is now in the same place SIP and hosted telephony was 11 years ago. In other words, it's on the verge of being massive. WebRTC will have a fundamental impact on the way we conduct business communication in general. Businesses will look for providers that can support WebRTC and as a result those that adopt WebRTC will no doubt see commercial and competitive benefits.
Stephen Hackett at Intelisys Global
In 2017 we'll see the major comms vendors continue to transition towards the channel, with a growing emphasis on those partners that can deliver a range of solutions for customers. Organisations don't want to be in a situation any more where they need to work with separate cloud, telco, security and Microsoft partners – it's just too complicated and expensive to manage. In 2017 there's going to be increased pressure on channel businesses to build out their solutions portfolios, so that they can offer a more comprehensive service to customers – and claim a greater share of their communications and IT spend.
Ed Says… Brexit anyone? Well, in all the input we got from the channel for this article only Richard Carter at Nimans mentioned the 'B' word. There's a lot of further recommended reading here and a good place to start would be gartner.com. If you can find time to examine the business impact of their top 10 strategic technology trends and then consider how you could adjust your business and IT strategies and operational models appropriately it would be valuable. If you don't, you'll risk losing competitive advantage to those who do.