62nd Interview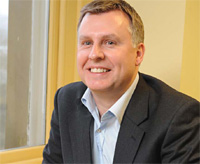 Chris Brassington
This month we get 'Close Up & Personal' with Chris Brassington, Managing Director, 2ergo
2ergo, established in 1999 is a provider of interactive mobile communications for marketing, entertainment and business. Its technological expertise and innovative approach has resulted in the company teaming up with some of the world's most respected brands, across a broad range of sectors.
2ergo enables organisations to optimise their ability to leverage the power of the mobile channel. 2ergo works with companies, from small independent businesses to large multinationals, helping them gain an edge
by advancing the way they communicate and interact with their target audience. This ultimately changes relationships from distant and functional to valued and engaging, and generates increased revenues.
From mobile messaging to mobile portals and commerce 2ergo creates new routes to target audiences. Due to the companies continual investment in its knowledge and expertise 2ergo is committed to stay ahead of the channels competitors.
At the core of the company's service is the MultiServe Platform, which was first incorporated in 2002 to converge SMS, MMS, WAP, video, voice and email communications.
Since then, the company has further invested in its offerings, with the most recent being the Business Partnering Programme. As partnerships become an increasingly important part of 2ergo's operations the scheme brings the company's innovative technology to the front of the comms channel and offers its partners an exciting and unique way to help develop and consolidate customer relations.
The mobile communications market has proved to be one of the most dynamic and fastest-growing industries in recent history. The company sees this as an ideal time for growth to further strengthen its relationship with other telecom companies by opening up access to maximise on the demand for individualised and personalised services and products.
Headquartered in Lancashire with offices in London, the US and Latin America, 2ergo employs over 90 full-time employees and in 2007 experienced record turnover with figures up 13% to £33.3m.
Up Close & Personal Questions:
Married? Yes

Lives where? Cheshire

Kids? Yes, two daughters

What is your favourite car? Currently the Lamborghini Gallardo

What do you drive? Audi A5

4X4s Chelsea tractors? I love them and I have driven 4X4 for the last 4 years as I have a young family and at weekends I drive my wife's car. If we want to improve the environment let's not pick on families who want to keep their kids safe in cars that are normally full of kids!

What really gets your goat in business? People who do not take responsibility

What's the best advice you've ever been given? You can't please everyone

And the worst? I can't remember bad advice as I would have ignored it?

Favourite Film? In recent times, Gladiator

Who is/was the best James Bond? Sean Connery

Last CD/DVD bought? I download onto my IPod bits and pieces all the time ranging from Bob Marley to the Artic Monkeys

Sport? Football to watch and swimming/sauna to relax

Favourite team? Leeds United (Minus 15 points)

What's the best thing you've bought this year? I guess my A5 as I picked it up a few days ago

What have you wasted money on? I do not waste money I enjoy it

If you could pick anyone to go to dinner with who would it be and why? Elvis Presley and tell him to lay off the burgers

Who's been your greatest inspiration? Normal people who get on with life despite adversity

Do you have a hero? Steve McQueen; he did it his way

If it all went belly up tomorrow, what would you do? Start again

If you could be anyone for a day, who would it be? I would have liked to have been Darling on budget day as I feel I would have done a better job

Your best blag ever? No comment as I won't be able to do it again

What is on your iPod? The history of music