AFICIONADO MORODO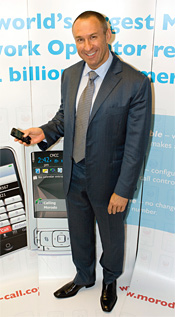 Andrew Reid, Morodo CEO
MORODO HAS CREATED THE NEW MOBILE NETWORK OPERATOR MODEL. IT WAS AMONG THE FIRST COMPANIES IN THE WORLD TO OFFER MOBILE VOICE APPLICATIONS. THE BUSINESS WAS FOUNDED IN 2006 AND IS RUN BY ANDREW REID, CEO, HIS BROTHER PETER REID, SALES DIRECTOR, AND JAMES BARNES, CHIEF TECHNICAL OFFICER. HERE, WE TAKE A LOOK AT WHERE THIS COMPANY IS GOING.
Having spent the previous ten years working in telecoms, the writing on the wall was pretty clear, according to Andrew; call origination was migrating to mobile, networks were moving to VoIP. "We saw a fantastic opportunity to offer consumers an alternative network for voice calls. In choosing to develop our own mobile applications we have been able to provide a virtual mobile network operators (VMNO) service that anyone can use, no matter what make or model of mobile they own," he explains.
VoIP + mobile apps
"Essentially, the convergence of VoIP and mobile application development made it possible for us to create a global VMNO without the burden of costly infrastructure, licensing and operational expenditure associated with a traditional mobile network. MO-Call, our branded calling service was first to be developed," Andrew comments. "Now working on over 1,620 handsets across Symbian, Windows Mobile, RIM, Android, and J2ME for JAVA
supported handsets and in mobile VoIP on over 70 handsets, our software sits on over 450 mobile network operator networks. Customers in over 100 countries are using MO-Call every month."
Barnes adds: "MO-Call is an application that works on just about every mobile phone in the market. Once installed and running, MO-Call routes calls to the Morodo network, offering a substantial cost saving over MNO tariffs. It doesn't matter which mobile network operator the customer uses or where they are located in the world, because you can use a local access number, SMS Gateways and VoIP through WiFi, it's simple to get a call connected. In fact, in most smartphones, the service is seamless and invisible to the consumer."
The VMNO strategy is to provide united communication access to customers, small to medium sized enterprises and large corporates, notes Peter. To use, a call on MO-Call feels like it has been delivered through the mobile network operators' services pipe, he says. "We have a model that doesn't only allow us to grow fast in a country. We can roll it out, in any number of countries in parallel creating a substantial mobile customer and revenue base. This is a model that could be utilised by VMNOs, fixed line operators and ISP's. Our solution can be rolled out anywhere in the world in either developed or developing markets."
How it works
Barnes explains what this business does: "Morodo has created the new mobile network operator model. We were amongst the first companies in the world to offer mobile voice applications, and to the best of our knowledge, we still support more mobile devices than any other company bar none. We haven't stopped innovating and we'll be offering plenty of new and exciting unified communications features on our roadmap."
Morodo's licensing model offers operators the opportunity to grow customer bases outside traditional geographical boundaries, allowing the licensee to step beyond their traditional market and capture market segments and revenue otherwise lost to them.
Further, Morodo has extended the mobile channel to market segments not otherwise equipped to step into the mobile space. MO-Call gives the fixed line operator an inexpensive entry point into the mobile voice origination market. A fixed line operator with an immature mobile business can very quickly bring to market a national or international voice service through a flexible licensing partnership.
Andrew states: "The network operators are becoming bitpipes. In the mass market, customer loyalty and retention is about good customer care and good quality of service, aspects of service that the larger operators keep failing to deliver. Our customers like us because we offer value and for us that goes beyond pence per minute."
Zero to 3,500
To prove a point, Morodo has gone from zero to 3,500 paying customers in just 15 months. Andrew comments on the challenges: "Over the last 15 months we've built a customer base spanning the four corners of the globe. The greatest single challenge has been finding a level of communication with the addressable audience. Simply put it's getting the good word of MO-Call out there."
Making sure that Morodo offers sensible and usable methods of payment for an online service has meant managing an ongoing project to localise methods of payment, says Peter. From over the counter EFTPOS payments in Hong Kong, to Polish online payment aggregators, the company believes it has a greater reach than many like minded companies. It can also support traditional distribution channels such as prepaid PIN, just like any other operator except with a much bigger footprint, claims Peter.
Andrew agrees: "Our customer base is global and our customers tell us that they love our service. As the cost savings over the MNO tariffs are so large, up to 90%, it really is a no brainer for anyone making international calls from their mobile or that travels abroad and incurs roaming charges to use the MO-Call service over the traditional MNO."
Dealer challenge
However, while a number of UK-based resellers have identified that the MO-Call end user proposition is incredibly strong, unfortunately, those old school resellers have also identified that at this time, they can make greater margins from reselling MNO contracts.
Peter states: "Regrettably we have a situation where the traditional comms reseller channel is part of the problem, not the solution. We wish the channel the best of luck as we can see some very real consolidation coming to the independent dealer sector. Accordingly, we have focused our efforts on internet affiliates. In this commission-based model, an online affiliate earns commission based upon a customer's monthly MOCall credit payments to Morodo."
Yet it is still an interesting proposition, for value-add for the customer alone. On pricing, a call to Australia via Vodafone costs the end user £1.29 per minute, whereas MO-Call charges £0.018 per minute for that same call, with the same or better call quality, says Andrew. In addition to voice and SMS, the MO-Call VoIP application offers presence and instant messaging free of charge, something none of the big five mobile operators in the UK are currently offering, he notes.
Unfair advantage
Andrew says Morodo's 'unfair advantage' in the market is its coverage of mobile handsets, currently 1,620 and growing every month. "No other like minded organisation comes close to that support level," he states. "Other unique selling points would have to include Morodo's low cost of operating structure and technology development. Having met the senior management of many competitors, the consensus is that we have done a very good job of keeping costs down."
He continues: "Operating within a declining sales price environment, such as telecoms, teaches you the value of keeping costs low. Of course, building the customer base and business is the biggest challenge now! I'd also add that while other like minded organisations have great applications and very competent people, the usability of our mobile voice applications are extremely compelling and the experience of our staff across the domains of telecoms, mobile handset and internet industries is very strong."
Peter sums up: "I must add that our level of customer support gives MO-Call a distinct competitive advantage. Excellence in customer service is essential and the trickle down impact of our service culture is witnessed daily in our revenues."