The Contact Centre is going through a huge transformation right now as consumer demands and expectations on how they interact with businesses have never been higher. In this feature we take a look at the Contact Centre market and how technology like Artificial Intelligence is finally having an impact.
According to Orbis Research, in 2018, the global Contact Centre Market size was $27.7bn and it is expected to reach $40bn by the end of 2025, with a CAGR of 4.7% during 2019-2025. Other market estimates puts this number much higher. For Channel Partners, there are still many challenges to be solved. We asked our market experts where they see the biggest pain points for the Contact Centre market.
Matthew Clare, Director, Contact Center Solutions at Mitel commented "I think the biggest pain point for customers is the inconsistent and siloed experiences across channels that are all too common. For organizations, resolving this is often a huge pain point too, especially if they think that they need to rip and replace their existing systems, rather than evolving and integrating them into one single, open unified communications platform. Many other common pain points, like confusing self-service menus and tools, easy access to assisted voice tools, leveraging natural language understanding and a lack of personalised services can stem from having this siloed approach, so resolving it should be a key priority for contact centres."
Richard Kenny, Senior Product Marketing Manager – Contact Centre at Poly said "Contact centres are facing three key challenges: moving to the cloud, data analytics to help their understanding of omni-channel and attracting and retaining the best staff.
"Talent retention is a big challenge in the contact centre industry, with agent attrition around 10% for small contact centres and up to 25% for a big organisation. With a cost of up to £10,000 to replace an agent, this can have a serious impact on the bottom line, as well as creating issues around agent knowledge building, company culture and quality of service.
"Breaking away from traditional operating models to meet the increasing demand for flexible working is key to overcoming the talent challenge. At Poly, we have achieved an attrition rate of just 1%, in large part because we equip our agents with the tools and headsets to work from home.
"Moving to the cloud brings the flexibility that organisations need to create virtual contact centres that allow agents to work from anywhere, and also readily adapt to peaks and troughs in demand from customers. All agents need is a reliable internet connection and the best headset for comfort and audio quality for the optimum customer interaction."
Sunny Dhami, Senior Director of Product Marketing at RingCentral, added "Queuing is by far one of the biggest pain points of the entire contact centre cycle. Let's face it, no one likes queuing – whether it is in a physical store, on the phone, or digitally in a virtual queue. How contact centres manage this queuing experience can make or break their business. A whopping $62 billion a year is lost by companies because of poor customer interactions – and research by CITE shows that it requires five times as much effort to win back a customer than it does to retain them.
"It is that first experience, when a customer picks up the phone, or sends a message that is vital – and it is the first response that sets the tone for any further correspondence. Businesses can ensure that this first interaction is the best it can be by embracing new technology. Digital platforms are getting increasingly better at simplifying the agent experience and reducing queue times. The solution is there, businesses must simply start implementing it."
Omni-channel experiences
We've been talking about it for years, omni-channel contact centres have been at the centre of much debate but has this become a reality. Customers now expect to communicate with brands in the way they prefer. That might be chat, social, a good old-fashioned phone call or a combination of several methods at different points in time. The question is, have we really got there yet?
Matteo Kotch, Cloud Business Development Manager, Alcatel-Lucent Enterprise says "Given how customers are increasingly engaging with businesses through more and more channels, I think that conversations around omni-channel absolutely do still need to happen. However, it is important to mention that there is a difference between 'omnichannel' and 'multi-channel'. Multi-channel, which refers to simply being present on 'multiple' channels such as email, phone, social media etc., in this day and age can most certainly be considered as 'table stakes'.
"Customers have grown to expect businesses to respond to their queries regardless of the channel used to communicate with them, and call and contact centre software vendors have adjusted accordingly. However, unlike with multi-channel where customers often have to repeat themselves when engaging with agents on different channels, a true omnichannel experience enables the customer journey to progress seamlessly, regardless of the channel used. In other words, regardless of whether the customer has previously contacted you via social media and over the phone, if they then decide to send you an email, your agents should be able to easily view the entire history of interactions with that customer across each channel. This type of technology is still highly sought after."
Martin Taylor, Deputy CEO and Global CMO at Content Guru commented "The conversation might be exhausted but most organisations have still not implemented a truly omni-channel approach to customer service. What we typically see is "multi-channel" operations, with siloed components working adjacent to one another, rather than a series of channel focused microservices running together within the same platform. So, as the job of consolidating these multi-channels is not yet done, neither is the omni-channel conversation."
The Role of Artificial Intelligence
The Inner Circle Guide to AI, Chatbots & Machine Learning' report, released by Contact Babel in February 2019 found that only 13 per cent of UK-based contact centres are actively using AI-based solutions. In the same report it found that 36 per cent of respondents stated they intend to implement AI or machine learning tools in the year to come. That is a lot of growth for partners to get stuck into in just the next 12 months alone. So where is AI having an impact in the Contact Centre right now?
Matthew Clare says "We often think about AI in the contact centre as chat-bots. By leveraging this type of AI as part of a customer experience strategy, companies can better optimize human resources to carry out higher value work that AI cannot perform. In reality, however, live assisted human-to-human interactions are never going to go away. In fact, those live assisted human conversations are becoming more high value and important than ever. After a sophisticated self-service experience with a bot, the customer expectation is that they will talk to a live subject matter expert. Here's where the true value of AI comes into play, because you can leverage the same AI used for virtual agents to silently monitor, whisper, and coach agents to respond in an efficient, effective manner. To really benefit from AI, though, contact centres must not rely solely on this technology, rather they should find the right balance between using it in a smart way and supplementing their valuable personnel resources."
Dhami agrees with Clare, "When anyone mentions the application of artificial intelligence (AI) to contact centres, everyone almost always thinks of chatbots. But there is much more to AI than chatbots.
"One of the major areas that is already seeing improvement from AI in contact centres is the customer queuing experience. AI can now be built-into platforms that integrate many different digital channels in one place. Through this combined use of AI and integrated channels, service reps have the power to see the entire customer journey in one single interface. Agents can flick between these different channels with the AI technology acting as a customer screening system. Important tweets are flagged, urgent calls are brought to attention and important emails made a top priority – all thanks to AI.
"Furthermore, AI can automate call transcriptions, saving agents crucial time. This technology is simply making the customer and agent experience better as it's easier for the agent to manage each interaction."
Lisa Clark, Vice President of Contact Centre Product Management at 8x8 commented "Today's digitally empowered consumers are surrounded by AI-enabled technology that delivers instant results. Their expectations for what constitutes exceptional customer service have risen. With AI in place, contact centres can predictively and proactively guide the customer journey, empower agents, and strengthen the use and application of analytics at all levels of the organisation.
"AI has already impacted the way contact centres work. We expect this trend to continue; both in the way AI is used to support front end customer interactions and the ways in which it will empower the agents needed to support those interactions. Humans will always lead the charge when it comes to dealing with customers, mainly because exceptional customer service requires human abilities like empathy. As AI-infused self-service applications are used to handle routine interactions, agents will be required to handle more complex interaction. AI will increasingly empower customer service agents to respond with speed and accuracy to handle complexity, at the same time facilitating new ways of working and collaboration to drive gains in first call resolution."
Martin Taylor commented "AI will have the biggest impact on the interaction between consumer and call agent. Many simple enquiries won't even reach a human agent thanks to AI-driven self-service, reducing wait times and speed to resolution for customers. Those customers with queries that do need agent intervention will find an agent that is up to speed with their query and augmented by AI powered in-call listening. This will provide on-screen information prompts to guide the conversation towards resolution. When you consider that 10-15% of call time is currently taken up by the agent looking up this information manually this is huge."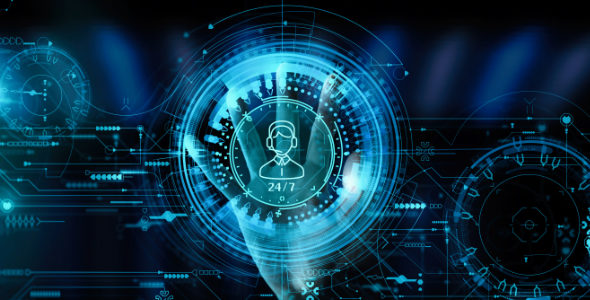 Distie View
CBM: Where will AI have the biggest impact in the contact centre? Front end customer interactions or back end data insights?
Gary Bennett, VP Sales, EMEA, Enghouse Interactive
GB: "It will have a major impact on both. The latest real time speech analytics technology, for example, can listen in real time to both sides of a conversation between customer and frontline agent and provide live feedback to agents, team leaders and quality assurance teams about what is being said and how it is being said. In this way, AI is effectively being used to upskill the agent, ensuring they keep to the script, remain compliant and speak clearly and calmly to customers.
AI is also being used effectively in the back office. Bots can be used to review customer enquiries, search through back office knowledge base systems and deliver answers directly to customers through chat, or they can be used to extract relevant information from backend systems and present it to agents to help them manage calls more efficiently.
In general terms, bots work especially well when the command is prescriptive. You often see them used in the airline and travel industry where similar processes are repeated frequently. Whenever the interaction is open-ended, however, the bot will struggle because it will not know all the potential scenarios. That is not to say that the bot does not have a role to play in these cases but we always advocate that the business puts in place an escalation path back to a human, to be used as and when required."
Ed Says
There is no doubt that AI will have an increasingly larger part to play in the contact centre in years to come. For partners selling into the space it will be imperative to educate themselves on the power of the products coming down the line from vendors and how that enables their customers to deliver the ultimate customer experience.
"It is that first experience, when a customer picks up the phone, or sends a message that is vital – and it is the first response that sets the tone for any further correspondence." - Sunny Dhami, Senior Director of Product Marketing at RingCentral
"AI will have the biggest impact on the interaction between consumer and call agent. Many simple enquiries won't even reach a human agent thanks to AI-driven self-service, reducing wait times and speed to resolution for customers." - Martin Taylor, Deputy CEO and Global CMO at Content Guru
"In reality, however, live assisted human-to-human interactions are never going to go away. In fact, those live assisted human conversations are becoming more high value and important than ever." - Matthew Clare, Director, Contact Center Solutions at Mitel