What is driving the convergence of UC and CC solutions? Comms Business investigates.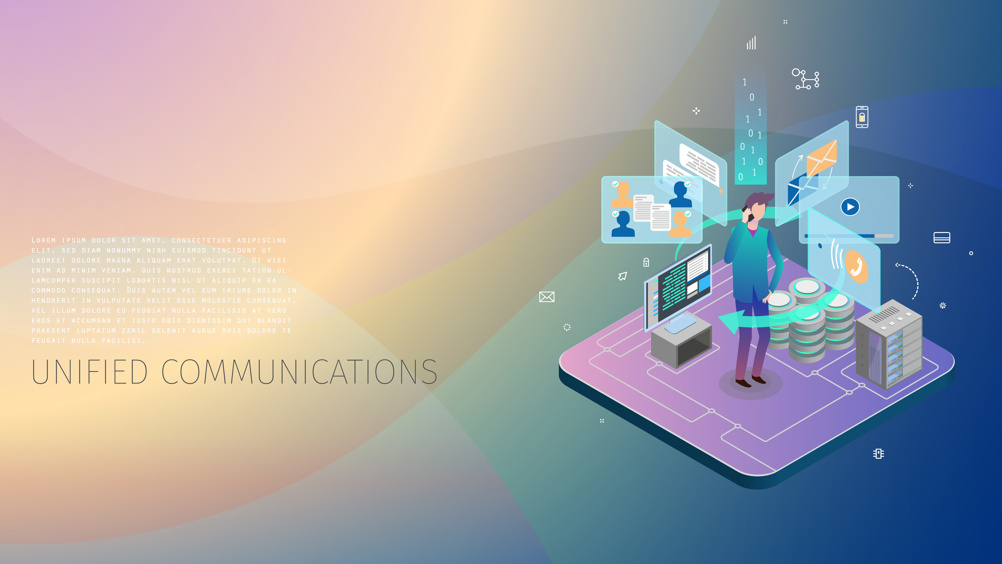 Unified communications, or UC, and contact centre, CC, solutions are increasingly overlapping in terms of functionality. "Unified communications, which we typically associate with communication within an enterprise or to help employees get their jobs done, and contact centres, which organisations use to interact with their customers, are both, fundamentally, about communication and collaboration," explained, Peter Quinlan, vice president, unified communications and collaboration product management, Tata Communications.
"While the business objectives of a contact centre and a UC application within the enterprise may be different, that collaboration is the common denominator. In both realms you see similar functionality to enable collaboration being applied, be it presence information, chat, voice, video, and content sharing. All this functionality is widely available as-a-service, or from the cloud now, and you do see it getting rapidly applied in all sorts of ways across CC and UC apps."
There is also the reality that employees want to be able to reduce the number of applications they need to use to carry out their roles. Courtenay Mills, head of voice and data, EfficiencyIT, explained, "Simplicity is a great driver. People don't want the hassle of logging into multiple platforms. They are used to having all the functionality they need for their purposes available in the one place."
The pandemic has also contributed to this convergence. Mills added, "Work from home undoubtedly necessitates a convergence of CCaaS and UCaaS. When you move people out of the office to their homes, the usual UCaaS service isn't there. If they want to transfer a call to a colleague or patch them into a conference call you are missing key features like Presence, which lets you know their availability, or the ability to send them a Web Chat message as part of a conversation. So the whole "work from home" phenomenon is driving the integration of UCaaS and CCaaS."
Malek Rahimi, group managing director at BDR Group, agreed. He said, "A primary factor is of course the pandemic and resulting lockdowns. Businesses needed to remain operational over the last 18 months and UC is the perfect solution to enable them to stay consistent."
Rahimi also pointed out additional factors. He explained, "The impending 2025 switch off is another driver of UC adoption as operations look to future-proof themselves and familiarise themselves with the technology, finding new innovations where possible, to stay ahead of their competitors.
"The final driver is customer service. As the technical proficiency of the average caller increases, customers want more flexible methods of communication that can adapt to their needs, whether it's booking a call for a specific time, in-app messaging or video chat, and UC offers that and far more."
Yet the convergence of UC and CC is not something everyone believes is happening. Johnathan Zemlik, head of contact centre, Wavenet, said, "I do not think UC and CC are converging anytime soon, quite the opposite, in fact, they are diverging at pace. I did think this would be the case even before Covid-19 and I'm even more sure now. There are many different reasons for this but let's start with the elephant in the room: Microsoft Teams has set the pace and backed systems integration rather than convergence!
Zemlik added that the rapid adoption of Microsoft Teams has added complexity. "Until Microsoft develop, and most importantly mature their own native Microsoft Teams contact centre, or maybe buy an established CCaaS vendor UC and CC convergence will remain limited for a huge proportion of the market. This doesn't mean UC solutions haven't become more complex and taken on features from the contact centre space. There is value in a company running a Contact Centre and Unified Communications on the same core platform, especially where traditional telephony was concerned."
Merging together
Various features that emerged in contact centres are now bleeding into unified communications solutions, and vice versa. Ali Hastings, regional channel leader at Avaya, explained that contact centres have broken down various silos within traditional business structures, and this has included the unified communications world. She said, "Traditionally the contact centre focus has been on channels – first multichannel, then omnichannel, then the customer journey. Throughout, channels have dictated the customer experience.
"But today's customers want to move seamlessly from one channel to the other, or operate across multiple channels simultaneously, effortlessly. This means that the focus cannot be just on customer experience, it must also be on the employee experience, user experience, and multi-experience and each of these is intrinsically linked the other. This makes silos meaningless, so unified communications is crucial to ensure that customers and employees have everything they want before they ask for it – and before they even know they need it."
Tony Martino, CEO of Tollring, said, "The huge growth in UC services has changed the way businesses communicate with their customers, which in turn is driving an increased focus on customer experience. Add to this the fact that in many cases, businesses are now able to compete globally, and that companies so focussed on getting through the pandemic are keen to retain customers, and it's easy to see why improvements in customer experience are so in demand. Cloud contact centre capabilities deliver the insights needed to truly understand customer experience. Without this understanding, improvements are difficult to make.
"It's not all about customer experience; the employee experience benefits too. Analytics and visibility help businesses to understand who needs more support and allows managers to communicate goals and share knowledge about progress more easily. This support directly contributes to employee wellbeing, which has become more important than ever."
Martin Classen, chief product officer, Enreach, said, "There are a few instigators for UC and CC convergence. First, businesses can no longer afford to put up with the barriers that having separate UC and CC can create. To keep customers happy, they need to deal with queries more promptly and efficiently. Plus, staff do not have the time to deal with siloed approaches: they require 360 views of customer relationships. Another enabler is that the technology is there. It's market-proven and easily deployed and managed via the cloud."
The cloud
Myles Leach, managing director, NFON UK, discussed how cloud adoption, at least in the contact centre world, is being pushed forward by the need to deliver on customer expectations. He said, "The fact is that customer experience is paramount in order to stay competitive. So, put simply, for contact centres it's a clear-cut situation; 'go digital' or face huge customer churn. With these market factors in full force, cloud adoption isn't just an option, it's a necessity to enable multichannel functionality and a future-proofed business. Customers want and expect a brand to have omnichannel communications capabilities. A traditional voice contact centre just doesn't cut it anymore.
"As technology advances, businesses are realising that only cloud services offer the agility they need in order to adapt, with speed, to new clients, channels and requirements. Therefore there's an increasing demand for contact centre services from the cloud.
Maintel and Avaya recently joined forces to enable Telegraph Media Group to transition from an on-premise telephony solution to a cloud-based UCaaS platform. The media company wanted to replace its PBX telephony system as limited functionalities, particularly around the ability to add new users, did not support its needs. Maintel advised Avaya's Cloud Office UCaaS calling solution would provide Telegraph Media Group with more functionality and cost savings on maintenance and support, as well as freeing up time for the IT Team to focus on other areas of the business.
Simon Ward, group sales and marketing director, Maintel, explained, "We are very excited to have been able to help transition TMG to a cloud communications solution. Avaya Cloud Office helps to reduce cost and complexity while empowering workforces to call and connect across any device from wherever they are. Avaya Cloud Office also easily integrates business applications like Google Drive and Salesforce, making for a customisable true cloud unified communications experience – all under one simple app."
Thomas Rødseth, CTO, Puzzel, highlighted several UC features that are transforming contact centre solutions. He said, "Contact centres are also deploying the likes of video calling and screen sharing capabilities for the delivery of customer services, alleviating common frustrations for customers, such as having to describe complex issues or queries that could be better demonstrated visually.
"With the pandemic forcing organisations to think of new and improved ways to deliver remote customer services, as well as enabling a more seamless approach to collaboration for agents working from home, there has been a clear acceleration in the deployment technologies such as chat functions, video calling and screen sharing within contact centres to improve the customer, and employee, experience."
Future echoes
UC and CC solutions are of course connected to a rich ecosystem of other technologies, many of which are colliding in the same vein as UC/CC convergence. CRM, or customer relationship management, solutions are increasingly being tied more closely to CC solutions. Wavenet's Zemlik said he is seeing "real convergence" between contact centre and CRM solutions. "I see contact centre vendors developing streamlined CRM technology and supporting full customer databases and I see CRM solutions building channel management solutions for digital channels such as email, web-chat and social media.
"This is because a good customer journey is data-led and they need that information from the CRM or natively within the system to ensure advisors can deliver on core metrics such as First Contact Resolution, reducing average handling times and boosting customer satisfaction."
Tata Communications' Quinlan also discussed the importance of coupling CRM systems with unified communications and collaboration solutions. He added that organisations could benefit from "going further by applying automation, AI, and machine learning".
There are countless ways in which resellers and MSPs can create opportunities from this convergence. Jeremy Payne, vice president, marketing, Enghouse Interactive, said, "There is a real opportunity for the channel to make their business more resilient here because the skills needed to deploy UC platforms are likely to end up commoditised over time and customers will ultimately grind the channel down on price. In contrast, from the channel's perspective, the contact centre is one of the most sticky applications it is possible to install into an end customer's operation. Therefore, resellers with that combination of skills: a UC capability; the ability to understand the contact centre, together with a vertical specialism perhaps, will potentially be building a legacy for their business, that that will provide a rich seam of revenue for years to come.
"Most strategic partners we work with, recognise that and are investing in a combination of skills to deliver UC and the contact centre in tandem - rather than exclusively chasing the short-term gain of isolated one-off UC deployments."
Classen, from Enreach, said, "One of the most significant opportunities for resellers and service providers is to address the largely unaddressed market for contact centre functionality that is not 100 per cent dedicated but still needed. For example, in a small business, employees typically have multiple responsibilities, including answering incoming contact from customers. So, these businesses do not require large-scale, dedicated contact centres, but they do need some form of contact centre functionality. Via cloud-based CC, they can do this. Plus, while that could be standalone if it is also connected to a broader UC solution, that presents a way to cross-sell within SMBs."
Tollring's Martino said, "There is a high demand for these types of tools, and resellers need to look at how they can provide a seamless and simplified customer experience, which is easy to deploy, manage and provision. Resellers need to ensure the services they deliver are integrated rather than fragmented, which will help their customers to reduce both management and training costs. By taking their customers on a journey, [resellers] can solve current issues knowing full well that as the business changes and grows, they can offer further capabilities to complement the portfolio of services, becoming the trusted advisor."
Chris Clements, sales director, Nuvias UC, said, "Any changes in trends or use of technology provides a huge opportunity for the telecoms industry. The most recent changes have increased the demand for Microsoft licence providers, the consumption of data has gone through the roof for connectivity providers, people are seeking more SIP trunks for resiliency, and call capacity for inbound calls – the list goes on!
"From our perspective, as a UC distributor, the biggest opportunity presented to us was the shift away from the traditional office-based desktop workspace. Video was typically for room systems and audio was typically delivered via desk phones. Now people are looking to provide the next best thing to a face-to-face interaction, the opportunity for video hardware comes in the form of plug 'n' play end points, while the requirement for headsets and speakerphones has increased for audio purposes."
Martin Taylor, deputy CEO and co-founder at Content Guru, said, "Right now, partners should be occupied with ensuring they are providing a true, holistic omnichannel solution to their customers, avoiding data silos, multiple points of failure and integration issues. Organisations should be investing in a cutting-edge solution that can deliver on all the necessary channels that customers expect and can integrate seamlessly into existing technology.
"The rise in capability of UC platforms has upped the ante for CC tech platforms, who have had to accelerate their rollout of chat, video and other 'high-end' office features to not become outmoded in terms of the agent experience and interworking capability. This presents a compelling opportunity for partners to become experts in the convergence of UC and CC, supporting customers by empowering their agents and other workers alike to deliver best-in-class customer engagement and experience.