The new business collaboration workspace is a platform of communications and collaboration capabilities that can be delivered to every user, regardless of their location or device.
Actually, collaboration is both a noun and a verb – to collaborate, where it can be defined as being to work jointly with others or together especially in an intellectual endeavour. It's definitely a bit more than co-operation.
In our sector we tend to view collaboration as being working with others to do a task and to achieve shared goals. It is generally applied to creative tasks that can often be repetitive where communications applications can be used to share knowledge and ideas where a workgroup can apply a greater or wider depth of skills to solve a problem or create something new and innovative.
Of course an alternative would be for the workgroup to trot off to a meeting room and thrash out solutions.
However, life is never that simple today as organisations tend to have dispersed workforces whether in different offices or working from home as well as an international presence where employees also need to be engaged in decision making.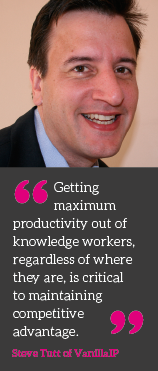 So OK, you can still get them all in one place for a meeting but that takes time and a lot of money and in practice this is only possible for a special event such as an end of year conference etc.
That then is to miss the point of collaboration in a day-to day setting. When a boss wants answers they generally want that answer straightaway - if not before. It was ever thus but today business imperatives just seem to be so much more immediate that in yesteryear and thankfully we now have the tools to get the job done.
So, a conference call maybe?
Well that would be to simplify the solution. Whilst conference calls using voice and or video have a great role to play in collaboration there are other applications that could be used to collaborate and manage that collaboration. (Ed. A perfect example of verb and noun)
As ever in our chosen market, the technology and technological terms frequently get in the way of users actually understanding what we are trying to say and ultimately what we are attempting to sell.
So, has the SME grasped the concept of Collaboration via adopting the technology?
Steve Nice, Chief Technologist (Open Source) at Node4 believes that the process of adopting new technology often encounters some resistance from end users, especially when it comes to solutions that revolutionise regular, well-established processes.
"With collaboration applications the situation is even more complicated as all users need to be willing to adopt new tools in order to enable collaboration. Based on my experience, it is the initial stage of the adoption of collaboration applications that is key. It is then when SMEs either buy-in to the solution or not; they either see the benefits of using collaboration tools or find them a burden.
In my opinion, UK SMEs have 'got' the concept of collaboration, but they still struggle with the actual implementation process. The most common obstacle they encounter is related to the wrong choice of apps.
Selecting the right app depends on companies having the right processes to establish their real needs in terms of collaboration so that they can get the right apps to meet their needs. Of course all SMEs require fundamental apps like email, but every SME is different – hence they need different suites of apps."
Meanwhile James Campanini VP and GM EMEA at Blue Jeans Network, says that as the benefits of collaboration have become more apparent, SMEs have increased their use of collaboration platforms, especially now that high-end tools are accessible not only to large enterprises but smaller businesses too.
"Many SMEs face similar challenges to enterprise organisations – they have offices in different countries, they have field workers or they simply offer flexible working, and so they need a solution to support this. We see customers everyday such as Borderless Executive Search and Forum for the Future, address their needs for face to face collaboration easily and at a low cost with cloud-based solutions. They can now communicate with different offices around the world, host client meetings and interview new prospects with high quality tools which has not been as easily accessible or affordable to SMEs in the past."
What advice they would give to resellers seeking to expand their applications offering with collaboration apps?
Steve Nice at Node4 is emphatic when he says, "First and foremost, resellers planning to expand their applications offering with collaboration application need to address the discouraging complex implementation issues that SMEs often run in to.
In order to do that, resellers need to ensure they can offer SMEs the following features:
Guided trial period – because of the complex, and rather intrusive, nature of collaboration applications, SMEs need a guided trial period, preferably with a limited set of features to start with
Training which offers remote support for employees who do not work in the main office
Flexible licensing models - also known as the 'freemium' model - which enables scalability of an applications suite
Mobile compatibility – as obvious as this feature may sound, I have come across applications suites which are not mobile compatible. With today's focus on mobile resellers may even want to consider mobile-first solutions
Data security – it's paramount that the data SMEs share via collaboration applications is not exposed to unauthorised access and that the data can be easily exported, preferably in an open format
Steve Tutt, Director of Product Marketing at VanillaIP agrees that the rise of collaboration technology is driven by the need for team based working and co-ordinated business responses.
"Getting maximum productivity out of knowledge workers, regardless of where they are, is critical to maintaining competitive advantage.

In January the Government announced that the rate of growth in rural areas was forecast to exceed that in urban centres for the first time in 200 years. In large part of this is down to changing workplace habits. To attract and motivate the best talent companies offer flexible working, work/life balance and BYOD; all trends that have led to the increasingly decentralised nature of work in the UK.
When we were all in the same office collaboration did not extend beyond appliance based VC; dialling up 6 or more ISDN channels to the other offices. Now that we are dispersed we need these share-based productivity tools to work smart together.
To maximise the market opportunity in collaboration the channel faces two key challenges; how do we productise this service? and, how do we minimise the ever increasing complexity?
An important distinction we make with collaboration is that we need to break it down into something real for the customer. Collaboration itself is not a feature, it is a verb not a noun. Customer needs vary across any combination of application/desktop/document sharing, whiteboards, video bridge, conference bridge, presence, chat etc.
One challenge is that we all have a lot of different features in our collaboration toolkit, often with different dependencies on services and licences. How can we package these discreet elements in a way that the customer can understand what they are and that he can sell the benefits to his colleagues? It's about trying to find the single use case for the customer to make his life easier.
We call this 'Intelligent Working' rather than 'Unified Communications'. Reducing cost is not the big driver anymore. Increasing productiveness and facilitating outputs is."
James Campanini at Blue Jeans Network remembers the SMEs of yesteryear had to put up with using inferior technology due to the historic high costs associated with collaboration tools.
"However, thanks to cloud technology, today SMEs have access to the same world-class technology that enterprise organisations have – and their users are now expecting this. The beauty of having a cloud-based solution is that there is not the huge investment associated with buying hardware and they have the ability to scale and grow with your business.
You just have to look at the changing ways of working and the phenomenon of remote working to realise that this is something that is here to stay. There is a huge market for resellers seeking to expand their application offering with collaboration apps, low-cost high quality solutions are necessary for SMEs to make the most out of face to face communication."
Reseller Comment:
Darren Standing, head of products and marketing at reseller Solar Communications, points to analyst reports that all indicate significant growth in the unified communications and collaboration market, particularly for cloud-based solutions.
"Typically, the success stories for business collaboration have focused on larger enterprises and a report from PwC (Unified communications, collaboration simplified), published in March, highlights how SMEs are lagging behind in adoption.
According to the PwC report, roughly half of UK SMEs are either stuck in a pre-unified communications world or one where disparate unified communications (UC) applications are used (mostly in a limited capacity), but not integrated. This presents a significant opportunity for the channel and one that we have been actively capitalising on at Solar Communications.
SMEs typically face the same business challenges as larger enterprises; employees work flexibly and remotely, they use a range of communication channels, and there is pressure to drive down cost and do more with less. These SMEs face another issue, however, with research among SMEs, commissioned by Solar Communications in May 2015, showing more than half (52%) believe competing with large enterprises is a significant challenge.
Communication and collaboration technologies offer SMEs the opportunity to differentiate in the market and compete effectively with organisations of all sizes by enabling increased productivity, better customer service, streamlined processes and reduced costs.
In our experience, SMEs are keen to adopt new communication and collaboration tools, but there is a general view that these technologies involve complex processes and deployments. The challenge for many SMEs is understanding the applications that will really add value to the business and then bringing together all the different point solutions into a unified package. This is where resellers can really add value. By focusing on truly understanding the challenges faced by SMEs, resellers can educate these customers on the applications and tools that are available, and then design and implement a unified solution that truly meets their specific requirements.
The Cloud has an important role to play in these SME propositions, allowing smaller organisations to rapidly adopt and benefit from new technologies without an upfront investment. SMEs become more agile as a result and can gain a significant competitive advantage by connecting and tapping into a dispersed workforce without the expenditure involved in setting up and equipping separate offices."
What's Avaya Doing?
It would appear that global vendor Avaya is set to announce a significant initiative on their IP Office and Aura platforms for collaboration applications and integration.
Last month the company announced it has completed the acquisition of Esna Technologies, the provider of real-time collaboration and communications software, to accelerate the adoption of communications-enabled applications for both enterprises and midmarket companies.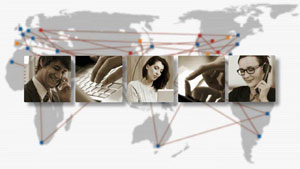 Through the acquisition, Avaya says it will enable end-users to easily access multi-vendor communications capabilities – voice, video, IM/presence, conferencing and messaging – from within cloud-based business applications using their device of choice.
A 'tightly integrated', Esna-enabled Avaya Communicator web client will be available for both the Avaya IP Office and Avaya Aura platforms with out-of-the-box video and voice capabilities that can be embedded into public or private cloud-based business applications.
The 'headless' thin client helps improve engagement, productivity and mobility by reducing the disruption caused by shifting in and out of applications or changing devices. For end customers, Avaya says that decreased effort in communicating with a company and improved experience of using multimodal ways to engage can lead to higher satisfaction, increased sales and faster resolution.
For IT departments, the flexible, open approach delivered by Avaya and Esna can allow their company to leverage their existing, multi-vendor communications infrastructure and easily integrate new technologies from Avaya and other vendors into cloud-based applications – an approach that can help companies avoid vendor lock-in.
Further, a thin client can speed the introduction and adoption of new technologies for more successful deployments. Developers will be able to create new innovative web and mobile applications that are more dynamic and increase competitive differentiation.
Gary Barnett, SVP and GM at Avaya for Engagement Solutions, says, "For all the effort that the industry has invested in business communications, most offers fall woefully short of the seamless user experience that leads to effortless engagement. It's time for the convergence of communications and business applications, time for enabling communications from the browsers of public or private cloud-based applications people use every day, and time for the user experience to be one click to engage.
With Esna and Avaya, that's the value proposition - coming soon to a browser near you."
Ed Says…
A lot of sense and practical advice coming from the coal face at Solar Communications. Avaya certainly seems to be upping the collaboration ante throughout their product range and elsewhere in this issue we feature the Comms Business Award winning unified communications and collaboration case study by NEC Univerge reseller Southern Communications at Southampton Football Club.