COMMUNICATION CONVERGENCE –NEW CHANNELS, NEW MARKETS,NEW REVENUE
This month Comms Business Magazine and sister title Mobile Business have launched their new mobile websites, allowing readers to view the sites on the move anywhere in the world and on any mobile phone.
The fact is that we live in a mobile world and more and more of us use mobile devices to communicate, pick up email and surf the web. The problem is that most websites are not optimised for mobile phones and viewing sites on the move does not offer a great experience. OK, so screen sizes are getting bigger, but even the much heralded iPhone creates user frustration when scrolling down and across long pages of text. The fact is a standard website does not read well on a mobile device.
Miles Publishing has partnered with 2ergo, the award winning provider of mobile enabling technology and services, to provide a specifically tailored mobile website.
The company provides a range of mobile solutions to small or medium sized companies sold exclusively through the reseller channel. Its integrated and innovative products enable businesses to communicate with their customers via the mobile channel in the most cost effective, highly targeted, personal and eco-friendly way, for example through the product range business can utilise
text messaging to remind their customers of appointments, customer services or promote marketing messages. Through the 2ergo business partner programme, partners gain access to a comprehensive programme of sales and marketing support that enables them to capitalise on the demand for integrated mobile communications within their customer base.
The software tool behind the new Comms Business and Mobile Business mobile internet sites is 'Swift', an award winning mobile application from 2ergo, which enables users to construct mobile web presences from scratch.
The innovative technology enables some of the world's leading blue chip companies to create mobile internet websites that are fully compatible with over 2,000 mobile handsets. Swift also allows sites to be fully customised, by adding text, multimedia content, website links, brand logos and corporate colour schemes and is unlike transcoding software which often unreliably converts existing websites to make them compatible with mobile.
Other unrivalled features include: instant preview, which allows marketers to view sites and make alterations before they go live; drag-and-drop page components; design customisation; automatic logo resizing; RSS feed support; data capture; and automatic device detection. In addition, the robust reporting system offers real-time analytics and tracking. It can provide daily, weekly and monthly reports on the number of page hits, visitors, the types of handset being used to access sites and the service providers making this possible.
Chris Brassington Group Managing Director 2ergo, said: "We're delighted to be part of this landmark deal between two giants within the communications sector. It heralds the launch of Comms Business and Mobile Business on the mobile internet platform, and ensures that both publications will have their own bespoke mobile internet sites, to keep readers up to speed on the latest news and features – direct from their handset. Giving publications an online mobile presence is a major coup for 2ergo and will no doubt be well received throughout the Channel."
"Swift is one of our flagship products, thanks to its capacity to give companies, of any size, the opportunity to communicate fully on the mobile platform.
"It allows marketers to create a professional mobile internet presence quickly and cost effectively, whether they want to extend their brand's online presence, launch marketing initiatives or integrated campaigns, publish blogs, disseminate information, collect data or drive advertising revenue.
"The advantages offered by Swift for companies using it include: a cost effective and innovative method of engaging with actual and prospective customers, a complete online presence, contributing to the assurance that all routes to market are being utilised and a clear return on investment and analytical reporting."
Miles Bossom, Publisher, commented: "What this means for our reader is the ability to pick up the latest Channel news quickly and easily, wherever they are, on their mobile phone. We will be developing our offering further throughout 2009 to add additional services for both our readers and advertisers alike. I believe that our mobile website will be the most user friendly in the marketplace and we are excited about taking our brand to another level."
Providing a one-stop-shop of mobile business, marketing and entertainment products and services, 2ergo provides the software tools for small to medium sized companies through to global brands to mobilise their business processes and deliver highly effective marketing campaigns and customer relationship management to audiences - via the mobile channel. Its customers include some of the biggest names in world business, such as Microsoft, O2, FOX News, Yahoo and AT&T.
Mobile phone usage shows no sign of relenting, as consumers' appetite for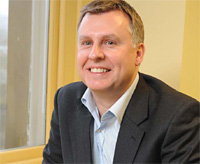 Chris Brassington Group Managing Director 2ergo
their beloved Sony Erickson, Nokia or Samsung handset, increases rapidly. There are already believed to be over 61 million mobile phones in the UK, 300,000 more than the human population and, in a recent survey, 70 per cent of Britons confirmed the handset was their preferred and primary means of communication.
The Mobile Data Association (MDA) has recently released its latest UK Mobile Trends report, to show the extent to which the mobile phone occupies every moment of our daily life. Key findings include:
On average 6.5 billion text messages are sent in the UK per month
Britons are sending, on average, 60 million more messages a day compared to the same period in 2007 – up by 38 per cent
We now send 1,495,525 picture and video messages every day
Findings from the MDA also reveal that approximately 17 million people in the UK access the internet via their mobile phone each month. Colin McCaffery, Head of Product and Marketing from 2ergo, added: "This figure is only set to rise as internet access becomes a standard feature on mobile handsets and advancements in technology continue at their current rate, if not faster."
The levels of interaction with mobile phone users are endless. According to the IAB, over 95 per cent of text messages sent are opened instantly, in comparison to email, which registers a disappointing 25 per cent - emphasising the end-users' responsiveness to mobile interaction.
Also, as many industries battle for stability during the current period of economic uncertainty the mobile channel grows from strength to strength, demonstrating impenetrable resilience and profitability. According to analysis by New Media Age, revenue from mobile messaging alone will reach over £33.8 billion in 2010 - a growth of £11.3 billion in just three years.
With 260 million handsets shipped worldwide this year, to date, the mobile phone is an expanse of revenue opportunity, particularly for resellers operating with the Channel. These figures demonstrate the strength and influence the mobile phone has on our consumer and business lives, establishing it as one of today's most powerful pieces of technology.
Consumers use their mobile phone for more than just calls and text messages, demanding technology that can fit with their mobile lifestyles. Again, according to New Media Age, mobile downloads, such as music, internet, video and gaming have increased, and, as the trend continues will contribute £37.5 billion, a growth of over 50 per cent.
The evolution of the capabilities of mobile phone communication has dramatically overshadowed traditional fixed-line offerings, opening up new forms of mobile interaction such as SMS, MMS, WAP and Email. The mobile phone is considered globally to be the fourth window of content after television, cinema and personal computers. And, with constant communication innovations, the potential for positioning the mobile phone as the primary piece of technology for all our entertainment, business and communication needs is strong.
Chris Brassington, group managing director of 2ergo, said: "With the mobile phone playing such a major role within everyone's lives, the new Comms Business and Mobile Business mobile internet sites are clearly tailor made for readers' lifestyle needs and mobile phone usage."
2ergo is making giant strides within the world of mobile marketing, mobile customer relationship management and entertainment, with its latest partnership with Miles Publishing one of several exciting developments for the company.
Amongst its recent accolades is 2ergo's recognition as one of the 50 fastest growing technology companies in the UK, by the Deloitte Fast 50 award programme. Measuring percentage revenue growth over the last five years, the Fast 50 programme honours technological innovation and entrepreneurial spirit.
Rob Seldon, Deloitte technology partner for the north, said: "Making the Deloitte Technology Fast 50 is a testament to a company's commitment to technology. With its impressive growth rate over five years, 2ergo has proved that its leadership has the vision and determination to grow in competitive conditions."
Chris Brassington, group managing director of 2ergo, said: "Being one of the fastest growing technology companies in the UK is an impressive accomplishment, and is down to the hard work of our dedicated team. We're delighted to have won an award from such a prestigious programme."
At the core of 2ergo's product portfolio is the groundbreaking 'Multiserve', which seamlessly integrates voice, data, text, email, video and mobile internet channels into one powerful and highly flexible mobile software solution.
To view the websites on your mobile phone simply visit www.commsbusiness.co.uk or www.mbmagazine.co.uk