As the most hotly anticipated event in the mobile industry calendar Mobile World Congress was back this year with a record turn out! David Dungay, Deputy Editor, wondered the halls speaking to visitors and exhibitors alike to find out where the market is heading. In this feature we try and piece together the major news and announcements from one of the most hectic weeks known to mankind.
There are a lot of words which would describe Mobile World Congress (MWC) but I favour 'overwhelming'. With over 3000 exhibitors and 108,000 visitors there are few experiences like it on earth. Much of my time was spent fighting crowds to get to my next appointmen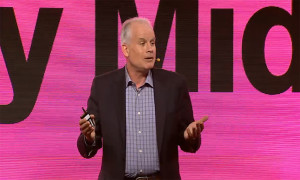 t and also trying to get onto stands to see the latest gadgetry the market had to offer.
The buzz around the show was relentless and just when you thought the shiniest device, or most significant news, had been unveiled there were ten other announcements to trump it. Here we take a look at the big topics for 2017.
5G – Is It All Hype?
Without a doubt 5G was the major theme at the show this year. The audience wasn't entirely convinced by the manufacturer's claims as the 5G technical standards haven't been agreed upon yet. Industry bodies have published general benchmarks for 5G which cite download speeds of up to 10 gigabits per second (1,000 times faster than average 4G speeds).
Looking around MWC at the vendor claims and marketing around 5G it was hard not to dismiss much of it as hot air to try and attract visitors. Everything being developed at present is still very preliminary and will be used as part of the many trials being conducted, or about to be conducted.
"5G is not ready yet," T-Mobile CTO Neville Ray told MWC attendees. "It's maturing quickly, but it's not real today." Ray dismissed some of the 5G trials announced at MWC as "fringe" use cases, and said carriers should focus on technology that's available right now. "LTE is where we really learn our trade and really build all the foundation blocks that are necessary for a 5G future."
Robin Kent, Director of European Operations at Adax commented, "It has been interesting listening to the conversations this week about 5G and one of the questions coming out is who is actually going to pay for it? When you look back at 4G, when it first came out there was going to be this big revolution and a belief that the operators were going to chuck everything away and put it all over 4G. Of course it didn't happen because it would require a massive investment to do something like that."
Daryl Schoolar, Principal Analyst, Networks at Ovum Commented "Mobile operators need to be wary of such announcements and of announcements from vendors promising pre-5G commercial equipment because compliance with the completed standard is no guarantee."
Value through Artificial Intelligence
During Mats Granyard's, Director General of the GSMA, opening keynote at the show he said 'intelligence' is going to be key for driving the next phase evolution, or the '4th industrial revolution' as he put it.
He said "At the core of this revolution will be hundreds of billions of connections, sensing and communicating key information about their environment, allowing the digital economy to spread into every aspect of our lives."
Telefonica announced their new AI platform at the event, dubbed Aura. Maria Alvarez-Pallete, Telefonica's CEO, said "By taking advantage of the latest technologies, Aura is able to listen, watch, talk, remember and act." He was keen to point out this is not another digital assistant but rather the cognitive intelligence inside Telefonica that every user can manage… whatever that means! We can expect to see Aura launched in about 12 months.
Closer to the business communications market, Genband was demonstrating their Digital Cognitive Agent for use inside call centres. The AI technology guides a support chat bot in real time which can point customer's at the right people if it can't solve the issue itself but it also learns solutions to solve problems and so becomes more efficient as time passes.
Sanjay Bhatia, VP of Solutions Marketing and Strategy, commented "In the context of live support Kandy allows a chat bot to have a conversation with a customer. We can also do this for voice or video. We have introduced the concept of a digital cognitive agent which sits behind the bot.
During the chat session, the bot can take the conversation into a live environment if needed, or requested, and also give the agent all the historical conversation between the bot and customer which is a great efficiency saver and really improves the customer experience."
Business Communications
There is one trend that will never die in the world of technology, and that is business communications. The context and technology will certainly change but businesses will always have a need to communicate. I spoke to several people at the show looking to bring their new flavour of communications into the limelight.
Xelion has entered the UK market recently with some lofty ambitions. As a hosted platform provider that only sells through channel, Xelion has a solid foundation in its home market, the Netherlands. Xelion's proposition revolves around giving partners as much choice as possible when it comes to delivering hosted telephony. Dave Reynolds, Managing Director of UK for Xelion, commented, "Xelion is an open platform, that means we will run the platform for the partner, they can source hardware from any distributor or any manufacturer. They can process their calls through any SIP network, we don't supply minutes so they can use their existing incumbent for that too. Because we are open and partners can plug in all their own bits each partner has their own version of Xelion which is unique to them. No-one else does that."
Over at the Atos stand Unify were keen to shout about their new position under the Atos banner.
Jon Pritchard, CEO of Unify, commented "We came into the event under the Atos brand and we set out to show that we have actually transformed into a different company. Our core offering hasn't changed but our approach to customers is very different. We clearly fit into the Atos Digital Transformation strategy because the one common denominator across every end user is the need for voice and collaboration."
We are looking at what we can productise from Atos and their large enterprise customers and bring that further down into the mid-market for a partner to potentially resell. We have to make it easy to sell, procure, and go out and install. That's one area we are working quite hard on at the moment. It's important we manage to productise the Atos offering for the Channel, I would expect for those to be available at the end of the year.
The newly appointed Scott Somenthal, Channel Sales Director EMEA at Genband, shared his strategy going forwards, "At this point in time the UK is the focus in my strategy, however my role is an EMEA and so we will look to expand beyond that. My objective is to get to the end of the year with four or five UK partners and then we can look at replicating that out across EMEA."
"At this moment in time WebRTC is massively understood or adopted by the Channel. That's an amazing opportunity for us, but there is an education process to be done in order to take that technology out there. I think some partners are going to have to get out of their comfort zone, the world is changing rapidly."
Ed Says
One thing struck me about MWC this year and it wasn't necessarily the technology on display. The number of Channel providers that I bumped into who were taking time out to look at the technology of the future had definitely increased. If you get a chance to go along I would recommend it, if nothing else it will get you out of that "UK reseller bubble" Mark Riddell talks about and give you the opportunity to think and widen your horizons.
On the technology front, although excited I am acutely aware that much of the current 5G story could drastically change once the technology standards are finalised. Dave Reynolds hit the nail on the head when he told me the winners in tech aren't necessarily the first to market. It's the one's that get it right first time.
The VR story hasn't progressed as much as I thought it would in 12 months and the gaming demos on show were all very impressive, but I can't help think that for now that's all they are. As far as I can make out, the only company which has made some tangible strides to producing anything the Channel can consume is Microsoft with their Hololens, which is AR (Augmented Reality) not VR strictly speaking.
Genband is doing a lot of exceptionally cool stuff which is ready for the Channel to consume but their UK sales train has yet to leave the station in my opinion. However, we are promised more partnerships this year which should kick start that journey towards this Contextual Communications which is starting to become a core theme in the comms industry.
IoT was one core theme of MWC which hasn't really been explored in this article, clearer vertical solutions are emerging in sectors like healthcare which the Channel should be able to get involved with.
As Dan Cunliffe puts it "Everyone is looking for the massive in IoT." He suggests talking to your top five customers about their strategy first rather than going to a specific technology and trying to shoehorn that into your base. The important thing about IoT is getting yourself skilled up now, your customers will need to develop a strategy and deploy solutions, if they haven't already, and you want the person they turn to when that happens.