NICE explains how partners can deliver a robust cloud contact centre solution to their customers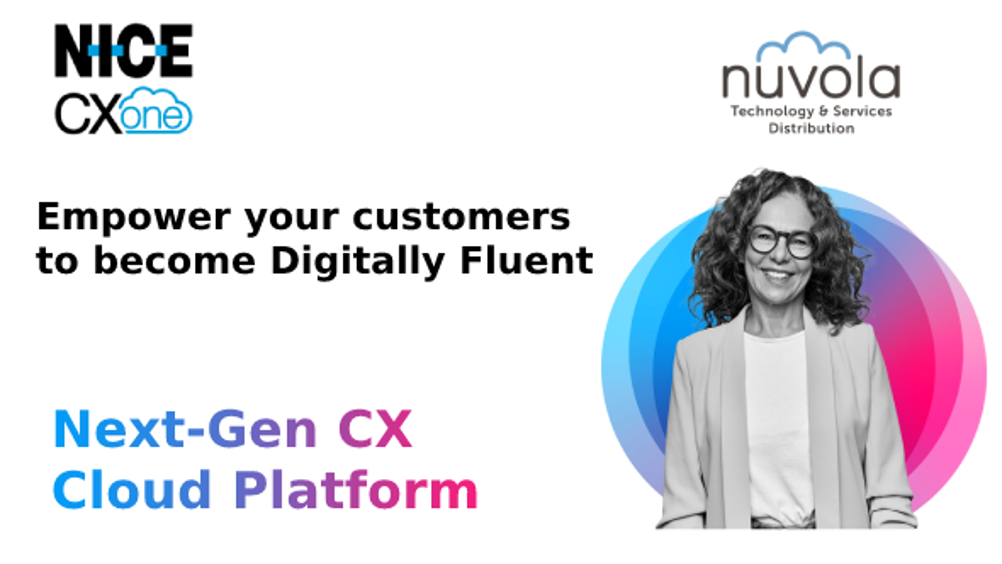 The discussion of cloud adoption vs om-prem contact centre solutions has become one of the most important topics for companies of all sizes. The transition to a virtual centre of operations for their contact centre has become key in developing an agile and proactive approach to their customer experience operations. And cloud-based solutions, in which agents can work remotely, has proven to have many benefits both for companies of all sizes, as well as for the workforce.
A cloud contact centre solution first delivers a better economic model for all types of organisations. With all fees easily calculated during the initial implementation, and the subscription fees in place, your customers can easily budget and forecast their overhead, and fully eliminate any hidden costs related to on-prem equipment, its maintenances, or any other issues.
Furthermore, it offers a more eco-friendly solution to on-site installations. Since all machines their contact centre is running on are virtual, they will eliminate all hardware thus reducing waste, eliminate the need for agents to commute to work on-site, and it will reduce the overall carbon footprint, as compared to on-prem solutions.
From a talent perspective, cloud contact centre solutions will allow businesses of all sizes to tap into a wider pool of talents and will give them greater flexibility when it comes to hiring. Also onboarding agents remotely is much easier as organisations can extend the same onboarding process and training programme consistently across all platforms in a matter of minutes.
Another advantage of cloud versus an on-premise set up is that agents are free from regular office stresses, too, which leads to less attrition and lower agent turnover. This translates in better work environments, more loyalty and lower investment in initial onboarding and training. Besides, with the right contact centre platform, agents can handle customer interactions from home, their laptop or even their mobile.
Not only agents will benefit of a more flexible environment, but a cloud-native omnichannel contact centre platform will enable them to handle customer interactions in a better, more efficient way. With built-in IVR, chatbots, and self-service tools, customers have the opportunity to solve or get answer to their question before interacting with an agent. This reduces greatly the agents' workload and handling routine tasks, giving them more time to deal with more complex customer interactions.
As you support customers move to a cloud contact centre, there are three important considerations to factor in the transition planning process:
Plan and prioritise for a digital-first approach
Companies of all sizes may be comfortable with an on-prem set up for the moment. But if your customers plan to expand their reach and better serve customers where they are, they may want to consider adopting new channels as well. An omnichannel approach, however, requires agility, and you would need to prepare them.  When they transition to a cloud-based contact centre solution, make sure the provider offers cloud-native functionalities and that they prioritise a digital-first approach.
Help your customers deliver the best experience to their agents
The strength of a good centre lies in agents' ability to be proactive and deliver a personalised service. And to empower your customers' agents to deliver best-in-class class, you'll need to equip them with a cloud solution that integrates with their main platforms: CRM, scheduling tools, emails and other internal and external collaboration tools to be efficient. CXone helps you deliver this experience, from one unified desktop with clutter-free dashboards.
Empower customers with remote training programmes
As more and more companies move to hybrid working environments, helping them implement remote training programmes for their customers is paramount. You can start by helping them evaluate the current programme and see whether that is successful, manage their quality performance and develop new agent coaching programmes for time and any place. And the first step is to deploy a remote-friendly training and continuous improvement coaching programme for a virtual, remote workforce. And for this, partner with the right digital-first platform provider who can make it happen.
How to deliver CXone with our partner Nuvola Distribution
Our Distribution partner Nuvola Distribution ensures smooth and easy delivery of our award-winning Cloud Contact Centre Solution, NICE CXone. Nuvola works hand-in-hand with us, our mutual reseller partner, and the customer to ensure a smooth, speedy, and trouble-free delivery. Nuvola has a Professional Services division with an experienced, certified, and highly knowledgeable team of contact centre experts that bring together the needs of all three parties.
To find out more or to try NICE CXone, we have a selection of bundles available exclusively from Nuvola. Click here to find out more.