DEMANDING DATA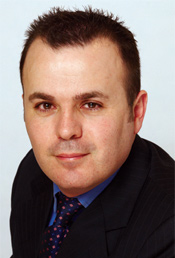 David Anahory, managing director at SpiriTel Business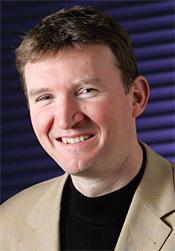 Niall Murphy, co-founder of The Cloud
As the mobile broadband market has matured over the last 18 months, the offerings available from mobile operators have changed substantially, reflecting the fact that broadband on the move has become increasingly important to customers seeking the benefits of being able to work effectively while away from the office. Heather McLean looks at how this market is evolving.
Mobile broadband is fuelling the next wave of customer acquisition within the indirect channel, as the market reinvents itself once again from a voice-centric business to one where data and applications using mobile data are preeminent.
Independent research commissioned by 3 shows that among the UK population of around 60 million, there are already 40 million internet users. However, the number of mobile internet users is still only 2.4 million. Yet the same research indicates that the demand for mobile broadband exceeds 16% of the population, meaning that the available opportunity today is some 7.2 million users, Julien Parven, sales and marketing director at Fone Logistics, estimates. "In a consumer marketplace that is heavily saturated, this opportunity outlines the importance of mobile broadband.
"Within the business to business space, the importance is even greater," Parven adds. "Demand upon organisations to increase worker productivity, improve business efficiencies and reduce costs, particularly in the current economic climate, means that mobile broadband has increased further in importance. Plus, given that the attachment rate within the indirect channel is still in single digits, this opportunity, particularly when exploiting a connected base, can deliver value to the end user and valuable revenues to the seller."
Bandwidth stampede
The Orange Digital Media Index report published in May this year showed an explosion in data usage in the last 12 months, which has more than doubled on mobiles and dongles. From February; 2008 to February 2009, dongle data usage increased by 4,125%; dongle subscriptions surged by over 504%; and mobile handset data usage increased by 108%. Orange also revealed that monthly page impressions on social networking sites soared by 129%.
The initial marketing push on mobile broadband by Vodafone and T-Mobile delivered phenomenal success, and resulted in the remaining operators rushing to market with their own offerings, says David Anahory, managing
director at SpiriTel Business, part of SpiriTel. "These offerings have varied on price, bundle size or the inclusion of unlimited WiFi access across a range of hotspots," he says. "Demand is being driven by customers requiring access to applications from their laptops as they work remotely. These bandwidth-hungry applications require mobile broadband to run effectively."
Mobile broadband is crucial in today's market, states Niall Murphy, co-founder of The Cloud, a European wireless broadband network. Approximately 41.2% of the Western European population today are mobile broadband users today and 80.2% are projected to be mobile broadband users by 2012 through laptops (14.6%) and handheld devices (65.6%), according to research from Exane BNP Paribas.
Mobile broadband has become a necessity in basic access for laptop and PC users (5.6% of the population today) and is growing extremely rapidly on handheld devices. These handheld devices are fast becoming fully functional computing devices supporting not just email, but full multimedia web capabilities.
Murphy comments: "People have been buying laptops and other devices with WiFi built in for many years now and have developed an expectation for high speed, portable and mobile use of broadband internet services. With over 50% of broadband connected homes using WiFi in the home, users have become used to mobility as a standard experience for broadband."
Social and business
The increase in the popularity of social networking services has undoubtedly increased the use of mobile broadband, which is likely to be encouraged by the EU's decision to slash the cost of international roamed data for those individuals who use such sites abroad, says Keith Horsted, mobile services manager at Nine Telecom. Another likely trend he points to in the mobile broadband market is the use of mobile optimised sites, such as those ending in .mobi. These again will improve the end user experience and aid the adoption of the technology, he says.
Anahory agrees: "From a consumer perspective, the ability to obtain mobile broadband for the same price as fixed line broadband, but receive a more convenient service, is a great advantage. Applications such as Facebook, where users need to be online to update their status, require constant web access. On demand services, like BBC iPlayer, have also fuelled the demand for mobile broadband. From a business point of view however, the need to access corporate emails, CRM or sales force tools, has made ensuring road warriors have access to the same applications available in an office environment far more affordable."
The mobile broadband market continues to grow in importance, particularly within the business sector, states Mark Seemann, product strategy and development director at Outsourcery, the company formerly known as Genesis Communications. "It was once seen as a luxury, but now the majority of workers on the move have got some sort of mobile connectivity," he notes. "Additionally, mobile broadband is helping to drive adoption of advanced software as a service applications such as hosted CRM, so from an industry perspective, a mobile broadband offering can be extremely lucrative, if sold and marketed the right way.
"Business users are also using mobile broadband to enable them to be connected to head office, either via Microsoft Exchange or email access, but also more and more employees now want access to CRM systems while on the move," adds Seemann.
"However, mobile working is developing way beyond simple connectivity, to collaboration methods, to enable teams to continue to work together, regardless of where they are. Virtual meeting applications and tools such as Sharepoint enable workers to share ideas, edit and input into documents from their laptops. Future applications will include video conferencing, unified communications and application streaming as bandwidth continues to increase," he says.
Enabling technology
SpiriTel has found that the availability of mobile broadband has increased demand for PDA's and smartphones. The ability to complete engineering job sheets or customer contracts on a PDA, and email the form quickly to the back office support teams, has driven demand for these devices and applications, Anahory states. "This has improved the services delivered, and can enhance a business's ability to invoice and collect revenue; there's no longer a requirement to wait until an office visit to submit paperwork on a weekly basis as it's all real time."
Mobile broadband is an enabling technology rather than a standalone service, and therefore people are not necessarily that interested in how it works, or indeed who supplies it, as long as it works, notes Horsted. He looks at mobile broadband from the view of user experience. "The device is often the deciding factor in the use of the application rather than mobile broadband itself," he explains. "Obviously the higher the data transfer speed, the more usable a high speed application such as video streaming becomes, but who wants to watch a movie on a two inch screen, apart from my teenage daughter?
"There are an increasing number of applications being developed by the mobile networks and their partners that are seemingly based on the concept that 'content is king'. However, I would suggest that 'context' rather than content is king, and unless the information is relevant or valuable to the customer it will be ignored, regardless of the broadband speed. Simplicity and familiarity of applications are likely to be the keys for greater use of mobile broadband," Horsted continues.
Operator question
Murphy states: "The shift to flat rate unlimited use access business models by operators and service providers is also a key enabler of demand. Arguably operators have under-priced these services in a bid to secure new customers for mobile broadband, with the consequence that mobile broadband is sometimes cheaper and more available than fixed internet services, but there's no going back now. Network operators are pipes. Service providers are bundling mobile broadband and fixed broadband to make for more compelling propositions to retain their customers."
Murphy continues: "It's a fact now that the network defines the value proposition of a device. Netbooks and smartphones are largely useless without mobile broadband access capabilities. The inherent speed of access devices is critical to how useful the device is for network based applications."
Horsted says: "I think the networks aspire to provide mobile applications to prevent them becoming just a fat pipe provider, and yet they continue to promote capacity in their tariffs rather than linking them to the applications themselves. This situation is compounded by the fact that the networks continue to promote greater and greater data bundles that customers frequently cannot equate to actual usage."
The prime driver for the increased demand in both the consumer and B2B markets is the absolute focus being placed on mobile broadband by the network airtime providers, says Parven. "All of the five carriers have mobile broadband as a key, if not the sole, objective for 2009 and this manifests itself in their messaging, both to the market and to the channel," he explains.
"Given this fact, competition is intense and each network is attempting to win ground by either increasing allowances, reducing costs, adding in supplementary services or generally enhancing their own proposition with series of offers, promotions and incentives. Unlocking this potential revenue stream from within their own connected base is a means of increasing profitability naturally without incurring the level of customer acquisition costs generally associated with bringing a new customer to the network," continues Parven.
Yet Seemann disagrees. He says network operators are not using mobile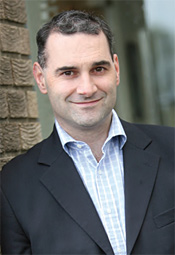 Julien Parven, sales and marketing director at Fone Logistics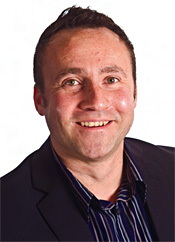 Mark Seemann, product strategy and development director at Outsourcery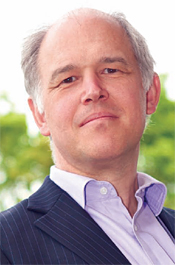 Keith Horsted, mobile services
manager at Nine Telecom
broadband to prevent their networks becoming fat pipes: "I don't think this is the case; network operators realise that the better their mobile broadband speed and reliability, the more advanced applications can be run over the networks. This in turn increases the value and stickiness of their offerings."
How to sell
Mobile broadband creates demand for a broader set of devices and applications, and requires organisations to work out how to extend the reach of their own IT systems across mobile broadband networks. Murphy says this creates opportunities for dealers to provide IT and support services, and to provide applications and accessories associated with these devices.
Parven says the key margin generator for mobile broadband is in unlocking the revenue from within a dealer's embedded connected base. "At the point of resign, a 15% mobile broadband attachment rate creates a significant incremental margin with little or no incremental effort in doing so. However, there is also a real margin in new connection attachment sold as an accompaniment to a shareplan deal, or as a complete small business solution to a sole trader."
However, Parven adds: "Dealers clearly are not taking full advantage of the mobile broadband opportunity. Generally, this is down to a lack of focus. In establishing a dedicated product specialist to work with new and existing customers this margin can be realised."
Agreeing, Horsted states: "I do not think dealers are making the most of selling mobile broadband, as there seems to be a limiting self belief that it is difficult, or not core business. Without giving too many strategic secrets away, the easiest way to sell mobile broadband is to bundle it with other products and services as a value add. These could be emergency tracking services, or panic button alerts, or remote monitoring. Stop giving cash back and start selling additional products and services that lock the customer in and differentiate you into the bargain!"
Significant income
Horsted comments that mobile broadband has the potential to generate significant incomes, both directly and indirectly. "The trick will be to integrate it as fully as possible so that its use becomes second nature to the customer. In addition, there is a secondary value to mobile broadband that should not be overlooked, namely its retention value, especially when it is coupled with a valuable application or service such as vehicle tracking or remote monitoring."
Seeman adds that he does not believe dealers are currently making the most of selling mobile broadband. He explains: "There's still not enough differentiation in the dealer market when you look at the mobile broadband deals on offer. Losing sales here will affect ARPU and churn in the long term, so offerings should be urgently reviewed and refined as soon as possible, for example integrating services such as SaaS."
Packaging mobile broadband offering with other services, such as software as a service (SaaS), can help to create a compelling package for customers, claims Seeman. "Even if the mobile broadband is low margin, the inclusion of SaaS will increase the overall margin and stickiness of the offer, helping to create a long term sales relationship, rather than a simple one-off deal."
Depending on the sales pitch being used, SpiriTel has found that it is possible to generate margin from the mobile broadband hardware and the bundles the customers purchase. The easiest option, Anahory claims, is to up-sell mobile broadband to the existing customer base.
Once this valuable product has filtered through current clients, dealers will have strong references and case studies to aid moving forward, using mobile broadband as another great comms service to attract new customers, and increase stickiness.
GIG TALK
One gigabit of data lets you send 650 plain text emails AND surf the web for 30 hours AND download 30 two minute videos AND download 60 music tracks
Three gigabits of data lets you send 2000 plain text emails AND surf the web for 100 hours AND download 100 two minute videos AND download 200 music tracks
Seven gigabits of data lets you send 4500 plain text emails AND surf the web for 200 hours AND download 200 two minute videos AND download 400 music tracks. How many business people have got time to use seven gigabits and still do their work?
Source: Nine Telecom