Driving Mobility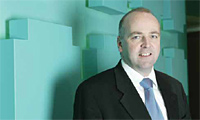 Tim Stone of Cisco

With mobile working on the up, companies need to be sure employees stay productive when away from base. Tim Stone of Cisco looks at the opportunities this will create for the channel
Where are you right now? Maybe in the office, but I would put fair odds that you are currently, or will shortly be, somewhere else; in a train, perhaps, or station, or plane, airport, client premises, home, car….
This might not seem like a big deal, because in today's world of mobile phones, mobile email and Wi-Fi-ready laptops, we tend to take mobile working for granted.
But the fact is that the amount of time that workers spend away from their main workplace is greater now than at any other time in the history of the modern economy. And this has important consequences for most businesses, including the channel.
Currently, these people have to rely on a range of different devices to stay in touch and can often spend as much time trying to manage their connectivity as they do being productive.
The analyst firm IDC predicts that within two years there will be 878 million mobile workers worldwide – a quarter of the global workforce – and that 99 million of these will be in Europe (Worldwide Mobile Worker Population 2005–2009, Forecast and Analysis, IDC, October 2005).
These are people who spend at least 10 hours a week working away from home and outside of their main workplace. Typically they fall into one of five groups:
'On-site movers', who work on one site but move around within it, such as IT Staff, facility managers and security guards.
'Yo-Yos', who occasionally work away from a fixed location, for instance in jobs which require business trips.
'Pendulums', who alternate between working at two fixed locations, such as the employer's office and a client or home office. 'Nomads', who work in a number of places and are constantly moving amongst them, such as a sales agent visiting many customers a day or management consultants working at different client sites.
'Carriers', who work whilst on the move, transporting goods or people; these include train conductors and airline stewards.
Catering specifically for these groups is increasingly becoming an issue for organisations.
In order to work efficiently outside of the corporate environment mobile workers need key competencies including communication, customer focus, planning and organisation abilities, flexibility and adaptability, and a flair for building relationships.
This probably sounds like just the kind of person you want on your side. But mobile working comes at a price, say the psychologists.
Compared to their office-based counterparts, these precious away-from-base employees are more at risk of poor mental health, feelings of isolation and reduced work-life balance.
Part of the problem is that, clearly, mobile workers do not have the benefit of a traditional office setting for much of their working life.
So they have fewer opportunities, for example, to corner colleagues for a quick chat about office politics, or to clear up small misunderstandings, or engage in any of the myriad of small instances of communication and feedback that help to bond people in a team.
How can you help your customers overcome this problem? The answer is Unified Communications.
To the uninitiated, this may appear to be just an extension of the current mobile worker's toolkit: the mobile phone, mobile email, a laptop with a few bells and whistles added. In fact, it is much, much more.
At Cisco, when we talk about Unified Communications what we are actually talking about is creating a workspace for the employee wherever they may be. And that, in turn, creates a raft of opportunities for the channel.
Beyond the core Unified Communications technology itself, channel businesses can profit from adjacent market opportunities including:
Access and security technologies to enable VPNs for home and remote working.
Wireless networks for office, branch and home office locations.
Dual-mode handsets and associated software, such as the Nokia Eseries range and the Intellisync Mobile Suite.
In addition, customers that employ mobile workers in virtual call centre setups may have a requirement for specialist home-shoring or nearshoring equipment and systems.
Critically, all this relies on technology being able to convey 'presence' – whether a person is using a particular device and happy to communicate on it.
So if you are talking to a customer about Unified Communications, you are talking about voice, data and video; wired, wireless and mobile networks; and just about any access device you care to mention.
With the rise of the mobile worker, you could say the opportunities for channel sales off the back of Unified Communications are coming together.