In this article business consultant Lucy Green offers four practical steps, taken from Larato's Business Leader's Crisis Playbook, to guide your business through the current crisis .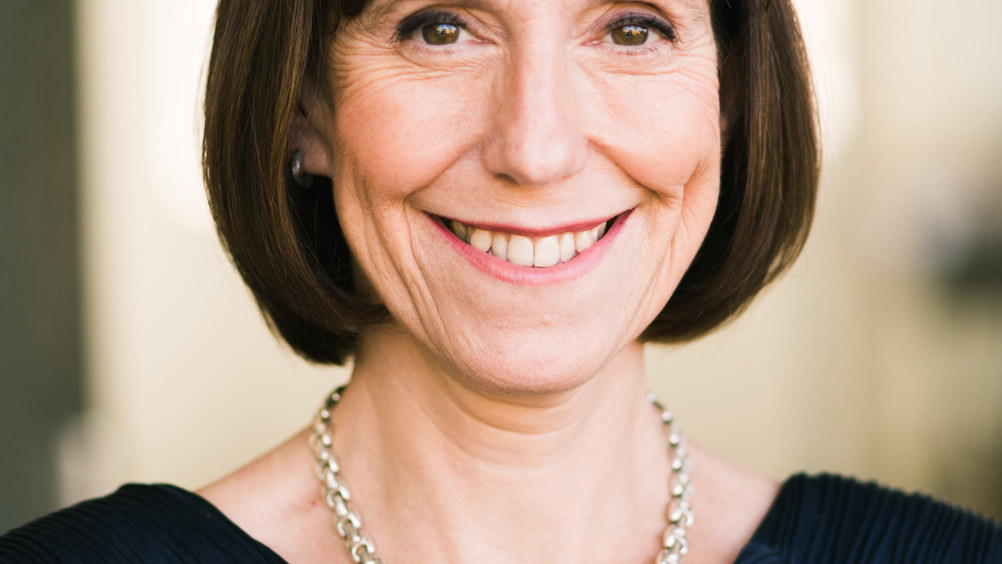 Coronavrius has railroaded businesses everywhere. Quite rightly, priorities so far have been on keeping colleagues safe and bolstering protection against cybercrime as more people work remotely. Now it's time for leaders to think about the longer-term implications of this crisis.
These four practical steps use information you will already have to:
• Build a data-backed picture of your organisation's short- and medium-term prospects.
• Consider the options available to you and help you choose the right path for your future.
• Create a practical action plan to move forward.
Step 1: Now - Outcomes, Revenues and Pipeline
Use the diagram to focus on the most important outcomes you want for your business. Although we have made some suggestions, it is important to make this as relevant to your own business as possible. Prioritise the top two or three outcomes you need to thrive or survive.
My customer base: Red: Amber: Green
Review your customer base in light of the crisis and categorise as follows:
• Green: the crisis has a positive or no impact on the customer.
• Amber: the crisis impacts the customer but:
• The customer has adapted and will continue to buy from my business.
• The customer will recover in an acceptable timeframe.
• Red: the customer's business is impacted in ways that present significant risk to my business over a longer-term period.
My revenues and profits: Red: Amber: Green
Categorise your revenues and profits:
• Green: revenues/ profits will be sustained through the crisis and into the future.
• Amber: revenues/ profits are impacted but expected to recover within a timeframe your business can tolerate.
• Red: revenues/ profits are impacted beyond a timeframe your business can tolerate.
My sales pipeline: Red: Amber: Green
Categorise your pipeline:
• Green: opportunity expected to proceed within a timeframe that is acceptable to your business' cash flow.
• Amber: opportunity expected to be delayed with negative cash flow implications.
• Red: opportunity no longer expected to happen.
Visualisation of your current status
Plot your data to build a powerful picture of your current status. At a glance, you can see your opportunities and risk exposure. This visualisation is great for discussing options with colleagues. It helps uncover opportunity and makes businesses more resilient to turbulent economic times.
Step 2: Options (see table)
Your dominant status helps inform your core approach. Use this to ask yourself two or three key questions about your current position and future.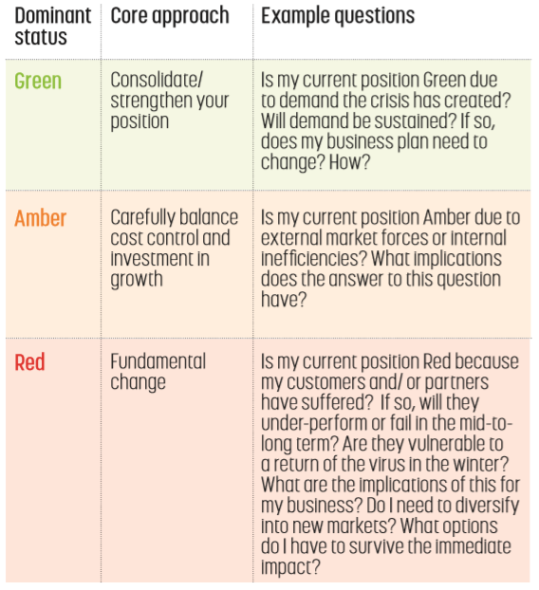 Step 3: Choice
Bring your priority outcomes back into your thinking. Short-list ways of achieving them in the context of your Red : Amber : Green status and options. Choose the most attractive, lowest risk, way forward.
Step 4: Action plan
Keep this short and specific. Be sure to include two or three actions to:
• Improve productivity and cost efficiency
• Strengthen your market position and credibility
• Boost your competitive position
• Build more resilience into your pipeline
• Make sure you have the right skills in your business