Groundbreaking with Garmin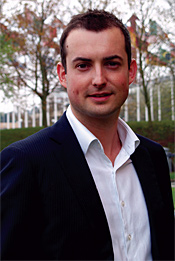 Greg Stephenson
There is no hiding from the fact that the mobile phone market is dominated by a few large manufacturers who will make it difficult for new entrants, yet at Garmin-Asus, there is the utmost confidence in the company's ability to innovate and succeed, says Greg Stephenson, European mobile product manager at Garmin, which is the company behind the nüvifone location and social networking-based smartphone range.
We truly believe we have developed a range of smartphones that are innovative enough to be a success," enthuses Stephenson. "Focus groups and early reviews have already shown that location information is important to consumers and they are craving a device that treats location information not as an afterthought, but central to the devices functionality.
"It is easy to illustrate this when looking at a family man who is interested in weekend discovery for his family and friends," explains Stephenson. "More often than not, he doesn't know where he wants to go so a simple navigation device is not suitable. He wants help with the decision and this is an area where the nüvifone excels. Through a suite of connected services, a nüvifone user is able to search surrounding points of interest, such as golf courses or family days out, as well as local events such as concerts, comedy shows and
movies."
First evolution
Last year at Mobile World Congress 2008, Garmin announced its first smartphone, the nüvifone G60. Like the name suggests, the innovation of the handset centred on navigation and location based services (LBS), much like the Garmin nüvi portable navigation devices (PND's) that you see in cars across the globe. The difference is the nüvifone took this award winning technology and seamlessly integrated it with a smartphone.
If we look back over the past couple of years, mobile phone manufacturers could change this by developing a device that has all the benefits of a dedicated, premium PND without losing any of the features found in today's premium smartphone's. A true converged PND and smartphone was our goal, but to achieve this we had to take control of not only the software platform but also the hardware it resided on. As a result, at Mobile World Congress this year we announced a strategic alliance with ASUS under a new brand, Garmin Asus.
"The next 12 months will be an interesting time for the Garmin Asus alliance, especially with the current economy, but I am confident that through new and existing channels we have the capabilities and vision to break into a very competitive market," says Stephenson. "We may be a new brand, but both Garmin and Asus are successful and growing consumer electronics companies who are used to innovating. This can be seen in the markets we dominate. Garmin has been instrumental in establishing and growing the automotive, marine, aviation and outdoor navigation markets and Asus has been the reason behind the netbook boom with the award winning EeePC."
The first two smartphone's that have been announced under this new brand are the nüvifone G60, and the Windows Mobile Pro-based nüvifone M20. Stephenson states: "Each device has been developed from the ground up with navigation and LBS in mind, but with slightly different twists to meet the needs of different markets. For example, the G60 has automotive styling with a larger 3.55 inch touch screen, whilst the M20 is small, compact and colourful for the younger, style conscious customer.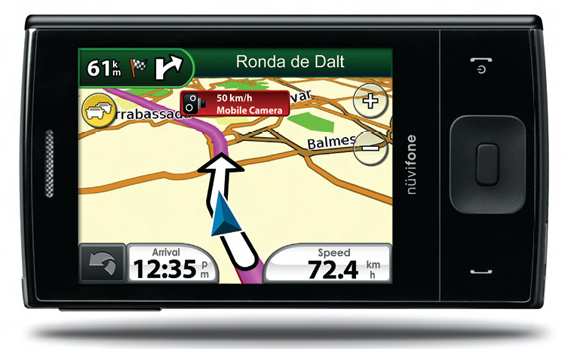 Location core
"What each device has in common is a simple and intuitive user experience that centres on the user's location," he continues. "For example, with a few finger presses you can find your location on a map, search for a nearby restaurant, call the restaurant to book a table, invite friends and family via SMS or email and then navigate to the restaurant whilst avoiding traffic and safety cameras. Each device comes with all the accessories needed for that in-car sat nav experience, including a powered windscreen mount and car charger."
Stephenson states that over 2009 and 2010 Garmin will continue to develop and launch new innovative products in the mobile market and satisfy the consumer demand for smartphone's with LBS. However, he notes: "What we are being careful not to do, is simply launch yet another smartphone that tries to blindly compete on specifications. The features, functionality and aesthetics of all our devices will have a clear purpose. For example, we have not implemented a camera for the sake of it, but we have integrated it into the core feature set of the nüvifone. The camera geotags all images with the longitude and latitude of where it was taken. Once emailed to a friend, they will be able to navigate to where it was taken. This is great for sightseeing or sharing experiences."
Motivate the channel
As well as being sought after by consumers, Garmin is also confident that the nüvifone range will help invigorate the mobile channel. Stephenson states that manufacturers have been struggling to differentiate their handsets for a while and have got stuck in the spec race. "The nüvifone gives dealers a new and unique proposition to push," he claims. "There are also a lot of consumers out there who like the idea of a smartphone, but find them too complicated or too expensive. The nüvifone, with its simple and intuitive software, overcomes the usual complications and with a premium sat nav included in the product, the price justification is also there for dealers to up-sell."
The most successful companies diversify at the most opportune moments, comments Stephenson. He says Garmin and Asus are doing this now and the products that come out of this alliance also allow the partnership's channel to do the same thing. "Our products offer the mobile channel an easy route into the lucrative sat nav market and vice versa. This is a huge plus for both of our channels."
Coming soon…
Garmin is currently investigating channels to market for all the nüvifone devices, so there is not a great deal to report on this area at the time Mobile Business went to print. Yet Stephenson adds that our readers can be assured Garmin is exploring all options. "Some European markets are dominated by mobile operators, so this is an important channel for us, but we will not ignore the unlocked opportunities which are becoming more and more important for consumers, who don't like to be tied to one provider," he explains.
The key for dealers is to invest their time in manufacturers and products that have a long term vision, states Stephenson. There is a risk in selecting new mobile manufacturers, he agrees, but when it is a manufacturer that is already established and bringing its experiences from another market to revitalise a saturated mobile market, it can translate into quick market share gains, he claims. "Apple did it with the media centric iPhone with its innovative UI, and Garmin-Asus is aiming to do the same with its location centric nüvifone."