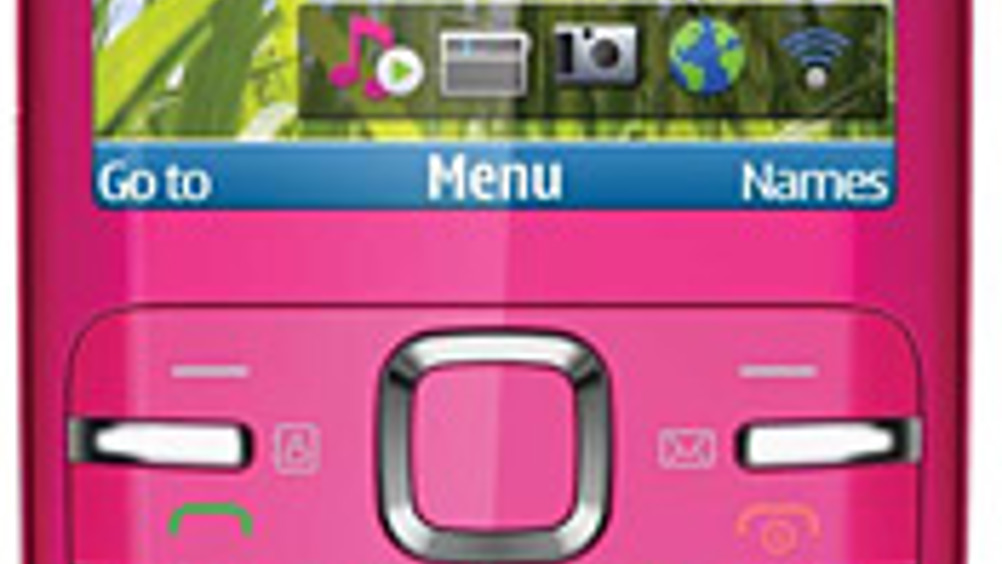 HANDSETS
Pretty in pink
Nokia C3
The Nokia C3 and Nokia C6 are designed to put better messaging and social networking tools in the hands of the great unwashed, at affordable prices. These new handsets feature full QWERTY keyboards, and enable access to a range of different email accounts, IM communities and social networks. Nokia's C3 is available in black, as well as white and very hot pink, I'm sure you'll be pleased to know. This gives the device appeal to a broad range of users, from business blokes to cool kids to pink-lovers…
The idea behind these handsets is to make popular services such as access to consumer and corporate email and instant messaging, which have gone down well on the Nokia E71 and Nokia E63, affordable.
The Nokia C3 is the first device from the manufacturer to bring a full QWERTY keyboard to the Symbian Series 40, and is the first in the range to enable access to social networks directly on the homescreen. People can view, comment, update their status and share pictures to their favourite social networks such as Facebook and Twitter.
At an estimated price of Euro 90, (before tax), the Nokia C3 also comes with Ovi Mail and Ovi Chat, meaning first time users can set up email and chat accounts straight from the device, without the need for a PC. Other notable features are Wi-Fi connectivity, a two megapixel camera, rich colour 2.4 inch screen and support for up to an 8GB memory card.
The Nokia C3 will be available in the UK by the end of June.
Nokia C6
The Nokia C6 is a Symbian-based smartphone combining the benefits of a 3.2 inch touchscreen with a full slide out keyboard, available in sensible-black and poseur-white.
This handset is higher spec than the C3, and looks the part too. A full suite of email and social networking capabilities means the Nokia C6 is perfect for people who want to stay up to date while on the go. The large screen provides a great internet experience, as well as offering access to Facebook feeds directly on the homescreen.
To be available in the UK in the second quarter of 2010 at an estimated price of Euro 220, (before tax), the Nokia C6 has an impressive feature set, including a high quality five megapixel camera with autofocus and flash, and Ovi Maps with free walk and drive navigation. In addition, thousands of apps - from games and videos to news aggregators and web services - are available in the Ovi Store.