HANDSETS
Hot to Trot for 2009…
Mobiado 105GMT
The 105GMT GOLD is the first mechanical watch mobile phone from Mobiado, following on from Motorola's recent release of the Aura. The short description is it's gold, ebony and very nice indeed. Oh, and very expensive; £2,500.
Like the Motorola Aura before it, this device is based on the idea that posh watches are bought for life and eventually turn into a family heirloom, so maybe phones can be heirlooms too. Unfortunately most phones I know don't survive that long….
There's only 50 of these babies in existence, and it is hand made and hand crafted ebony, gold and sapphire crystal. The 105GMT GOLD is unlocked, quad-band GSM/EGSM and dual-band WCDMA network operational. It is equipped with a two megapixel camera and video camera, more than 1 GB internal memory, a two inch display with up to 16 million colours, Bluetooth and micro USB connectivity, and a music player that supports AAC, eAAC+, and MP3 audio formats. Sweet.
BlackBerry Curve 8900
Yes, it is another Cyber-shot handset. But this one is Sony Ericsson's first Cyber-shot slider and its most advanced camera phone yet. The focus of this handset is the fact it is a heavyweight 8.1 megapixels.
The new C905 Cyber-shot allows consumers to capture and share vivid photos whatever their needs, photography skills or budget. Whether it is a compact camera phone with prestige good looks, or a real alternative to a digital camera, is up to the user.
This handset, which stole its looks from a digital camera, has got a real Xenon camera flash and offers the picture quality to match. It has face detection auto-focus, smart contrast and image stabilizer, a 2GB Memory Stick Micro, plus USB adaptor (CCR-70) provided inbox for easy transfer of photos to and from the PC.
Sony Ericsson is plugging the C905 as a viable alternative to a digital camera, and for the gadget minimalists or stone-broke people out there, it can be.
Porsche Design P'9522
First we had luxuary phones. Then we had designer phones from Armani and Prada. Then they tried to make them look like watches. And now car manufacturers are at it too.
The Porsche Design P'9522 is milled from a single solid aluminium block and a single sheet of scratchproof glass. In combination with its black and brushed aluminum finish, the P'9522 represents the timeless and authentic design philosophy of the brand. The P'9522 has the very latest communications technology together with excellent sound and picture reproduction:
The phone has a touch screen display, a built-in GPS receiver for mobile navigation purposes, a finger print sensor for security and Quad Band. Not bad for a first effort, Porsche!
Something to prove!
Nokia N97
Set for release in the first half of 2009, the Nokia N97 is here, in all its sparkling white glory, Ovi-compatibility, and promises to make the iPhone look passé.
Designed for the needs of internet savvy consumers, the Nokia N97 combines a large 3.5 inch touch display with a full QWERTY keyboard, providing an always open window to favourite social networking sites and internet destinations.
The Nokia N97 introduces the concept of 'social location'. With integrated A-GPS sensors and an electronic compass, the Nokia N97 mobile computer intuitively understands where it is. It makes it easy to update social networks automatically with real time information, giving approved friends the ability to update their status and share their 'social location' as well as related pictures or videos. It's also got a whopping great memory, supporting up to 48 GB of storage, including 32 GB of onboard memory, expandable with a 16 GB microSD card for music, media and more. Can't wait to meet it in person.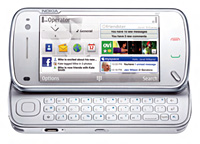 Sonim XP3
Billed as the world's toughest and most rugged phone is the latest from Sonim, the waterproof XP3. Even though it is not the touchscreen's we've become accustomed too, it is rather appealing, particularly in jolly JCB-yellow.
The XP3 has a more rugged specification than its predecessor, the XP1, being able to handle more shocks and drops. Most importantly, the phone can be fully submersed for 30 minutes within one meter of water. Very useful. We like.
In addition, the XP3 boasts an IP-57 rating and is designated with a Mil- Spec rating of 810F against salt, fog humidity, transport and thermal shock. The phone is rugged in every detail; the keyboard touch buttons are tested to function beyond 500,000 pushes. And it is equipped with a powerful 1180 mAh battery that delivers 5.5 hours of talk and over 9 days of standby time! Something for all smartphone manufacturers to pay attention to…
Dolphin 7850 Mobile Computer
OK, so it's not a handset exactly, but for those B2B dealers and resellers, this is a good piece of kit to work into an overall mobile comms package.
This is Honeywell's Dolphin 7850 Mobile Computer. Designed to be the ultimate scanning solution for in-premise mobile data collection, the Dolphin 7850 features a water, dust and shock resistant casing, power management, and now three new long range laser scanning options that bring distant or hard to reach bar codes into user's hands.
The 7850 is developed for high performance and high endurance. The rugged chassis, composed of an internal magnesium alloy frame, has been tested to endure multiple drops onto concrete from 1.5 meters and over 2,000 tumbles from one metre. Very handy in the warehouse.