As the healthcare sector battles the Covid pandemic, Comms Business puts it under the microscope.

Technology has been vital to managing the pandemic, as well as helping other aspects of healthcare to run as smoothly as possible at a time of unprecedented strain. Devices, communications, and software are helping deliver new treatment pathways and patient interactions – both within the NHS and for private healthcare businesses.
For Dave O'Shaughnessy, healthcare solutions consultant at Avaya, change is here to stay. He said, "Proactive, digitally enabled patient engagement will be a transformative development of both public and private healthcare for the foreseeable future. How can healthcare organisations better communicate and collaborate between their patients and appropriate staff, and over a patient's channel of preference? Partners and MSPs should become aware and closely familiar with the strategies and projects for this unstoppable evolution in delivery and access to healthcare services that the pandemic has accelerated us towards.
"Partners and MSPs must identify and develop relationships with the key personnel who will be responsible for this transformation in patient engagement. Look to share compelling use-cases and examples of the latest in technological innovations that align with patient or customer engagement and experience goals you've learned about."
Ian Wilcox, public sector strategist at MLL Telecom, said it is worth knowing the public sector, including NHS trusts, are mandated to use Crown Commercial Service (CCS) frameworks for procurements over £1,000,000 unless they can justify otherwise. "Local authorities and health organisations do have local procurement rules and may have approved supplier lists they can go to for contracts under the Government's procurement threshold.
"It is positive news that the CCS and the NHS have got much better at listening and are taking on board input from industry. A good example is the major nationwide Healthcare and Social Care Network migration programme completed at the end of last year. This has seen the NHS listen and change its approach in collaboration with industry which contributed to the successful completion of the transition away from N3. In achieving HSCN compliance back in 2017, MLL is now one of only 21 accredited NHS Digital suppliers authorised to offer HSCN network connectivity services. As an SME competing against major established suppliers our achievement should be heartening for other SMEs."
Removing complexity
The priority for resellers and MSPs must be to help simplify complex networks for healthcare providers. That's the view of Dale Smith, head of channels for the UK and Ireland at Juniper Networks. "Even prior to Covid-19, many healthcare providers, such as the NHS, were on a journey to modernisation and digital evolution as part of their long-term business plans. Partners are working to provide flexible cost models, training and professional services to help customers upskill and reduce knowledge gaps.
"New digital medical equipment, such as electronic health records, imaging and telemedicine, that requires bandwidth is constantly adding to the internet of medical things. Plus, the exponential growth of personal devices brought in by clinicians, researchers and patients further adds to the IoT 'overhead' for a network."
Preventative healthcare solutions are crucial according to Dr Arslan Usman, system architect at Pangea. "Right now, with the help of the NHS, the UK government is focusing its efforts and policies on preventive healthcare, in order to reduce the risk and strain that comes with treating disease. So resellers and MSPs that want to help the NHS can work with researchers to create solutions that aid preventative healthcare.
"For instance, take a smartphone app that recommends meals based on your level of daily activity. This could reduce risks of obesity, diabetes, and other diseases impacted by diet. Daily activity and analytics could be tracked via an IoT device like a smartwatch. It's simple in concept, but could make a real, positive impact on a user's life."
Roger Gooden, founding partner and CEO, the Medical Buying Group (MBG) has found working closely within the primary care sector, such as GP practices and healthcare centres, is the easiest route to solidifying a partnership within the NHS.
He highlighted, "Primary care is often the first point of contact that patients will make with the NHS, therefore the surgery's telephony or communication systems are detrimental to delivering the exceptional patient care the NHS is known for. Having established a network of healthcare customers through our telco and IT businesses, we established MBG with the purpose of helping the NHS negotiate their supply contracts that were incredibly time consuming to manage for practice managers.
"The feedback we have received, especially during these times, is that they are looking for knowledgeable support with a product that is fundamentally easy for all staff to use and most importantly, reliable."
Private healthcare progress
For Smith at Juniper Networks, the network is the lifeblood of the modern healthcare enterprise. He added, "It functions like the vascular and immune systems of the human body, transporting, actioning and protecting critical information 24:7:365. The network plays a vital role in keeping an organisation healthy. A healthy network means organisations can scale and support new applications and technologies that can assist in driving better patient outcomes and experiences.
"That's why it is paramount that resellers offer operationally simple and infinitely scalable network infrastructure, as this is what ultimately upholds the operation and provision of all the connected devices, apps and people."
Usman at Pangea thinks private healthcare businesses are also moving towards preventive healthcare as a focus. "The difference is, private clinics operate more freely than the NHS, so developing products in the same vein of preventive healthcare is easier for them. This also means Channel partners may have an easier time teaming up with them, since they won't have to meet as many requirements as they would for a government tender."
Private healthcare surgeries, much like the NHS, find themselves struggling with both funding and time, said Gooden at MBG. "The private sector doesn't receive the same level of support from the government as the NHS, so they have to be particularly frugal regarding where they spend their budget.
"Being able to offer a rounded package of comms products with additional support will prove unparalleled to most practice managers and of course they are looking for a service provider that has some understanding of healthcare communications systems and how they can improve.
"When looking to upgrade the likes of a phone system, change can prove disruptive and while improved technology will be beneficial for healthcare teams, it is vital that the transition is as seamless as possible. Offering team training on any software or hardware is greatly appreciated and also minimises future user problems during the duration of their contract."
Lasting change
Advances in video and audio conferencing technologies have helped the healthcare sector adapt and rise to the challenges of Covid. Jeff May, UK sales director at Konftel, said a snowball effect will trigger even more reseller opportunities. He added, "Covid has accelerated what was already happening. High-quality equipment that delivers professional quality experiences will continue to grow."
For O'Shaughnessy, from the perspective of the needs of healthcare organisations rather than of patients, one of the most challenging aspects of the Covid-19 pandemic was being able to rapidly adapt the delivery of services within the constraints of the pandemic restrictions.
"For example, while healthcare organisations were dealing with the Covid-19 hospitalisations and treatments they simultaneously continued to provide day-to-day in-patient and out-patient services that could not be postponed or cancelled, which put an enormous strain on human and service resources throughout healthcare organisations.
"From that operational continuity perspective, being able to easily and rapidly communicate the latest information with a healthcare organisation's staff, patients, and partners proved very difficult – changing staff rosters, rescheduling or postponing appointments, ordering hospital supplies, or providing Covid-19 advice, a whole range of information that needed to be communicated rapidly across multiple communication channels with large groups.
"In many cases the healthcare organisations didn't have access to flexible or scalable technology to deliver these communication services and so turned to cloud communication service providers who were able to quickly design, deploy, and scale their services as and when needed."
He added, "In some respects, the pandemic has brought huge but ultimately positive disruptive change to the delivery of healthcare services in an incredibly short space of time. Many technology vendors had been promoting the potential value of digital communication services for healthcare organisations for many years.
"Now they are being deployed and embraced very quickly, proving their value and future potential in the evolution of digital healthcare services, where integration and automation are at the forefront of service development and deployment."
Navigating change
Wilcox at MLL Telecom said the basic premise that all purchases have to be seen to be best value has not changed – but the nature of contracts is changing markedly and Covid 19 has accelerated some of this. "Contracts need to be much more flexible, suppliers are expected to react quickly, SLAs are becoming more demanding and delivery timescales becoming tighter. Covid 19 will have accelerated the move to more flexible working for admin staff, but the ambitions for technology that will support and improve front line services has not significantly changed."
Juniper Networks' Smith argued that the additional burden of Covid on healthcare workers has further amplified the need for a quickly deployable, easy-to-use, agile and secure network. He added, "As the number of hospitalised patients has increased, so too has the demand on healthcare workers for faster delivery of patient care. It is therefore absolutely vital that they can trust in the network to remain always-on, secure and scalable to meet whatever operational demands that may occur.
"As a result of resellers offering AI and machine learning, healthcare organisations can dramatically simplify wired and wireless operations, providing unprecedented visibility into individual user and device experiences. With automated operations and root cause analysis capabilities, healthcare organisations can drastically reduce time to resolution for support issues, and even prevent them from occurring in the first place.
"Additionally, embedded intent-based automation and analytics simplify all aspects of the network design, build, deploy and operate phases, thereby eliminating complexity, and minimising vulnerabilities and outages.
"Connectivity issues can be remediated quickly and behind the scenes – so much so that end-users may not even notice there has been an issue. Managing sophisticated networks simply allows healthcare workers to provide excellent critical care to patients without the added stress of network issues – boosting both user engagement and patient experience."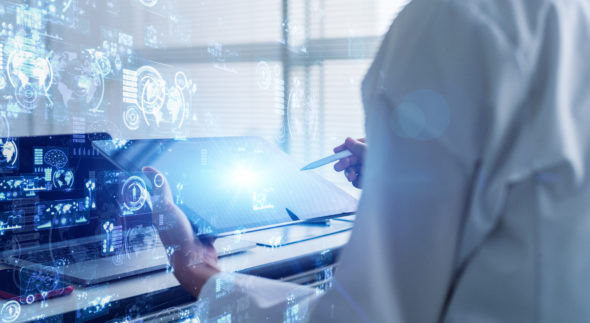 Removing distance
For Usman at Pangea, one big change is the new emphasis on telehealth, allowing doctors to tend to their patients remotely through online access. "Telehealth is essential for protecting vulnerable groups like care home residents in situations like the pandemic, and it's closely tied to the wider focus on preventive healthcare since they reduce risk of patients becoming ill. And this isn't a change that'll disappear once the pandemic is behind us. Telehealth also saves time and resources that would be otherwise spent on on-site triage, getting doctors to patients' bedsides, and more. Post-pandemic, we can expect it to become the norm."
Gooden at MBG feels major industry changes will remain. He explained, "It is clear to see that the NHS and healthcare workers are stretched at any given time but after the effects of a global pandemic, time has become a commodity that they simply do not have. These changes will likely last into the distant future if not permanently. Even for the sake of prevention, there won't be a work place that hasn't had to adapt to the new ways of working and healthcare is at the very centre.
"As a reseller or MSP it is integral that you are proactive and ten steps ahead so none of your healthcare clients have to spend any of their valuable time fixing or changing systems that are detrimental to their operation."
Usman highlighted how funding bodies across the UK are offering millions in grants for telehealth-related projects. "Bodies like UK Research and Innovation, the Medical Research Council, and the Engineering and Physical Sciences Research Council have all put out calls seeking technology providers to work with. Many are focused on connectivity between the different elements of healthcare services, like connecting ambulances, care homes, and remote surgeries through 5G.
"There's about to be a lot of investment into the healthcare industry. Channel partners can win these investments and blaze a trail in healthcare by engaging with research bodies and companies working on these projects."
O'Shaughnessy at Avaya agreed the pandemic has given us insight into the future, and very exciting potential for digital healthcare. "From the huge rise in deployment and embracing of remote video consultations, to the digital automation of rudimentary administrative services such as medical appointment-management, patient prescription-renewals, and the enormous potential in remote patient monitoring services. This represents an exciting early shift from the traditional reactive to a digitally proactive healthcare service, where the patient becomes an active participant in their own healthcare.
"It's not as if we haven't seen this kind of reactive-to-proactive shift in other services, a model of which could very easily be adapted into a proactive healthcare service. For example, in banking and financial services, we can see to how they can proactively monitor and manage customer accounts and their activity and will communicate to the client when suspicious activity is occurring, helping to provide the customer with reassurance that their banking services are in a healthy state. Consider how this model of proactive engagement could be evolved into healthcare.
"As an example, we can now easily envision a patient wearing a clinical wearable device that is capturing data and automatically, securely communicating that information into the healthcare service's clinical database for detection, diagnosis, and prognostics of medical conditions, and further supported with AI data analytics – this is no longer in the realm of futuristic innovations, this is technology available to adapt and deploy today, rapidly over cloud services."
Visibility and flexibility
A current topic being promoted by the Cabinet Office is the inclusion of 'social value' as a factor in evaluation, said Wilcox. "It is starting to appear in requirement documents and is likely to be sufficient to have an impact on the outcome if you have a poor response. This could be a challenge especially for SME organisations considering entering the market.
'Internet-first' services including cloud, SaaS and zero trust networks are becoming much more prevalent, but backed up by a need for solid and reliable connectivity solutions. [There is also] a big drive for wi-fi services in remaining offices and software-defined technologies to give customers visibility and control of network traffic."
Smith, from Juniper Networks said AI-driven networking ensures higher resilience and business continuity to optimise workflows and lower the costs associated with healthcare delivery. "For instance, healthcare providers can utilise location-based services that aim to engage patients and guests with proximity alerts such as greeting upon arrival, Covid-19 protocols, influenza reminders, digital coupons, enhance hygiene and cleanliness protocols, while also detecting temperature anomalies for refrigerators, freezers and incubators.
"Location-based services can also help healthcare providers with reducing late or missed appointments by providing turn-by-turn directions. or locating vents, pumps, wheelchairs and other critical assets within one-metre accuracy."
Chief executive Simon Hunt at Sypro believes the all-important need for flexibility in support of healthcare clients is crucial, where digital software needs to be a standard aspect of the project toolkit. He said, "During the pandemic, tech platforms have come into their own – but looking beyond the likes of Zoom and Microsoft Teams in keeping us connected while working remotely, digital tools and software have proven themselves invaluable.
"What Covid has proven to everyone is that use of tech is going to be a de facto step for every business. Being able to remain connected and productive has only been possible thanks to our quick deployment of different tools, but it has also proved that 'working from home' does not translate to 'not working'. This is only going to be a positive thing moving into the future, as those who were previously anti-tech or anti-remote working have seen the real benefits to both over the past year."
Winning opportunities
Cherie Howlett, CMO, Jola, explained that resellers and MSPs are naturally nimble, flexible and resourceful – and these qualities help them solve the very real challenges the health sector is facing. "Above all, they know how to sell, and they need suppliers to help them win opportunities for appropriate and differentiated products.
"When we went into lockdown, the tap was virtually turned off on traditional connectivity and telephony. Some sectors closed down completely. MSPs and resellers serving those sectors either hibernated or looked to pivot into products and sectors that were still buying.
"MSPs winning large NHS contracts tend to be on government frameworks, but many resellers and MSPs are providing solutions to private healthcare locally. By partnering with suppliers, resellers and MSPs can pitch for more of the deal and therefore have more chance of winning."
Matt Barnes, head of health and housing at Maintel, said the healthcare sector, like many industries, has embraced digital technologies as a result of social distancing. "For some healthcare services, where in-person appointments have increased risks, they are turning towards digital tools to deliver the same level of services as they would with in-person. We're seeing the rise of remote consultations.
"Looking beyond the pandemic, hospitals may see a continued uptake in these digital technologies as it has the potential to reduce lengthy patient waiting times and provide the resources clinicians need, to deliver better patient care. But first, having the right infrastructure will be imperative to streamline and improve the healthcare sector."