Data and analytics can help resellers and MSPs gain a competitive edge. Comms Business uncovers the secrets to success.

It's often said that data is the new oil of the digital economy. Increasingly there are many ways resellers and MSPs can gain an advantage – to help their customers diversify and develop.
Business is booming for Tony Martino, CEO of Tollring, who said he's seen a considerable uptake in data and analytics services due to this now being accessible to all sizes of business. He added, "This growth clearly shows the thirst that businesses have for analytics and insights. The uptake has been consistent across vertical sectors. These are businesses that place customer experience as a top priority such as those in retail, finance, recruitment, and estate agents.
"These same sectors have also increased their use of analytics significantly as staff needed to work from home. They use call analytics to understand if the needs of customers are being met and to ensure staff are focused on the right things, as well as to compare performance against pre-lockdown data to ensure a consistent high level of service." He added some of the largest organisations have had to completely transform their communications.
For Jon Daniel, head of product at Glide, businesses are starting to leverage data to allow staff members to return safely to offices, as lockdown restrictions lift. He said, "In a world where social distancing is set to continue, employees will want to feel safe at work. Location based services – which run over existing wi-fi networks and use anonymous MAC addresses – can help to understand how visitors move around a property.
"With a range of features such as proximity reporting, staff tracking and amenity traffic reporting, location-based services are playing an essential role in the maintenance and enjoyment of a safe working environment, bringing peace of mind to staff.
With this insight, employees can roam around the premises without breaking social distancing rules and operations teams can track the occupancy of a building with ease. Daniel added, "This not only means that organisations can comply with regulations, but that employees also feel safe in their working environment. Furthermore, utilising this data better allows for a more flexible workforce, offering more visibility over ad hoc office visits from employees."
Increasingly, many UK businesses are using data and analytics to help monitor employee productivity, performance, and wellbeing. That's the view of Gregg Knowles, technology director at plan.com. "Advances in technology and software are enabling managers to determine what an average business day looks like by identifying patterns and ways of working which can be trained out to other employees. They are using it for wellbeing and safety considerations, ensuring for example that construction employees are not distracted by streaming sites, such as YouTube while working with dangerous site equipment.
"Businesses are also achieving significant time and cost savings, thanks to productivity controls and software, such as my.plan, that can enable them to monitor data usage and identify trends before they become an issue, then providing them with the tools to take action by dictating streaming speeds, assigning permissions or restricting access."
Ben Nicklen, chief operating officer for workplace data analytics firm Tiger feels there are a broad range of use cases for analytics. "For example, the healthcare sector harnesses the power of data to uncover how many phone calls are being taken, what times each department is busy, staff shortages and billing. This level of insight is helping managers to assess how they can reduce costs and eliminate over-spending.
"In education, today's blended learning approach in Higher Education has increased the need for analytics that show when and how students are engaged and attending lessons to ensure they're getting value from the course. In the unified communications and collaboration arena, there's a huge demand for statistics, analytics and information for organisations to be able to understand traffic patterns and usage. This allows company leaders and managers to make those all-important business-critical decisions about how they can improve their service, the customer experience and measure their tech adoption."
Harry McKeever, director at Tekton Billing, agreed data and analytics can be used for a wide variety of use cases. "Whether it's to cut costs, assess staff and network performance, maximise margins or discover new areas for productisation, analytics enable businesses to deep-dive into customer behaviour and usage. But the best platforms put that information into accessible formats and rankings to ensure staff aren't having to trawl through the data manually and the results can be quickly comprehended."
David Sparrow, managing director at Blabbermouth, pointed out how there are many telecommunications companies leveraging analytics to identify the type of customers most likely to purchase add-on solutions. He said that analytics can, for example, help sell VoIP to existing connectivity customers.
He added, "Another popular use case is in lead scoring. Using historic data, your CRM can assign a point-value to each lead to help sales teams prioritise prospects and assess where they are in the sales cycle. This not only leads to faster conversions, but also frees up more time for sellers to do what they do best, speaking to prospects and closing sales. It's also particularly useful for web visitor analysis and understanding what pages prospects find most popular across their websites, using that information to send targeted communications or sales calls."
Integrations
Martino, from Tollring, noted how with cloud services now prevalent and "everything API-enabled from the outset", it's become much easier to integrate different systems and share information between them. He added, "This means we can extend our information to other data sets or bring in information from other important areas and marry it together. These full API driven capabilities extend from the front-end customer presentation through to backend services.
"Over the next five years, advances in predictive analytics will enable us to understand what might happen because of a recent event or what the patterns will look like going forward.
"The AI mindset is also developing. AI is a very exciting area across many different disciplines. It will certainly become far more embedded in services that Tollring brings to market in the future."
Daniel at Glide feels that, thanks to the reporting data on footfall, route mapping and dwell time, today facilities managers can have an accurate view of how staff and guests are using a building. This allows them to notify staff and visitors of peak and off-peak times in shared offices and other communal spaces.
He added, "In more industrial settings, asset tracking provides visibility of the movements of materials around a facility with virtual ring-fencing providing added security. The data will also give operations and facilities teams a clear idea of the levels of occupancy of a building, which could prove crucial for security in emergencies, where heat mapping can drastically reduce the time spent searching the building by emergency services.
"In the future, we can expect to see the use of location-based services to design staff experiences, provide valuable site information to ensure everyone feels safe and control the flow of staff around the building."
Knowles at plan.com said in the coming years he would expect full productivity analysis to become the norm, with employee performance being monitored against output and productivity rather than the traditional 9 to 5 model, as businesses recognise that performance is not always linked to a physical office presence.
"The Covid-19 pandemic has only accelerated this movement highlighting that the hours an employee works are not as important as the output they create. These new advances in technology and data analytics are enabling and empowering employers to maximise employee and company performance in ways they were unable to before. Of course, this is not the case for all roles and industries, service and hospitality being obvious examples, however technology advances can even enable in person roles and functions to be performed much more efficiently to the benefit of both the customer and employee experience. There is no denying that the future will be measured and dictated by analytics, data and output and not in time."
For Tiger's Nicklen richer data from unified communications and collaboration vendors will become more readily available and there will be deeper integration between platforms and third-party communications applications. He added, "There's a realisation now that it's the customer's data that's being produced so they need to utilise it in a way that a UC provider can't predict or accommodate. It's no longer about a one-size-fits-all approach, it has to be specific to their individual business context.
"Interoperability is vital when competing in a fast-paced industry, and leaders must get data swiftly and be provided with greater levels of insight, in real-time. That not only means they never miss a beat and can make business-critical decisions quickly, but their single-pane-of-glass platform is simple, intuitive and empowers organisations to unlock their own data with both confidence and efficiency."
Sparrow, from Blabbermouth, said AI and machine learning are integral to producing genuine insights from data and as the technology evolves, becoming more sophisticated, it will provide more accurate insights and predictions to optimise decision making. "In five years, we expect that, rather than having analysts tell you which customers are most likely to purchase a particular product, resellers will be able to find out yourself, and the journey will be as simple as doing a Google search, but via their own databases.
"Automation software will continue to become easier for non-tech-literate employees to use effectively, meaning higher rates of adoption for those types of technologies, better conversion rates and ultimately, higher revenue."
Tekton's McKeever explained that the accessibility of AI means that "even small businesses [can] leverage complex AI algorithms to discover insights that would be hard to uncover otherwise".
He pointed to applications from vendors such as Microsoft as key to this lower barrier to entry. "Especially considering the improvements Microsoft have made to Power BI and Dynamics in recent years, to make data and trends more accessible across more areas of an operation."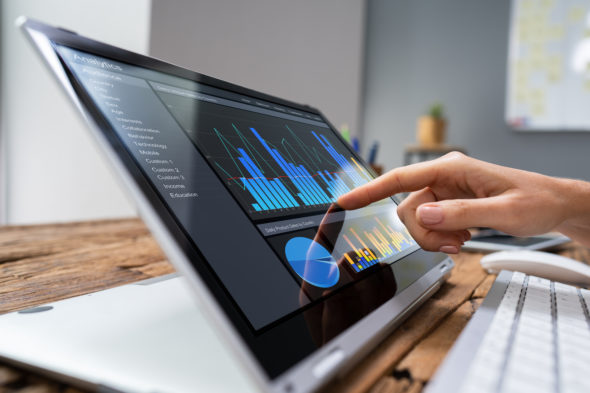 New opportunities
Resellers need to empower and educate customers on services which can collect, and analyse data for them into usable, actionable insight, says Knowles. "Customers who do this will be at the forefront of digital transformation and gain a real business edge. As mobile moves from mucky minutes and data allowances to unlimited calls and unlimited text and margins are squeezed, the channel must move in this direction to continue to be relevant."
Glide's Daniel pointed to how lockdown restrictions are easing and companies are now at an inflection point with many of their employees, who expect to be offered hybrid working with access to the latest cloud based technologies. He said, "Resellers and managed service providers need to be aware of this, and should actively look to cater for it. Office buildings are going to come under the microscope much more closely.
"Organisations are looking to become more efficient with their resources. In many cases, companies have downscaled their office space in response to hybrid working, and by being able to manage rooms on a more granular level - be it through location based services, smart thermostats or submetering - businesses can be even more cost efficient. The channel needs to leverage these needs and provide services that fit with these requirements if it wants to be as effective as it can be – supporting partners with a more diverse set of offerings that meet the needs of new working environments."
Gain an edge
Martino believes much of the channel is still in "problem solving mode" rather than going to customers and offering advice on how to move a business forward proactively. He said, "Many resellers are still not focusing on understanding what their customers need or advising on gaining a measurable return on their recent migration to cloud services. This is an opportunity for resellers and MSPs to talk to their customers about what that business requires to deliver a ROI and what technology refreshes are needed. These are proactive conversations with a trusted advisor and a business analytics mindset."
Nicklen, from Tiger, said that being able to help customers understand how they can use data and analytics will be vital. He explained, "It's important that they utilise data in order to cut through the noise and offer something different to customers in today's congested marketplace. There's also a power in leaders being able to visualise data and interpret it easily within the context of their own business so that they're equipped with better-informed decisions. The advantages to this are endless – in particular in how it enables partners to build stronger relationships with their customers as they earn 'trusted advisor' status."
What is important is that businesses think creatively about what data and analytics can be used for. Tekton's McKeever said, "In the channel specifically, analytics is usually used to assess load and capacity to ensure resellers have enough capacity to meet their customer's requirements. But we use it slightly differently. [The] data and analytics within our solution also helps resellers assess the profitability of their services and maximise revenue."