Life of Riley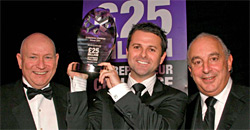 (L-R) Peter Cummings, Chief Executive of Bank of Scotland Corporate, Matthew Riley and Sir Philip Green.

Multiple Business and Industry Awards Winner Matthew Riley of daisy talks to Ian Hunter about his business and what it takes to build a successful organisation in the telecoms sector.
Former YTS-trainee and now CEO of Daisy Communications Matthew Riley is to receive a masterclass in business from billionaire tycoon Sir Philip Green.
The founder of the Lancashire-based telecoms firm was rewarded with the high profile mentorship after he was named
as winner of the Bank of Scotland Corporate's inaugural Entrepreneur Challenge.
Riley says, "After walking away with a £5m war-chest, winning the North Region final of the Dragon's Den-style contest in December, I will now spend four days with the man behind many of the Britain's biggest stores, including Topshop, BHS and Burtons, after winning the national award.
"We plan to use the £5m regional prize to finance two further acquisitions, adding an estimated £9million of annual revenue to the business, but being able to benefit from four days of mentoring with Sir Philip Green is a prize that money, quite simply, can't buy."
Riley provides the following advice, "To be successful you need to give yourself the best chance. Personally I believe success is down to hard work and working 12-16 hour days and constantly thinking about how you can grow your business is a great way to improve your chances of succeeding. My advice would be that if you are not prepared to do that then business is probably not the life for you." Riley's business hero is none other than Philip Green, "Here's a man that started out from just one high street shop 25 years ago and built a retail empire based upon his own efforts. It's incredible that he still maintains a high drive and desire to go further after all that success."
Commenting on the award Sir Philip Green said: "The panel day, when we made our decision, was very interesting and the finalists were all of a very high standard. They were all well prepared and gave good presentations. We challenged the finalists on their plans and ideas and it was difficult to make a decision, but in terms of the winner Daisy Communications showed a true entrepreneurial spirit, and they just edged it. They are a comparative minnow in a very big marketplace and finding a true entrepreneur in that industry was very appealing. They displayed fleet of foot and a real insight into their market's dynamics."
Awards Timeline: Matthew Riley and Daisy
2005
September – daisy ranked No:1 in The Sunday Times Microsoft Tech Track 100

2006
September 2006 - daisy Ranked No: 58 in The Sunday Times Microsoft Tech Track 100

2007
June Matthew Riley named Ernst and Young's Entrepreneur for the North Region
October Matthew Riley named Ernst and Young's National Young Entrepreneur
November daisy ranked 28th in Deloitte Fast 50
November daisy wins £5m funding package in north region Bank of Scotland Entrepreneur Challenge
December Matthew Riley wins national final of Bank of Scotland Entrepreneur Challenge
Ed Says…
A cynic might accuse someone like Matthew Riley of being an 'Ambulance Chaser' when it comes to winning awards but the truth of the matter is that the man is both a really nice guy and real success story. Staff at daisy seem to love him, he gives a lot back to charity and is an avid Manchester United fan. Thank The Lord he is not perfect!