The shift from ISDN to SIP trunks is making call-recording solutions even more affordable for

end users. We examine the differences between SME and mid market solutions and the
applications that are selling.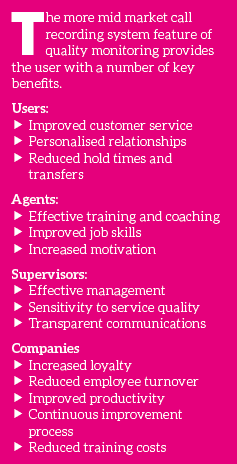 With the on-going advance of the 'mobile enterprise' and with so many firms now needing compliance-based solutions the call recording market is very dynamic and today there are affordable solutions for the channel to suit all business types.
We thought a good place to start this article was with a general look at how to justify the cost of a call recording solution, as we have not done that for a while. Call recording is most often associated with call centre deployments so we have used this context with the assistance of Call Centre Helper web site
Call recording used to be considered a 'nice to have' by anyone outside the large call centre environment or FCA-regulated financial companies. However, many companies are realising that a voice recorder can add a great deal of value to the business that more than justifies the cost.
Preventing disputes
Any company that communicates with its customers over the phone will have experienced disagreements about what was said. These do not necessarily need to end up in Court to have caused damage. Quite often, users tell us that, before the voice recorder was installed, whenever a dispute arose they often gave the customer the benefit of the doubt so as not to upset them, leading to the reduced profitability of having to provide extra goods or services all because 'your sales guy said it was included'.
Most of these disputes do not arise from customers wishing to take advantage, they are often caused by a slip in memory or mishearing, where the customer may be absolutely convinced that a certain thing was promised. In such cases a polite note in an email that includes a copy of the recording sent will often have the customer apologising for their error.
Speed is of the essence, as this is most effective as soon as the customer claims that something was said, before the relationship deteriorates, the customer has involved his boss and perhaps contracts have been cancelled.
Training
A voice recorder can be an invaluable management tool for the sales manager/helpdesk manager to listen to calls and, more importantly, be able to play the call back to the staff member and ask them what they think about the call.
Quality has always been important in helpdesks and small call centres, as the cost of staff justifies any tool that leads to improving the performance of the staff. But measuring quality used to rely on the supervisor sitting next to the agent with their headset plugged into the agent's phone, with the clear risk that the supervisor was not marking a typical call by that agent, but rather the call they make when they are aware they are being measured.
Nowadays even small helpdesks are able to invest in a voice recorder with a fully integrated quality monitoring tool, enabling the supervisor to take a random sample of recordings for an agent, mark their scores against a balanced scorecard of quality measures such as listening skills, product knowledge, 'bedside manner' and so on. In addition the supervisor can highlight training needs and develop a whole file, including the score, bookmarked recordings or 'soundbites' (showing why a particular score was given) and the training plan for the agent.
This approach provides the agents with a clear development plan, improving quality and improving staff retention, while providing a clear audit trail for HR purposes.
In summary, reduced recruitment and training cost, people performing their job better, as well as reduced chances of customer churn and litigation make it fair to say that the voice recorder is now a must have rather than a nice to have.
Mid Market Features
For many channel resellers focusing on selling to SME's one of the key issues is recognising when a client really needs a call recording solution with features more frequently associated with more sophisticated mid market features.
According to Phil Reynolds, Joint CEO at Oak, who is adding Clarify, a mid market call recording solution, to his portfolio with a launch at Convergence Summit North next month, there is quite an overlap between the SME and Mid Market requirements.
"Typically a mid market user will need a more complex, sophisticated and often bespoke set of PCI DSS compliance features rather than the simple 'stop and start recording' the SME requires.
Aside from this there are three main features normally associated with mid market requirements for call recording. These are quality measurement, screen recording and a higher level of security.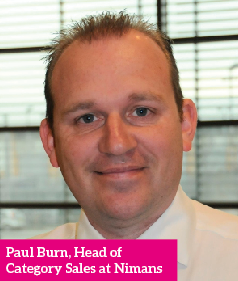 Each are important but most will want to see a more sophisticated set of security features present or available through customisation. In fact customisation is a very key requirement when it comes to database and CRM integration. We recently wrote a bespoke feature for a client that wanted to extract just a part of a call recording and automatically email it to a client. At the same time we had to comply with a request that even on a call with multiple participants staff could only hear the parts of the call their assigned security level would allow.
And then there is the sales process. To be successful in mid market sales you definitely need a better understanding of users' business and their processes. This is because often you need to take information and data from other applications. For example links to a CRM or client record or the ability to add a company assigned reference to the call and its search criteria.
Oak has two channel products in this sector, RecordX, which is aimed at the SME, and the mid market featured Clarify, which is being formally launched at Convergence Summit North next month.
Reynolds says that it is not necessarily the size of system that dictates whether users need an SME or mid market solution.
"We have 180 channel solutions that are simple and conversely 30 channel systems that are highly sophisticated. Typically, systems from 30-60 channels upwards are more likely to be sophisticated and have features such as quality measurement. You rarely see call evaluation used in SME applications.
At the higher end speech analytics may be specified but firms rarely buy it save for busy, say 200 agent plus call centres. Generally it is an expensive option for automated analytics unless there's a strong ROI.
When it comes to affordability for call recording it would be fair to say that prices have been falling over the last two or three years with the introduction of SIP trunks which does away with the need to have expensive ISDN trunk interface cards. This is making call recording a very attractive proposition for business."
For Paul Burn, Head of Category Sales at Nimans, the call recording market is becoming more dynamic.
"I had an interesting conversation with one of our major suppliers recently where the impact of hosted came to the fore. As hosted telephony is becoming more popular there's a perception from some end users that they can't still have an on-premise call recording solution when in fact they obviously can.
Lots of people prefer this method as they feel more secure having their data on site. For me this is one of the biggest talking points at the moment. But whether off-premise or on-premise the differences between Mid Market and SMB revolves around functionality and detailed search criteria. SME sites generally are interested in just calls whereas Mid Market is more about business performance particularly if it involves legal requirements. Information needs to be accessed quicker, be more detailed and stored better. The quality of search, quality of back-up and quality of storage are the main differences."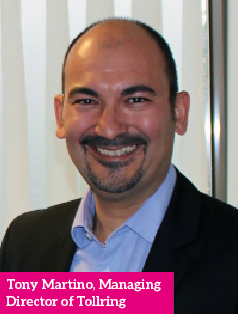 A lot of SME call recording is being swept up by in-built PBX systems so this can limit standard sales opportunities.
But, according to Paul Burn, the more sophisticated the customer needs to be the more the conversation moves out into specialist equipment. He says it depends on the nature of a business and what is trying to be achieved.
What does Burn say about mobile call recording?
"It's very easy to sell mobile recording applications; a lot easier than it used to be. There are mobile recording apps and calls can also be routed through a phone system if preferred. There's a lot of choice and options but the key is getting everything set-up correctly. It's often the case as with any technology today, it's all about the set-up. Resellers need to make sure they are able to deploy equipment and our job is to help them do that because it's not as easy as it used to be. Systems tend to be more complicated so set-up can be harder too and requires some planning.
Mobile and fixed line recording solutions can be easily integrated but it depends on the architecture and set-up of the solution. Is it standalone mobile or mobile through a fixed extension through a phone system's applications? This first needs to be assessed but integration is easily achievable."
Going Mobile
According to Tony Martino, Managing Director of Tollring, if call recording is evolving then the direction it is heading is mobile.
"The advent of call recording via the cloud gives customers all the benefits of cloud-based systems whilst enabling the channel to deliver high quality services with increased revenue opportunities from storage and bandwidth.
Up until recently, service providers had been building their own call recording services but soon found that delivering reliable services was far more difficult than anticipated. Constant monitoring was required to ensure that these services were running efficiently, that recordings were fully compliant with the latest regulations and that they were delivering value to end customers. Managing storage became particularly difficult with recordings being limited to just 30 days, often in breach of compliance regulations.
Thinking has changed and over the next 12 months, service providers will make a big shift towards cloud-based recording services. Call recording in the world of hosted telephony and unified communications enables providers and their channel partners to access a fully managed call recording-as-a-service via the cloud.
Cloud call recording can be delivered seamlessly alongside existing telephony and hosted products without having to 'shoe-horn' technologies together. Most importantly, this is a highly flexible commercial model based on sustainable technology. Providers can deliver reliable services, it's quick to auto provision and not least, customers can keep recordings for as long as they need."
Looking ahead in 2016 Martino says that although the uptake of video recording is not yet significant, he expects interest to grow considerably over the next 12 to 24 months.
"The expanding use of conferencing solutions and desktop sharing sessions such as Skype is driving this market and soon both individuals and organisations will need secure access to their video calls.
Since recordings are now in the cloud, there is no longer an issue with bandwidth and storage. It simply presents a huge opportunity for the channel to access additional revenues.
Compliance is another key driver in the move to cloud-based recording. Many companies that invested in recording products a few years back will soon realise that advances in technology in recent years can make their lives easier and enable them to adhere to new regulations. By moving to the cloud they can shift the onus of reliability and compliance to their suppliers.
Another major development will be for the advanced analytics available within Call Recording to be integrated with CRM systems. Increasingly we are seeing the requirement for call recording to be embedded into CRM technologies to help deliver a single unified way for organisations to build greater understanding of their customer's behaviour and interactions."
Keeping on the mobile theme and in particular mobile handset recording, Paul Liesching who heads up Truphone's Global Mobile Recording, comments on the City compliance needs.
"The SME market can be broadly defined as Hedge Funds, Private Equity, Small Broker, Fund Management and Asset Management – these organisations are almost exclusively looking to source cloud based mobile recording and storage solutions as they do not tend to have the resources to support On-Site recording.
The mid-market has some on-site recording of mobile but is mainly cloud based. Truphone believe that there is a trend in the Mid-Market towards on-site recording as the regulators demands for data delivery during regulatory investigation become more stringent."
Truphone offer its Cloud based SMS and Mobile voice recording solution through the indirect channel but how easy is it to sell?
"Any reseller who is familiar with Mobile sales will find the cloud based mobile recording sale straightforward. The sale of on-site mobile recording is more complex and therefore better suited to organisations who are familiar with system integration of fixed line recording technology."
Liesching adds that mobile recording can be integrated with existing fixed-line recording infrastructure with the main suppliers of fixed line recording to the regulated finance markets being NICE, Verint and Red Box.
"There is a trend to moving fixed line recording into the cloud which will make the consolidation of mobile and fixed recording more accessible to smaller finance organisations."
Ed Says… There's a lot more to call recording than just meeting compliance obligations although the PCI DSS elements have become increasingly more high profile in the wake of the significant number of data breaches that are taking place. The changeover from ISDN to SIP trunk based company access has had an impact on the cost of CPE in the last few years as expensive ISDN interface cards for call recording equipment are being replaced by software. Cloud based systems are still lagging CPE solutions but overall both markets continue to perform well and represent a great set of opportunities for the reseller.