Staying abreast of the distribution market is a must for resellers. The landscape is changing as technology evolves and we could be looking at a significant amount of consolidation in the market during 2015. In an extremely competitive market mobile distributors are looking to stand out from the crowd more than ever before. David Dungay investigates.
The mobile market in the UK is large and very competitive in both consumer and business sectors. Pricing pressures are reducing minute margins (if you buy wholesale, sell retail) and airtime commissions (if you're a dealer). Although regulatory measures are reducing wholesale costs as well, overall minute revenues are on the decline.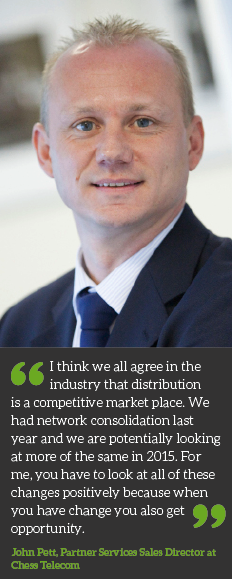 We asked several major distributors where they see the major challenges in the UK market right now.
Mark Curtis-Wood, Head of Network Services, Nimans commented "There's a strong potential of consolidation in the market. This poses a challenge for the sector as it's traditionally been built on providing value and choice. There's been access to lots of different networks but in the future that choice may be significantly altered. There are challenges ahead in terms of what the landscape may look like. What we've already seen is some of the larger mobile distributors offering less choice of networks. They are being more defined in their service and leading with just one or two network offerings."
Dave McGinn, Managing Director at Daisy Distribution added "The main challenges are firstly understanding and secondly catching up with the opportunities within the mobile distribution channel. The speed of convergence within the industry shows no signs of stopping and this has opened up a plethora of opportunities with mobile being the great connectivity enabler.  There is still some level of hesitancy amongst channel partners and a growing sense of urgency among others not to be left behind. For those whose bread and butter has been voice-centric, there is a challenge as to how quickly they can adapt and gain access to the lucrative opportunities within the IT services arena."
Peter Hubbard, Managing Director, Tech Data Mobile UK & Ireland continued "The worlds of mobile, fixed and digital comms are coming together rapidly and over the next year we are going to see business customers wanting to integrate mobile into their infrastructure. The challenges thrown up by BYOD and CYOD have compelled organisations to think about how they manage mobile devices. They can also see that, as they bring mobile into the whole ICT infrastructure, that there is an opportunity unify their comms, so they can be more dynamic, flexible and responsive - by making use of telepresence and videoconferencing - and reduce costs.
The challenge for us as a distributor is all around how we can help mobile and comms dealers as well as IT resellers to deliver solutions that are truly integrated and provide seamless and secure voice and data comms to every user, on every device the organisation allows its people to use, at any location. This is a massive challenge but also a colossal opportunity."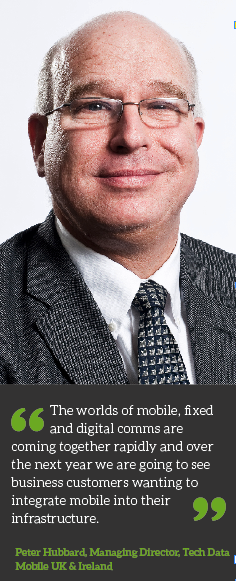 John Pett, Partner Services Sales Director at Chess Telecom, said "I still think the biggest challenge is adding value to our partners. These partners can't just survive on one product which is why the acquisition strategy we have had as a business has been about products and services. It's more about linking in our CRM, IT services or our mobile services all into our core business which is fixed line. We are trying to bring everything together to give our partners the best kit bag to go out and sell."
More Value
For a reseller looking for a good distributor the amount of value delivered by a distributor is key to any long term relationship. Hubbard stated "The value we deliver is in enablement – enabling resellers to develop the knowledge and capabilities to meet customer needs and then enabling them to deliver and support those solutions. We do that by forming partnerships with key vendors, manufacturers and service providers and making all the component elements of solutions available to the channel."
Pett added "What partners actually want is a very easy to interact with distribution outfit. A lot of these partners are incredibly sales hungry and what they don't want to do is spend a lot of time doing administration. We have to be easy to interact with, and consistently allow them to have additional products and services to sell into their base."
Curtis-Wood said "There are some resellers out there still not involved in the mobile arena that clearly should be. Traditional resellers that have their own billing systems and have their own airtime inevitably feel the mobile distribution route isn't right for them and that's completely understandable. Having said that as kit prices increase and the expectation of those kit prices keeps increasing, there's more pressure for traditional wholesalers to start to consider alternative options. They may have a customer that needs a mobile connection and will now consider going to a distributor because they can still take the value of the upfront commissions and be able to fund the kit out to be able to connect to the network. We are seeing some of the guys playing in the wholesale channel also playing in the distribution route. In a market that's changing the challenge for a reseller is knowing exactly who their supplier is going to be."
Crystal ball

Looking into the future of mobile distribution Pett thinks 4G is going to play a major part in 2015 and beyond. He said "I think 4G will drive a lot of change for our partners and ultimately their customers. You will see a lot more real time interaction from handsets and you will have all the applications that will sit over those devices. From a CRM perspective, if we can help our partners to be more productive and efficient then we should ensure they win more business. Ultimately we want to help our resellers customers win their marketplace."
McGinn added "The movement towards cloud services and applications is becoming more and more of an attractive opportunity within the mobile distribution arena. Mobile UC solutions, like Vodafone One Net Business and Microsoft Office 365, are perfectly suited to the SME space. They present mobile partners with the chance to dip their toe into the cloud market whilst strengthening their offering to their customers.
I believe that the future for mobile distribution revolves around the 4G digital portfolio. In particular, I believe mobile voice carried over WiFi could be the next revolutionary development that we should be looking out for, but in the shorter term with mobile distribution being one of the most adaptable and resilient areas of the channel, the future is as always exciting."
Curtis-Wood thinks the future is still uncertain, "I think we are coming into a period in 2015 where no one is actually sure what the landscape will look like, with all the balls still to fall into place – at the time of writing. To some extent we're almost going backwards and full circle. Many years ago there used to be two big networks BT Cellnet and Vodafone. Then Orange came in and T-Mobile and 3. So there was a lot of choice for business owners, consumers and the channel. But over time there's been some consolidation - and some very interesting days lie ahead."
Network Interview
Nigel Dean, Head of Indirect Business Sales at EE
Q - What were the major driving factors behind the Mainline acquisition? 
EE is acquiring Mainline as a strategic investment in our B2B partner capability, which will ultimately allow us to work more effectively with our indirect channel partners. The company has a long-standing relationship with EE, as well as a strong track record as a responsive and entrepreneurial organisation with excellent customer service, marketing expertise, and commission handling.
It is EE's ambition to be the communications provider of choice for business, and by working more effectively with our B2B channel partners, we can provide even better service, more compelling offers, and continue to drive sales and market share growth with UK businesses.
Q - Coming from the network side, how do you perceive the state of the mobile distribution market?
We think that the distribution market is very buoyant, particularly in the small and medium end of the business market. Distribution is changing and evolving, with a number of players potentially looking at consolidation or expanding into other areas of ICT beyond mobile. However we think distributors – and the indirect channel as a whole – continue to deliver value and we remain committed to this market.
Q - Where do you see the major challenges in this market?
It is a very competitive market, which is creating the possibility for consolidation or evolution of the distributor model. New players that are challenging the status quo, combined with reducing margins in telecoms as a whole is driving the need for distributors to innovate and evolve.  With increased competition, it's crucial that distributors choose the right mix of partners to allow them to drive sales and best serve the customers and end-users.
Q - How can the sector overcome these challenges?
The indirect channel should look to diversify, evolve, and innovate to stay ahead of the competition and we're now beginning to see that happen.  Whether that is through unique approaches with strategic partners such as EE, or through developing their own unique offerings that allow them to enter new markets – it's clear that distributors need to adapt to stay ahead of the market.
Q - What does the future look like for distribution?
The distribution market's future is a positive one if they are able to adapt to a continually changing market, and focus on creating the right strategic partnerships and product offerings that deliver the most value for their customers.
Wireless View
Mark Shane, Sales Director at wireless distributor ICON
"We believe that 2015 will see a growth in demand for mobile UC applications as businesses integrate their mobiles into the enterprise telephone system. Several vendors are already providing these applications notable amongst them is Vertical Communications which provides its Viewpoint Mobile UC application for businesses. UC applications such as Viewpoint deliver all the enterprise UC applications to the mobile handset giving the "road warrior" the same communications resource as their office based colleagues. We also expect a continued growth in real time messaging applications to mobiles. These M2M like solutions are increasingly being deployed in the hospitality sector to monitor BMS, PMS solutions."