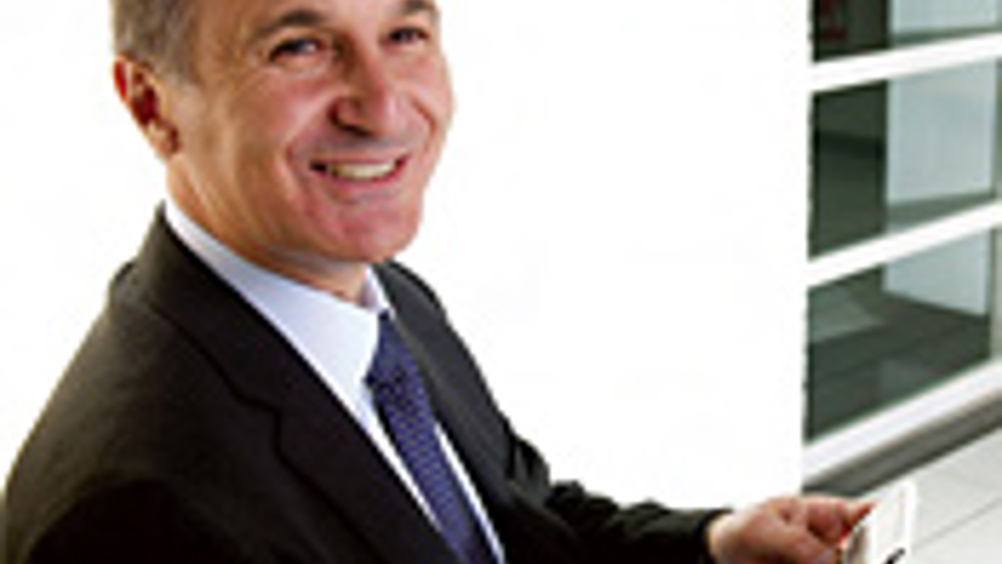 MOVE OVER 3G 4G IS HERE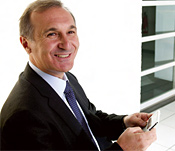 Enrico Salvatori, senior vice president of Qualcomm Europe and general manager at Qualcomm CDMA Technologies,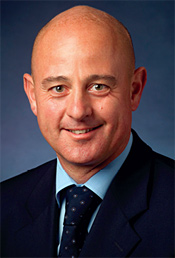 Andrea Casini, vice president for Europe, Middle East and North Africa sales and marketing at Andrew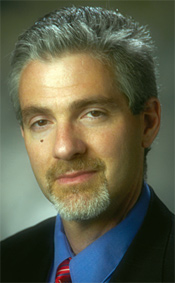 Jonathon Morgan, senior director of product marketing at Starent Networks
Imagine having 100 megabits per second internet connectivity, not on your laptop, but on your mobile phone. While that sounds like an impossible fantasy, it is coming to a handset near you from 2010 onwards, and it will be called 4G. Heather McLean investigates what 4G is, and why we need it.
When few of us use 3G networks today, the idea of bringing in 4G services might seem questionable. However, for operators, mobile broadband and the increasing use of mobile internet services poses some issues that must be addressed. Operators are on one hand happy to push mobile internet services, but on the other, they must ensure that 3G voice services are not affected by less bandwidth.
Additionally, for many mobile services that are not quite there yet, more bandwidth would mean these services could be pushed for wide adoption by operators without fear of dropped voice calls. So moving from 3G, to 3.5G with a high speed packet access (HSPA+) upgrade, to 4G on a long term evolution (LTE) network or using worldwide interoperability for microwave access (WiMAX) as some promote, makes sense to operators who are interested in providing end users with advanced services.
Death of 3G?
In our weekly online survey, an overwhelming 83% of Mobile Business readers said they think mobile operators 'could do better' with existing 3G services, against 17% that believe what is currently available on 3G is a good show. So why do we need 4G, when there is still so much room for improvement in the world of 3G?
Paul Larbey, vice president for next generation mobile access at Alcatel-Lucent, states we are witnessing a booming demand for wireless data consumption, supported by a flourishing ecosystem of devices and applications as well as a fundamental change in end user behaviour. He says the internet generation are adopting a wireless connected lifestyle, and this appetite for data-consuming applications is driving the need for ever faster mobile broadband.
He continues: "In addition, operators are experiencing flattening average revenue per user; this is the so-called 'scissor effect'. This pressure on revenues and margins pushes operators to find more efficient and cost effective technologies to reduce per-bit costs. Even if current 3G and 3.5G networks can absorb this exploding traffic in the short term, operators need to start transforming networks today, to offer more capacity, reduce the total cost of ownership and allow new business models, therefore maintaining a profitable business."
4G is an evolution of 3G, not a replacement for it, says Enrico Salvatori, senior vice president of Qualcomm Europe and general manager at Qualcomm CDMA Technologies. 4G is the solution for those operators who have access to new spectrum and need more capacity; there is still a long road ahead for 3G. Salvatori explains: "Operators who have invested in 3G and then move to 4G will still be leveraging their 3G investments for many years to come."
The fight
While there is no formal 4G definition in the market, the two technologies currently comprising the anticipated fourth generation of mobile wireless technology are worldwide interoperability for microwave access (WIMAX) and long term evolution (LTE).
The fight between WiMAX supporters versus LTE is huge, very vocal and extremely contentious. WiMAX is an IEEE standard, as is WiFi, while LTE is a
3GPP standard, as is GSM (2G), UMTS (3G) and HSPA+ (3.5G). Because of the latter, many proponents believe around 80% of the world's carriers will ultimately evolve to LTE, yet WiMAX is available commercially now, while LTE is still being defined as a standard and is one or two years from commercial availability.
Yet some believe there is space in the market for both technologies; Piero DePaoli, senior director of product marketing at iPass, states: "It is unlikely that one technology will win outright in the global marketplace, and predictions of long term market share vary widely. iPass believes that mobile WiMAX and LTE will each succeed, dominating different regions and competing vibrantly in some as well.
"As LTE is a natural evolution of GSM, it will eventually replace 3G technologies in those areas of the world where operators have a large and lucrative user base, primarily in Europe," DePaoli explains. "The endorsement of the CDMA Group also means that other CDMA-based operators in the Americas and Asia may follow Verizon's lead in adopting LTE.
"WiMAX, on the other hand, has great potential in developing markets where there is little or no mobile data infrastructure to leverage," continues DePaoli. "Likewise, WiMAX is attractive for those who live and work in rural or hard to reach areas, where providers haven't yet deployed 3G, cable, DSL or fibre."
LTE
Recent figures from the GSMA state that 26 carriers have now made a commitment to LTE. To push LTE further, despite recent announcements from economicallychallenged operators indicating delays on roll out of the technology to 2011 and beyond, a new group focused on voice over LTE has recently been launched. Named Voice over LTE via Generic Access, or VoLGA Forum for short, the group is led by T-Mobile and other vendors to drum up solid support for the technology.
Unlike its predecessors such as 3G, LTE seems to have gained traction and is considered as the technology of choice for mobile network evolution worldwide, both from 3GPP and 3GPP2 families, states Larbey. LTE was introduced with 3GPP Release 8 and improved with Release 9, and the first real 4G-compliant version of LTE, called LTE-Advanced, is planned with 3GPP Release 10. Alcatel-Lucent's research suggests that the LTE market will be worth over Euro 4 billion by 2015.
As the wireless industry moves towards a plethora of new applications and services which will allow dynamic and real time delivery of rich multimedia content, LTE will help meet operators' needs for the additional data capacity required, Salvatori comments: "Operators are increasingly concerned about capacity constraints, rather than whether people are using 3G or not, hence the HSPA+ and LTE roadmaps are being driven by real demand. Operators who choose to deploy LTE will still need their 3G networks to offer the ubiquitous coverage that it provides.
Jonathon Morgan, senior director of product marketing at Starent Networks, adds: "Recently we saw Verizon make announcements on its plans for LTE. With this and other operator announcements, we are already expecting 4G to make significant inroads by 2010 or 2011.
Starent is working with mobile operators on deploying multimedia broadband core network solutions that are upgradeable to 4G. We believe that operators need to be looking to deploy next generation 3G solutions now, which will position them for a migration to 4G."
Salvatori continues: "It is important that we recognise the future value that 4G presents both operators and their respective customers. LTE is an example of a fourth generation technology that will offer operators higher data capacities, generating a new plethora of applications and services that will allow for dynamic and real time delivery of rich multimedia content, so capturing the essence of a true mobile internet experience. This will allow users to not only view, but to interact, share, purchase and navigate their way online wherever and whenever they choose," states Salvatori.
Qualcom expects LTE to be complementary to 3G and to be deployed in conjunction with 3G networks. Salvatori comments on why: "LTE is being standardised through the same international standards organisations that also standardise 3G, and is intended to offer a reasonably straightforward migration path for 3G operators. LTE offers the opportunity to leverage new spectrum at higher bandwidths, and to accommodate the need for greater capacity and high speed services, predominantly in dense urban areas."
Salvatori adds: "Qualcomm is well positioned to support our customers' needs and technology choices, through the wideband code division multiple access (WCDMA) and CDMA based, HSPA+ and evolution data optimised (EV-DO) evolution paths, as well as the complementary orthogonal frequencydivision multiplexing access (OFDMA)- based LTE path. Qualcomm has been working on OFDMA for a long time and our success in the development and commercialisation of OFDMA technologies gives us a significant advantage in commercialising multimode LTE solutions."
One issue that will need to closely monitored is the ability to interwork between 3G and 4G networks, states Morgan. "In some instances this will be a more significant issue, such as for non-3GPP operators that are migrating to LTE. We are working with them to provide solutions, such as evolved high rate packet data [eHRPD, which is an upgrade from CDMA and EV-DO networks to LTE, the equivalent of HSPA+ for UMTS-based networks] for CDMA operators that will provide this interworking between 3G and 4G."
WiMAX
According to various players within the WiMAX market, it will be the first next generation technology to take centre stage. Gartner says the WiMAX Forum estimates there are over 305 commercial WiMAX networks in 118 countries. Some 120 of those networks are mobile.
In South Korea, Korea Telecom already offers wireless broadband (WiBro), a mobile subset of WiMAX, and has deployed the service across 25% of the country, garnering 100,000 subscribers.
In Taiwan, M-Taiwan is a large scale plan to blanket the entire country with mobile WiMAX. Service is expected to become available in 2009.
Clearwire recently launched mobile WiMAX in the Baltimore and Portland, Oregon markets and plans additional geographies to follow this year.
DePaoli comments on WiMAX: "Because 4G technologies are only available in limited geographies, it is primarily being used as home internet replacement or by people who only need access in these limited geographies. As 4G technologies get more broadly deployed and are available for more users, newer applications will be available to users allowing them to be more productive, in more places."
New 4G services
Salvatori says Qualcomm expects to see a number of new tech fads resulting from the upcoming deployment of 4G networks due to the increased capacity, including an explosion in mobile social networking, m-commerce and mobile marketing. "With such emphasis on greater network speeds and the higher data capacities, the consumption of content on mobile can only explode, especially with companies seeking out the most cost effective and targeted solution to marketing their brand, of which mobile can achieve both," he states. "We expect to see increasing use of networks for the delivery and sharing of video, including HD."
New services enabled by 4G include, states DePaoli: VoIP and unified communications - 4G technology provides sufficient network performance for mobile devices to act as a fully enabled company telephone over a wide-area network; enterprise IPTV - industry analyst firm, IDC, estimates that enterprise video use will grow at a compound annual growth rate of nearly 50% over the next five years, and as 4G removes the issue of bandwidth and latency, video content can be delivered economically for the first time; telepresence and virtual collaboration - virtual collaboration methods such as teleconferencing are still limited by the lack of a constant mobile video component, but 4G can alleviate this limitation by providing rapid upload and download performance.
Larbey agrees: "As with the enhancement of broadband speeds on wireline networks, the first applications will be enhancements to existing services. For example, video will move from standard definition streaming to high definition streaming, while music will go from 300Kbps to 1Mbps. In addition, there will be new services we haven't thought of yet. There is a whole world of innovation waiting to be explored with LTE."
Roll out date
It is difficult to determine an exact timeframe for 4G deployments, largely because the operators are at different stages of development, says Andrea Casini, vice president for Europe, Middle East and North Africa sales and marketing at Andrew. Some are at advanced stages of network testing, while others are either not quite ready or are simply biding their time, trying to learn as much as possible before they make a commitment, she states.
Casini adds: "Many industry observers have predicted that 2009 will be the year we see significant 4G rollouts and if this is to be true, we are looking at the last quarter of the year. From the conversations we have had with operators, a more probable scenario will see an increase in trials in 2009 and deployment in some markets by the end of the year, with large scale rollouts likely in 2010 and 2011.
"Even taking the economic downturn into consideration, we are confident that trials will progress at a near-expected rate, as funds have already been committed to testing," continues Casini. He sums up that even if spending does decrease, as we have seen in previous recessions, the telecoms industry will see catch-up spending once the market steadies. This will ultimately only threaten to delay 4G networks, not stop them.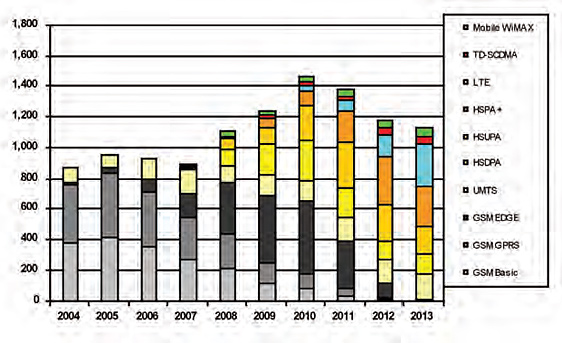 Ed says:
As with all things sold through the mobile channel, the most important point is to match customers' needs and requirements to the right product, and to work on a consultative approach to ensure strong long term relationships. Hosted telephony is another string to the bow of the savvy mobile dealer.