The promise of 4G was typically over-hyped when it first launched on the EE network at the end of 2013. We were promised speeds which would solve all of our connectivity needs and that it would open up a new world for those selling mobile services. Here, we take a look at how the Channel has embraced 4G, where the opportunities sit currently, and what the next generation of mobile services, 5G, will bring for customers and suppliers.

Over the last twelve to eighteen months 4G coverage has, according to the networks, expanded significantly. 4G used to be a luxury which was a privilege for those that lived and worked in major urban centres, now many small towns and rural areas have access to the business benefits that 4G brings to the table. Has the Channel taken full advantage of 4G coverage, where are the opportunities right now?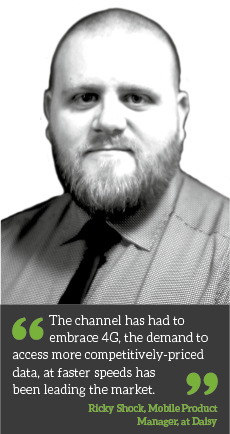 Ricky Shock, Mobile Product Manager, at Daisy commented, "The channel has had to embrace 4G, the demand to access more competitively-priced data, at faster speeds has been leading the market. We are even seeing international data costs coming down and a greater selection of money-saving options for regular business travellers appearing on the market. And this is just the beginning, especially seeing as though 4G back-up and failover solutions are becoming more and more prominent in the fixed systems marketplace."
Craig Herrett, COO at 4Gon Solutions, added "There are huge opportunities in the hospitality sector. 4G is now used in at music festivals and sports events, in order to cope with the huge mobile demands placed on them by guests, and has proved to be a perfect tool for promotions. At events that last a day or a few days, it is important that the setup is fast and straightforward.
Herrett continued, "Healthcare has also seen major benefits that are ultimately saving lives. Network failover is critical to avoid any downtime providing efficiency in patient diagnosis and care. 4G has enabled an improvement in home monitoring and mobile support. Real time updates can be sent from the equipment monitoring the patient to whoever is looking after them. Cellular connection also enables for better deployment of vehicles, and accurate location statistics. Paramedics will also be fully aware of the patient's medical history before they arrive on the scene. 4G also enables remote consultations between patients and GPs. This enables checkups to be carried out face to face over the internet, and for assessments and observations to be made by the medical personnel, when it is not possible to meet in person. This can help elderly or vulnerable people."
Mark Curtis-Wood, Nimans' Head of Network Services, added "The channel is starting to embrace 4G but there's still a lot to be learned. I'm still sitting with resellers who view 4G simply as a basic mobile phone service. There's lots of opportunities out there. Some of the deals we are working on now wouldn't have been on our radar 12 months ago and in six months' time there will be new opportunities presented to us that we've not even thought about yet. The impact of the technology continues to grow around the utilisation of mobile data.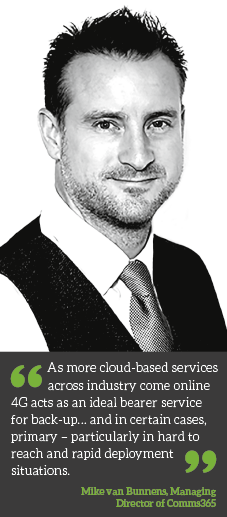 Resellers are now starting to speak to their customers about 'what else they are doing in their businesses. That could be connecting 25 mobile workers to an office via 4G. There's many opportunities still to unlock. I think we've only just scratched the surface."
Fixed vs Mobile
There is no doubt 4G coverage and speed has improved, some corners of the market have suggested that services are good enough to replace fixed-line. In reality, there is little point putting all of your eggs in one (connectivity) basket if you don't need to.
Mike van Bunnens, Managing Director of Comms365, commented, "Most organisations now recognise the complete reliance upon an Internet connection. Indeed, quality and reliability of comms increasingly informs decisions regarding business location. However, far too many organisations still feel constrained by the lack of top quality fixed line connections available – and certainly by the huge variability in price.
Today, a fixed line Ethernet connection can cost between £300 and £2000 per month depending on location and the company's data needs – a huge divergence in price, especially for the SME. While there are strong benefits - not least the lack of contention which delivers dedicated, guaranteed speed – many SMEs understandably baulk at the investment, especially those facing the top end of the price range. Companies also recognise that a single comms connection represents a significant business risk – a secondary or back-up solution is essential to avoid expensive, non-productive down time.
Chris Romeika, Operations Director at Pangea, added "When putting together a product for the channel, the immediate offerings to pair with 4G typically come in the form of pop up connectivity, such as construction sites, or temporary services, while waiting for lengthy Ethernet installations. Add to this the opportunity to retrofit a reseller's base of DSL services with 4G backup, and the reseller has plenty of new business to build into their existing base.

IoT applications generally do not rely on 4G at the moment, but these days devices are being built with a view that 2G and 3G networks will eventually sunset - so with long term contracts it is important to remember to check whether 2G will be available for the term of the contract."
Mike van Bunnens continued, "The alternatives to fixed line options vary depending on location, and include point to point radio, satellite and mobile - increasingly 4G as the network coverage expands. Indeed, in many areas where the ADSL service is weak, growing numbers of SMEs have adopted 4G as a contingency comms solution – and discovered the failover performance far outstrips the main connection. Speeds are good, if variable, and more than adequate for the needs of most smaller organisations; and data costs are just a fraction of those on a 3G network. So is there any need to invest in a fixed line anymore?
As more cloud-based services across industry come online 4G acts as an ideal bearer service for back-up… and in certain cases, primary – particularly in hard to reach and rapid deployment situations. Back-up in its own right is proving an important revenue stream for resellers already providing primary communication solutions. As technology evolves, business and consumer markets expect an 'always on, never fail' market place. To protect reputation, brand and business as a whole, back-up is critical.
Back-up is a here and now opportunity. Who knows, tomorrow and 5G may be the new primary solution…"
Shock commented on his hopes for the 5G market, "I can only hope that 5G will see mobile connectivity brought in line with current leading fixed fibre products, with speeds of up to 80Mps download and 20Mps upload. Mobile broadband products could then begin to compete with fixed service providers creating a potentially huge market for mobile resellers."
5G – Great Expectations
As the chatter surrounding 5G intensifies it is interesting to note when it comes to the finished product industry expectations have been aligned from lessons of old. Although providers have already mentioned that gigabit speeds will be possible, testing that scenario when there are several million people connected to a network is neigh on impossible. So what will 5G do for the market?
Craig Herrett, COO at 4Gon Solutions, commented "The discussion about 5G is really exciting and suggests that 5G could change the mobile landscape forever.
Previous generations of mobile standards have been designed to meet our needs as consumers. It seems 5G is going to go way beyond that. There is talk of speeds of up to 10Gbps which is extraordinary. When you look at the Internet of Things and the possibilities available there already, the new infrastructure will enable this to be taken to the next level.
It is predicted there will be over 20 billion devices connected to the Internet by the time the 5G infrastructure is in place in around 2020. If 5G is properly embraced by society, it will be far more than just a quick wireless network."
Chris Romeika added "The 5G specification thus far roughly includes:
Downlink throughput of 1Gbps, with multi gigabit capability in the future

Latency of less than a millisecond

Lower energy consumption than current devices
This is great news for those bandwidth-hungry applications, as expected data usage keeps growing. New "Everything-as-a-service" technologies will be welcomed on 5G as our home and work lives continue to move into the cloud. For example, consumer level devices such as VR video streaming require a much higher bandwidth to deliver a true VR experience and this will be reflected in much higher resolutions and frame rates that need to be streamed from the cloud.
The challenge for a 5G standard also comes from another angle, with a rather different set of requirements - the Internet of Things (IoT). In an IoT environment the vast majority of devices will still be smart sensors, where the latency or throughput is a secondary priority to other factors. The 5G standard should also be able to integrate billions of IoT devices seamlessly.
The channel has to keep a close watch on 4G developments and the 5G specification as it evolves. If what they say is true, the communications market could truly be shaken up: whereas 4G has the capability to replace DSL and supplement FTTC, 5G could mean the demise of Ethernet services! Tall order, but with technology evolving at a breakneck pace, who knows what will be the norm in the 'new 20s?'"
Keith Curran, Co-founder of plan.com, stated "It's estimated that 5G will be available by 2020. Speeds are reputed to be over 60 times faster than 4G. This will introduce more people to the reality of self-driving cars and enhanced video chatting. With 5G, IoT will grow to different levels particularly with what will be close to real time communication speeds. It will help drive new realities such as Virtual and Augmented Reality. In the future, we'll be looking for a lot more than Pokémon!
Its future opportunities like this that make selling mobile more essential than ever. People's data consumption will increase, and with that comes larger data packages and cheaper costs per MB.
There's already a huge demand for data – if a webpage hasn't loaded within three seconds, 57% of people will give up. Everyone expects to be able to do anything, anywhere, anytime and without connectivity, this is simply not possible. The genie of data demand is already well and truly out of the bottle and there's no putting it back."
Cole added "We think it's a case of waiting patiently and working with what is delivered. Key phrase here is 'roll out'. But of course it's important. Progress in IoT/M2M applications will demand greater speeds and latency. By 2020, we expect the market to have evolved considerably. There will be more bearer services. Today, it's about Low Power Radio WAN. Can we presume that 5G will be the saviour? Absolutely not. Yes, slower connectivity will dwindle in size, though remember that 'swapping out' SIMs and embedded SIMs within applications to switch to another generation of connectivity can be expensive or prohibitive. Applications are becoming more data hungry. That's a fact. And 5G will be welcome. Whilst we 'bond' SIMs at present to increase pipe size, the ability to have a single SIM to channel multiple data packages in real-time situations is vital today as it will be in four years' time. But even quicker. One SIM, big data, yes please."
Ed Says… 4G has the potential to open up several avenues of revenue for resellers today across a number of products. It is essential for resellers to be looking at this market, if they aren't already, as the future is going to look very different when it comes to connectivity. Customers have so many options now and the landscape is getting more competitive by the day. By getting yourself familiar with the various products and services you can deliver via 4G, and subsequently 5G, will ensure by the time your customers are ready to consume these services they don't need to look further than their current supplier.