PLUGGING THE PIPE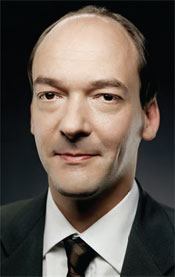 Carsten Brinkschulte, CEO at Synchronica
OPERATORS FIGHT THE SLIDE INTO BECOMING A DUMB PIPE
Recently, the British operators O2 and Orange refused to place orders for Nokia's flagship N97 mobile phone, after the manufacturer decided to ship the handset (and all future N-series products) with the Skype application ready installed. Skype has 480 million users worldwide thanks to a service that allows people to make voice or video calls for no additional cost other than their internet connection.
Power to operators
Nokia's inclusion of the Skype application onto its products has fuelled unease amongst operators who are concerned that voice and video calling revenues are under threat. With operators blocking access to Skype, an unnamed staff member at one operator reportedly said that: "This is another example of them trying to build an ecosystem that is all about Nokia and reduces the operator to a dumb pipe".
Likewise, Nokia's much-touted Ovi mobile internet service, a value added services platform that includes access to applications and utilities such as mobile email, threatens the role of the operator in the value chain of the future.
T-Mobile, for example, had already invested heavily in the development of its own inhouse platform, Web'n'walk, and considered Nokia's Ovi to be a direct competitor.
Hoping to prevent margins from draining away into a dumb pipe, operators have become more proactive in seeking ways to enhance and differentiate their offerings. Voice and SMS can no longer be solely relied upon to deliver revenues. While device manufacturers continue to release products that incorporate manufacturercentric services, dissenting operators are finding an effective bouquet of value added services to be an effective plug.
Value added services
Mobile email as a consumer solution, perhaps in tandem with an operatorprovided email account, enriches the value added service portfolio and makes users become dependent on the operator, battling churn, the number one problem experienced by operators in the consumer segment.
But why should mobile operators choose to invest in deploying mobile email and synchronisation middleware, which subscribers can easily bypass by connecting their mobile phones to an email server themselves? When customers directly connect their phones to their email services, they continue to use the infrastructure of their operator. The operator has little control over the subscriber experience, is again reduced to a dumb pipe and could also be exposed to bandwidth squandering.
When customers connect directly to email servers without utilising mobile email middleware, their mobile phone has to maintain a permanent data connection that continuously polls the server checking for new messages.
Catch 22
Email, according to research from the subsidiary of network vendor Alcatel- Lucent, puts a much greater load on mobile data than surfing the web, or using peer to peer applications. The research also revealed that in spite of accounting for less than 4% of the total amount of data carried, email consumes around 69% of an operator's data network signalling resources.
Standards-based mobile email and synchronisation middleware solutions, on the other hand, do not typically require a permanent data connection to deliver push email. The OMA EMN (Lemonade) standard, for example, uses an SMS-based trigger to prompt the phone to automatically download new email and disconnect once complete. This removes the need for a constant network connection, and reduces the number of simultaneous data connections. The reduced load on network base stations allows for a larger number of mobile email users to be accommodated, without the operator needing to invest in capacity expansion.
For the end user, OMA EMN dramatically improves battery life, so customer satisfaction is maintained. Standards-based solutions typically also provide compatibility with a much larger collection of handsets than client-based solutions, which are often error prone and subject to configuration problems. Those who have tried to manually configure the IMAP, SMTP, email account and password settings of their mobile phones will know exactly what I mean!
Make it work
Finally, relying on a 'leave customers to do it themselves' approach assumes that each subscriber's mobile phone is actually capable of receiving mobile email. This approach ignores any customer that owns an entry level mobile phone or a legacy phone that cannot support mobile data, and potentially excludes large segments of an operator's subscriber base. By complimenting OMA EMN with email to SMS and WAP push, operators can extend the addressable market for mobile email literally to their entire subscriber base.
Mobile email is a service with mass appeal. It can be offered on a subscription basis, or even as a free service to support mobile advertising initiatives. Mobile operators have a unique opportunity to use this widely applicable service as a key differentiator, and battle the threat of becoming a dumb pipe like their fixed line peers.
Synchronica is a provider of mobile email and synchronisation solutions to operators and device manufacturers worldwide.