Software as a Service
Francois Mazoudier, CEO at GoHello
People often ignore the influence of software as a service in the mobile industry as it is traditionally perceived as one of the more costly and cumbersome areas of business ICT. However, the cost saving benefits of SaaS for the mobile industry can no longer be disputed. Heather McLean takes a look at how SaaS is moving onto the mobile.
Mobile SaaS enables end users to replace their existing hardware with web-based solutions. Replacing physical office switchboard hardware, like a PBX, with a web-based service allows businesses to make significant savings, alleviate their reliance on technical support staff and increase their staff productivity as the system is no longer tied to one single location.
Over the last few years, expansion of mobile data networks to support broadband services, in combination with technological conversion to all-IP networks, plus advances in mobile handsets capabilities, has made the mobile handset a prominent medium for the delivery of sophisticated value added services to the end user, says Nikos Giannakakos, business development director at Globo.
Giannakakos continues: "Therefore SaaS should provide the fundamental cornerstone for ubiquitous computing needs, over wireless and fixed data networks, seamlessly integrating data, processes and social networks over a converged environment."
Opening doors to new business
Paul Lappage, business development manager at Grapevine, states: "This development is a crucial addition to the industry. It shows what the devices can facilitate in real terms for organisations, and is one of the ways that the industry is developing beyond sales based solely on price considerations for example. The channel should be excited about it; it is a real way to deliver additional value to the customer base."
The concept underpinning SaaS is one of on demand, says Mark Seemann, director of product marketing at Genesis Communications, which he explains as the ability to get all vital business information whenever it is needed, without the need for major IT infrastructure expenditure.
Seeman states: "Mobile SaaS applications take on demand to the next level. Mobile phones are becoming more and more like a mobile office rather than a simple communication tool. Using these devices to access CRM and ERP solutions based on SaaS is proving extremely popular as companies get closer to a true mobile working environment."
Commenting, Rikke Helms, managing director EMEA at Dexterra, says more and more businesses are taking an interest in mobile SaaS solutions. He continues: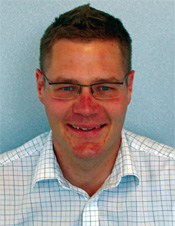 Paul Lappage, business development manager at Grapevine
"Their primary aim is to removing paper-based processes. Such a move enables remote workers to achieve more, while giving company bosses greater insight into field activities.
"The telco market is the latest to realise the potential in this space, and major carriers such as Vodafone have taken strides in providing their enterprise customers with hosted applications," Helms continues. "Despite Vodafone's success in this area, there is still scope for further development for the market in general, and with mobility vendors gradually making it easier for developers to get on board and fill the product gaps, we could be set to see a lot of growth in the update of SaaS solutions for telco customers."
The use of SaaS is providing more flexibility for deployment of more services, so the channel should be excited, says Jeremy Kloubec, a senior principal with communications, media and entertainment consulting at Infosys. "Whether it is a mobile operator or an enterprise, the use of hosted or managed solutions to gain access to content, extend a business process or support communications, is a preferred option to installed solutions."
Francois Mazoudier, CEO at GoHello, agrees: "The channel is right to be excited at the development of mobile SaaS as it represents an exciting alternative to the traditional hardware sales model which most businesses are now growing tired of.
"Dealers benefit from mobile SaaS with no inventory to deal with, no expensive technical workforce to deploy to customers which in turn rules out complex and costly training and most importantly recurring revenues," Mazoudier continues. "A subscription model such as GoHello's enables significant up-selling opportunities as customer demand grows and changes, and the system is easily integrated with their existing portfolio."
Boosting declining revenues
On the opportunity for dealers, Seeman comments: "SaaS opens up a whole new arena for the channel that enables it to take a far more consultative role with its customers. Dealers should consider providing hosted SaaS solutions to support the traditional revenues, which in most cases will be flat or in decline. Building in additional products and services will help secure relationships between dealers and their customers, as well as delivering excellent added value."
Kloubec states: "The great thing about SaaS and other open solutions is the ability to extend those solutions for dealers to create their own offering, in a relatively low cost manner. The value for dealers will continue to be their intimate understanding of their customer base and ability to create specific offerings to serve that market segment. Generic platforms may not be the best option, where a vertical offering may hold more value."
SaaS is a strong sell for dealers, Erkko Vainio, business development director at Capricode Oy, comments. "It's ease of use; dealers need only a single server installation to serve a number of customers, while end users need none. For dealers, the real business potential of selling mobile device management as a service lays in the after sales services they can provide customers, not only in the sale of monthly license fees. Like with any new technology, customers need consulting, support and training, even on the very basics of mobility, and this is where dealers can provide additional value."
Jason Choy, EMEA managing director of SNAPin Software, which provides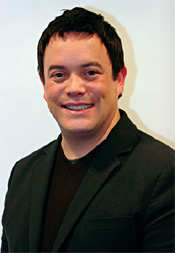 Jason Choy, EMEA managing director of SNAPin Software, which provides on-device self service software to mobile operators
on-device self service software to mobile operators, adds: "For dealers, there is a huge advantage in being able to set up a phone right out of the box. Whether that user is a pay as you go or contract customer, it is possible to provide the user with all the relevant applications we know that segment is likely to gravitate towards. For the end user, this is about providing a meaningful first experience on the device to drive brand loyalty."
How to sell it
As to how a dealer should go about selling SaaS, Giannakakos adds: "Selling of SaaS will take place via the already established mobile selling channels. The dealer should provide a turnkey solution with 24X7 support to meet customer needs. Speaking about business customers, and not retail consumers, security and reliability aspects of the whole setup will be proven to be a must."
Seeman agrees: "The advice remains the same, whatever the size of dealer or company you're selling to; understand your customer's business and only recommend SaaS solutions that are going to have a direct impact on improving their services.
"SaaS should be treated in the same way as any service a dealer is selling to customers," explains Seeman. "As long as it can demonstrate clear ROI and an improvement in efficiency, then customers will feel that dealers are on their side and are actively looking at ways in which they can help support their business."
Dealers need to concentrate on existing customers and those trusted relationships, Lappage agrees: "At the outset, it is important to communicate with your existing customers to tell them that you have the capabilities. They are often more open to an approach from a current supplier.
"If good relationships exist then there is the potential to work closely with them on tailored solutions," Lappage continues. "Once there is some visible success and expertise in this area you can look to increase awareness to potential new customers."
Foot in the door
For many business customers, the most common mobile software used as a service is email, says Vainio, which is a foot in the door for a B2B dealer: "For these customers it is logical to take additional mobile software, such as security applications, as a service, and if possible, from the same dealer. This creates positive stickiness between the two parties and a clear new business possibility for the dealer."
He continues: "After mobile email, security and mobile device management will become more popular. For example, US-based market research firm ABI predicts mobile device management services, worth $583 million in 2007, will grow to more than $20 billion by 2013. That makes for a steep compound annual growth rate of 80%. There is a real need for mobile device management in businesses today and the opportunities this presents to the channel are there for the taking."
Philip Neame, managing director at Integral Mobile Data, says his company found early adopters of SaaS were field service engineers, couriers and, strangely, parking attendants. "They were driven by the ability to generate increased revenue from fewer resources using mobile technology, and the mobile solution was usually a bespoke and dedicated extension to the relevant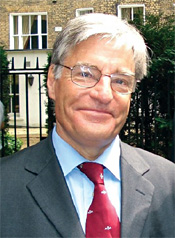 Philip Neame, managing director at Integral Mobile Data
corporate application.
"That is now changing significantly," Neame says. "Improved business performance and customer satisfaction is becoming the key driver. But the shift to increased levels of flexible working is starting to bring all business activity within scope of remote or mobile working, and the return is generated not just by improved customer service, but by huge savings in travel and office costs. This in turn feeds through to a reduced carbon footprint, a subject of increasing importance to the reputation of most organisations."
Deployment trends
In terms of deployment, Genesis has spotted two main trends in SaaS for mobile. Seeman says: "Firstly, we're seeing customers with an effective mobile solution taking stock of their current devices and asking how best to implement SaaS on the existing hardware; this trend will continue in the current economy as businesses look to get more out of their existing equipment.
"Secondly, an interesting future trend is customers taking SaaS as a starting point for their mobile devices for sales teams," he continues. "IT managers want to ensure field workers have quick access to customer and prospect information so using key applications such and Microsoft CRM, SharePoint and Exchange mail services will help influence mobile device choices in the future."
Areas where mobile SaaS will be of particular interest to businesses are, says Kloubec: "Solutions for internal platforms like fleet or logistics management, CRM and field force scheduling or work order support will continue to drive uptake for hosted mobile solutions in the near term.
"However, we are also seeing demand for SaaS solutions that bring together content, community, commerce and collaboration to create customer intimacy or knowledge management within the enterprise,2 continues Kloubec. "For some vertical clients, this can specifically include support for activities like content distribution, advertising, customer outreach and social networking. Due to the fragmented nature of web 2.0 technology deployments and the desire to experiment in this space, we feel this will be a high growth market segment."
SNAPin SelfService is one example of SaaS which is improving the customer experience, and has been a success in the channel, says Choy. "There is substantially increased customer satisfaction in using self service software to answer customer queries about users' accounts as well as their phones. As a method of serving the customer, it is proven to be more desirable than other channels of service today like IVR, web, SMS response or SIM toolkit."
Pseudo SaaS the beginning
Yet Rob Davis, senior product manager at Gamma Telecom, says that the main emphasis right now is on what he defines as pseudo-SaaS, a software-based service that uses a combination of service provider hosted software and end user resident software, such as mobile email, as opposed to true SaaS.
Explaining, Davis says: "We currently see the focus on pseudo-SaaS applications, as the lower bandwidth available for mobile devices and poor mobile internet browsers has meant that pseudo-SaaS applications have been the only ones capable of delivering good user experiences. However, with the arrival of devices with better internet browsers, such as the HTC TyTn II, and the explosion in business-grade mobile broadband, such as Gamma Mobile Broadband, we expect to see more use of true SaaS for mobile devices."
Davis adds: "Good SaaS and pseudo- SaaS applications require two main enablers: good data connectivity; and good mobile devices. Both of these are areas are growing significantly. There are 30,000 new mobile broadband connections are being made per week in the UK at present [GfK Retail Analysis], and 3.5G devices are currently growing at 150% per annum [GSA]."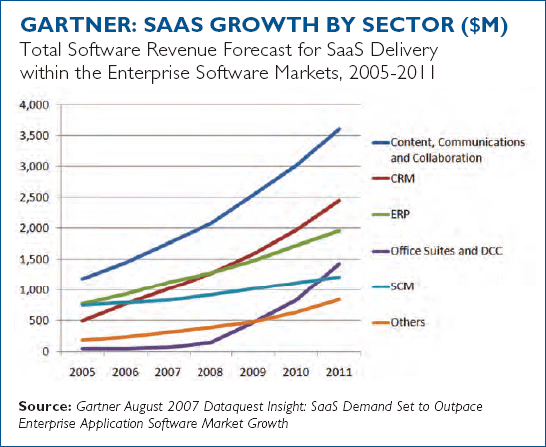 Growth though penny pinching
The reason that SaaS is going to continue to grow in the mobile zone is down to financial pressure on operators, states Openwave's Sean MacNeill, vice president and general manager for service management and global services. He explains: "Carriers are under pressure to reduce risk and OPEX. By outsourcing their mail service through Openwave, they can mitigate the risks associated with operating and maintaining such large scale email systems and have very predictable costs."
New technologies, such as Openwave's Open suite of products named OpenWeb, OpenMedia, and OpenStream, can carry the risk of the carriers' users not adopting the new service and the carriers having invest millions of dollars in infrastructure costs, says MacNeill. Also, it means services can be taken to end users far quicker than ever before.
It remains to be seen how quickly and how pervasively this developing market will grow. Watch this space.