SPOTLIGHT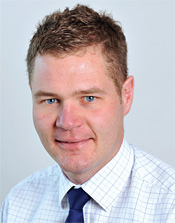 Paul Lappage, business development manager, Grapevine Telecom
Under the spotlight this month is Paul Lappage, business development manager at Grapevine Telecom. Grapevine says that by offering a consistent, proactive and hassle-free service based on experience, it provides cost effective and reliable mobile communication solutions to organisations across the South West and beyond, whose sizes range from the single professional to the large enterprise.
MB: New business acquisition is tough right now, for any business, as shown by the last month's quarterly fi nancial results. As an independent dealer, how is Grapevine Telecom fi nding this market and working within it? Is it possible to acquire new business, and if so, how is Grapevine generating leads and closing deals? Or is it better to put resources into maintaining and improving your relationship and value add for existing customers?
PL: The positive is that new business opportunities are out there. Organisations surviving and progressing through these diffi cult economic times still have requirements. It is a case of being in the right place at the right time when these arise.
Grapevine places a heavy emphasis on planning to make sure that we are
regularly contacting potential new customers. Following a regimented process of consistent communications is important, so that when there is a business need, we are considered.
Grapevine backs traditional methods when it comes to marketing. Our communications are aimed toward organisations in the geographical areas we serve, and consist of a blend of electronic communications in the form of newsletters, case studies and product features.
We are also keen to promote ourselves through local public relations, including features in the press and events. We endeavour to make these regular and direct to the relevant people, so we act as an information resource for them. This gives a reassurance of our levels of service, as it shows what we strive to do for people and what potential customers can expect from utilising us.
This goes a long way to help securing a 'close'. You do have to be extremely competitive when it comes to pricing, and giving businesses the best value possible. This does have to be matched with the promise that customer service and responsiveness will be exemplary, and then a real unique selling point can come to the fore.
However, this pursuit of new opportunities must go hand in hand with maintaining and improving existing relationships. The high standard of customer service has to be continual to maintain retention. At Grapevine, we strive for long term partner relationships, so we have a great understanding of how our customers operate.
We can then introduce new technology or ways of working that have a real positive impact on their running. This is when you can 'add value' and become a trusted resource for these customers. We are then lucky to often benefi t from these loyal customers recommending us into their suppliers and business contacts. This in turn becomes a valuable channel of new business.
MB: What are the hot applications and hardware selling into the B2B market right now? What area's are you concentrating on, which are selling best and why do you think this is, and what are shaping up into the best business tools?
PL: BlackBerry remains a leading choice for a mobile working tool. The number of partnerships that RIM has with major software and solutions houses is increasing, and this gives further functionality to the BlackBerry Enterprise Server. It extends the devices beyond basic voice and email functionality. BES 5.0 will also prove popular as it possesses great features to give the administrator real control over the user base.
Organisations are taking advantage of the inbuilt functionality of Microsoft Exchange 2007 and more and more people are rolling out Windows Mobile devices that will sync directly to the Exchange box. Vodafone's highly competitive fi xed cost of £7.50 a month for 'Total Business' customers means that users can easily manage the cost of running devices over Activesync, as they get a bundle of 500MB.
This was previously a grey area and a potential disadvantage of running devices against a Microsoft Exchange infrastructure.
Nokia E-series devices also remain popular. We are excited about the opportunities that the three new handsets in this range will deliver. We also anticipate the new HTC Hero making a positive impact.
Google's Android platform will be interesting, as it is intuitive with a great user interface. The fact that it is opensource will appeal to developers and some of the major device manufacturers are looking to produce a swath of handsets running Android in late 2009 to 2010. It looks like it could become a serious contender to Windows Mobile over the next 18 months.
As a Vodafone Premier Partner, we embrace the whole of the network's portfolio. Thus we have been buoyed by the opportunities Vodafone Fixed Line provides. It is another compelling offer for existing customers. The cost savings it highlights have proved very attractive.
We envisage both the Vodafone relationship and the available portfolio strengthening further in the upcoming months and years, especially with the arrival of unifi ed communications solutions. This can make a real difference to how local businesses operate and Grapevine can be at the very heart of this.
The IMPDA (Independent Mobile Phone Dealers Association) is open to all UK dealers and distributors. The aim of the IMPDA is to achieve a level playing fi eld for its members, and to champion quality improvements in the industry for a better future. For more details email membership@impda.co.uk