STAYING BRIGHT IN 2009 WITH BRIGHTPOINT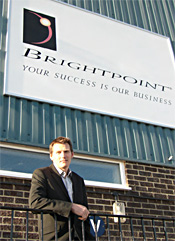 Hugh Roper, managing director at Brightpoint GB
Hugh Symons Telecom is no stranger to change, having adapted and evolved to meet the diverse needs of the cellular, IT and fixed line channels spanning two decades. The most obvious change came in the second quarter of 2008 with its acquisition by US-based Brightpoint Inc, making Hugh Symons Telecom into Brightpoint GB and part of a global leader in the distribution of wireless devices and customised logistic services to the wireless industry. Here, Hugh Roper, managing director at Brightpoint GB, explores a bright future.
Whilst the name and brand identity are the most visible changes to have occurred over the past 12 months at Brightpoint GB, there have also been direct strategic relations announced with the likes of Nokia, RIM, HTC and Orange. Yet the same valuebased approach that has made the company what it is today remains firm.
Roper comments: "We have always positioned the business to serve both vendors and networks, wanting to bring the latest products, solutions and technologies to market and resellers that want to capitalise on the opportunities this brings. We continue to be the value added distributor of choice to bring products and solutions to market first, testament in part to the
experienced and dynamic team we have had in place for many years now, but also the firm reputation we have established as the most knowledgeable player across the converging cellular, IT and fixed line markets."
With Brightpoint Inc. generating revenues in excess of $4.2 billion across more than 25 countries and handling some 83 million wireless devices globally in 2007, Brightpoint GB can take comfort in the fact that its new owners have bought a strong balance sheet and unparalleled capabilities in distribution and customised logistics services to the table. However, this is no reason to become complacent says Roper, who claims the business continually strives to carve out opportunities in an ever-changing, yet mature, cellular market.
No room for complacency
Roper is adamant that the business will not become too relaxed in the arms of its new owner and is very much leading from the front, encouraging new initiatives from the various sales, marketing, product and commercial functions of the business.
Driving forward the UK operation, very much in partnership with Roper, is Ulrich Egeskov (COO), a veteran of Brightpoint Europe who brings with him many years experience in managing Brightpoint Inc. entities and pan-European initiatives, which will eventually be localised and rolled out to the UK.
Egeskov adds: "It was obvious from day one that Brightpoint GB has amassed a wealth of experience, whilst operating a complex and diverse product portfolio which makes it somewhat unique when one looks across the other countries in which Brightpoint Inc. operates. Our value centric approach is not mutually exclusive to any one individual or department, more so that it is inherent in every action we take from engaging suppliers through to the management and support of our reseller partners."
Value based partnerships
Having worked with HTC for over two years to build a channel, Brightpoint GB was rewarded in 2008 with the sole right to distribute in the UK and Ireland for the manufacturer. One of the key initiators of this relationship has been James Bannister, head of sales, who says: "We continue to work in partnership with HTC to maximise its comprehensive device portfolio, which firmly meets the differing demands of the consumer right through to the enterprise customer."
In June 2008, Brightpoint GB launched HTC's first ever channel partner programme. Having been instrumental in turning it from an idea into reality, Adam Sweeney, head of marketing, enthuses: "By working closely with HTC, we were able to rapidly evolve a concept and make it a reality for our reseller partners. We immediately delivered tangible benefits, which in the last six months have seen member numbers double. By working in partnership with our HTC Partner Programme members, and getting under the skin of their business to match their specific needs with the drivers of their target audience, we have been able to apply both financial and personnel resource to drive incremental business and demonstrate a clear differentiator of the value we bring as a dynamic value centric distributor."
Already those driving forward the Partner Programme are looking at new and exciting ways to develop the current online portal to ensure it delivers practical, informative and decisive information to members, adds Sweeney.
Aside from its well established Windows Mobile play, Brightpoint GB was recently appointed a Nokia Approved Partner to serve the more complex B2B space, in addition to signing a global agreement with RIM.
Roper adds: "Brightpoint worked extremely hard to win the Nokia business and clearly articulated our understanding and depth of knowledge in this complex area. We will in due course be communicating with our reseller partners to explain our new engagement and will be executing a number of exciting initiatives in Q1 of 2009."
The mobile enabler
Not a business to ever stand still, and one that continually embraces change with a positive attitude, Brightpoint GB's next move will be to localise a current Brightpoint Inc. concept for the UK market, positioning itself at the forefront of fixed, mobile and IT convergence. This is The Mobile Enabler.
Sweeney clarifies: "Our logic around The Mobile Enabler is that it acts as the gateway to our products, billed services, managed services and applications portfolio, all of which are supported with our value proposition of training, pre and post sales advice, configuration, connectivity, vendor programmes, bespoke marketing initiatives and so on. With the full support of our vendors, the networks and ISV's, we will enable our reseller partners to mobile enable their customers. The UK market is somewhat advanced in its understanding of mobility and the clear benefits it brings, when executed right. What we need to ensure is that we support the varying needs of the reseller with clear and concise direction."
Depth of portfolio
What is evident from the breadth of the Brightpoint GB portfolio is that it provides the cellular channel with options outside of a typical handset and airtime offering. From data cards to 3G routers, this distributor's own brand IP PBX solution, to fixed cellular terminals and a suite of first class fixed line telephony services, it continues to support the forward thinking reseller with additional margin opportunities.
As Marios Ktisti, commercial product manager, explains: "It is imperative for us to continually look at the next product or technology, obviously being mindful of the need to support the existing portfolio and to capitalise on our reputation as the leader in SIM based data products and services."
One way in which Brightpoint GB actively engages with existing customers and new prospects is through its nationwide programme of complimentary reseller partner seminars, which since kicking off in September last year have attracted over 100 attendees, with over 94% rating them as good or excellent.
Ktisti enthuses: "Having the opportunity to interact with a small number of resellers, over a short period of time, and for them to experience and play with the latest kit is essential in disseminating the benefits and margin opportunities. We simply and effectively communicate the reasons why their end user customers are increasingly demanding fixed mobile solutions to enhance their businesses. Never more so than in today's challenging climate where increased productivity, flexibility and cost savings are key drivers."
Brightpoint GB has also recently rolled out Brightpoint OnLine, its ecommerce platform, enabling reseller partners to place orders at their convenience, create tailored price lists, view live stock availability and manage their account.
Challenging yet exciting times to come Roper concludes: "Without doubt we are all challenged with regards to the global economy having a local knock on, yet as a business, we have worked hard to set firm foundations, yet remaining flexible and astute to weather the storm, deliver new and innovative routes to market for suppliers and listen to the needs of the channel.
"I am excited at what Brightpoint GB can achieve over the coming year through the continued commitment of each and every member of our business. We continue to have so much to offer and welcome the opportunity to engage the channel at every opportunity. We want to firmly position Brightpoint GB as The Mobile Enabler," he said.