Comms Business takes a look at the Channel's efforts to go green, where the industry is falling short and what more can be done to reduce its carbon footprint.

Sustainability has become an increasingly prominent issue for businesses worldwide over the last few years, with net zero ambitions and the run up to this month's COP26 climate talks putting pressure on leaders to accelerate change. Progress is varying globally, but where does the UK ICT Channel fall on this spectrum of efforts?
Research released in September by distributor DataSolutions revealed that almost two thirds (63 per cent) of technology leaders thought it'd be difficult to become carbon neutral, but despite this, 85 per cent of those surveyed said they plan to commit to it by the end of 2025.
"The biggest challenge today is awareness," said Michael O'Hara, managing director, DataSolutions, who gave the opinion that channel companies are only just getting started on the journey through which more education will be necessary to inspire change.
This is what the company is actively trying to address through its 'Techies Go Green' initiative, which was set up in March 2021 to encourage signatories to commit to decarbonising their businesses.
Steps taken begin with helping partners to measure their carbon footprint, and then actively supporting them in taking the measures that will ensure this is reduced, O'Hara explained — such as helping them to move to green energy tariffs and encouraging partners to recycle e-waste.
"A survey we carried out in May revealed that only 33 per cent of respondents were using green energy tariffs and surprisingly, 20 per cent of businesses didn't know there was such a thing," O'Hara said.
"Aside from the efforts that Technies Go Green is [making], I feel the government really needs to step up here through more guidance and regulation and drive the awareness for businesses to do more around sustainability."
O'Hara added that he does feel large corporations are more aware of the commercial value that sustainability can bring, giving Microsoft's commitment to becoming carbon negative by 2030 as an example.
"To do this, they will need to get their supply chain of 500k partners to [make] their businesses at least carbon neutral," O'Hara said. "Other vendors are also making similar commitments and the channel partners in these vendors' supply chains are forced to take action to become sustainable, or run the risk of losing their vendor franchises."
Alongside the likes of TalkTalk, BT and Vodafone, cloud and managed services provider Maintel has announced a commitment to the Science Based Targets Initiative — a partnership between CDP, the United Nations Global Compact, World Resources Institute (WRI) and the World Wide Fund for Nature (WWF) aiming to encourage businesses to reduce emissions.
The company's appointment of an ESG (Environmental, Social and Governance) strategy and compliance director this year goes hand-in-hand with those commitments. Joanne Ballard, who was appointed into the new role this August, will be responsible for Maintel's entire ESG strategy, helping to drive sustainability across the wider business and its partners.
"At Maintel, we're an early adopter with a role like mine," Ballard told Comms Business. "We need more companies to actually, at a senior level, get people involved so we're linking everything we do to sustainability.
"If we can do that, it will be a lot more levelled for people to get their information across the whole of the value chain – at the moment, not everyone has to provide it. Once we all start pushing forward with that transparency, and reporting regularly, I think it'll be far easier for us to get forward."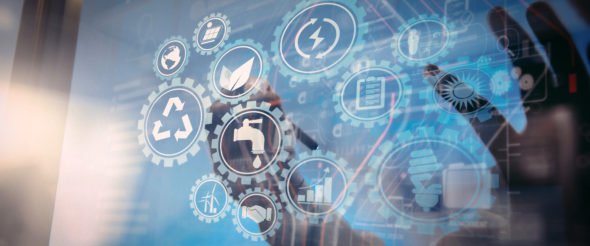 The company's ESG programme will explore aligning employee and stakeholder needs with the UN Global Sustainable Development Goals, Ballard said, building on small steps ranging from power usage and employee travel through to recycling, carbon offsetting and making use of modern lower-carbon technology.
"ESG is very much about being transparent and not a single person or a team coming up with all the ideas, so we have an environmental group that's about to be launched and they will be bringing in their ideas and targets on how we can help in the wider community," she added.
"There's a lot of guidance, advice and regulation, and one of the reasons we've chosen to link it to the SDGs is actually, they help focus the mind — you can take in the bite-size pieces, you can pick one up and think, what can we do here? How can it help our customers and how can our suppliers input to that?"
Working with suppliers, customers and partners on education around the positioning of alternative technologies, and their sustainability benefits, is key for the Channel according to Mark Benson, CTO UK and Ireland at Logicalis. "We need to do a bit of education around why people should look to refresh legacy technologies. As a channel perhaps we sometimes focus on the economic and business reasons, but there's a very good environmental reason as well," Benson said.
"Big old machines that have been in a data centre for 15 - 20 years may be doing a good job for you, but I guarantee they're power-hungry beasts chugging along… The nice thing is, it's almost 'green for free' because that modernisation message, all of the new technologies are going to be a lot more eco-friendly for these businesses so it's actually got that added benefit, it helps them on that corporate responsibility perspective."
Benson added that the Channel also needs to put more pressure on the vendors themselves to be more transparent, and drive them to have more of a "refresh agenda".
Sustainability and ethical practices
Global distributor Westcon-Comstor said it works closely with its vendors around this topic to ensure strong sustainability programmes and ethical practices are put in place, a key factor influencing the company's decisions to do business with a company.
The company has partnered with environmental ratings company EcoVadis and its targets include taking 50 per cent of emissions out of the supply chain by 2025. Kevin Brzezinski, senior VP operations, described this as an 'aggressive target' involving close work with partners to build a 'roadmap' toward the goal.
Digitisation within the supply chain will be a huge part of this, he added, alongside applying principles of the circular economy across the Channel. "It's really about, how do we extend product life cycle, how do we look at more sparing opportunities, more refurbished products, but still providing good customer experience," he said. "I think that's really going to be key, making sure we can drive down that use and depletion of natural resources and look at recycling, looking at where we've got opportunities to use biodegradable materials."
Richard Eglon, chief marketing officer at Agilitas agreed that whilst adoption of these principles won't always be easy due to less products being sold, channel firms will need to cater for extended life cycles as well as embracing the 'automatic revolution'.
"The adoption of automation across the IT Channel has the potential to reinvent supply chains, especially as e-provenance makes data more collectable, allowing channel firms to recognise practices within the journey from sourcing to delivery that may be affecting the environment," Eglon said.
"Covid-19 revealed the fragility of our supply chains in ways which we have always taken for granted, so by switching to more localised supply chains businesses have also been able to increase their sustainability efforts as the carbon emissions associated with the transport of parts were reduced."
A study carried out by 3stepIT found that globally, organisations spent $15bn extra per week on technology during the first wave of Covid-19 — whilst the digital transformation journey has brought some benefits alongside other environmental silver linings of the pandemic where reduced travel and flexible working is concerned, CEO Carmen Ene said that the proliferation of new devices is contributing to a global e-waste crisis.
"The solution to tackling enterprise IT sustainability in Europe lies in rethinking our approach to device ownership," Ene said. "Businesses are coming to understand that to cut costs, boost performance and minimise e-waste, their IT device strategy must transition from 'buy, use, dispose' to a technology lifecycle management solution that supports not just the acquisition of new technology, but is efficient, secure and sustainable through the entire lifecycle."
Alex Tempest, managing director at BT Wholesale said that the pandemic re-shifted priorities in the Channel, but that the opportunity is now in our hands to put climate action at the heart of the economic recovery.
"Channel companies need to prioritise sustainability in a tangible and proactive way," she said. "Having an accurate, detailed understanding of power use is extremely valuable in helping businesses to control their energy use, understand implications of different deployment options, and to choose how to rationalise declining systems.
"This led us to create an Energy Model of our network, which holds records of data to inform our decisions and prioritise sustainability in a practical and manageable way, and sets us apart from others in the industry. In doing so, we can empower our partners to make real progress in the fight against climate change at a micro level and accelerate action to keep global warming at bay."
Walk the walk
Making these proactive changes within their own organisations will be key for channel companies as well as guiding and supporting the customer — partners should ensure that they 'walk the walk' as well as 'talking the talk', said Christina Walker, global director of channel sales and programmes at Blancco.
"By leading initiatives internally and looking at their own sustainability practices, they can lead by example," Walker said. "What's their policy around reuse and recycling of equipment? How do they ensure data is erased and devices are secure to be used again by another party? By playing their role in the circular economy, partners will not only attract more customers, but they can be confident in their own role towards ensuring social change."
Walker said that benefits being introduced from the government, like tax credits and incentives, will help to encourage channel partners to pay more attention to sustainability.
"It's also important to remember that establishing best practice around sustainability will ultimately help recruit talent," she added. "The skills shortage is an issue for the channel community, so anything partners can do to gain a competitive edge will help their cause. Without the right people in place, channel companies will fall behind.
"Nearly half of Gen Z employees surveyed by Deloitte said their personal ethics play a role in their career choices. Ignoring the concerns of future generations could put the ability to build a forward-thinking workplace at risk and compromise profitability and company growth and success as a result."
Denise Bryant, channel director UK and Ireland at NetApp said that the emergence from the strictures of the pandemic is bringing in a new chapter for the Channel in which many partners are re-engaging with customers as they reinvigorate sustainability roadmaps.
"When we look at sustainability as a generic topic, the carbon footprint of digital services accounts for about 3.7 per cent of global greenhouse emissions, and all businesses are starting to look to their digital infrastructure to ensure it is as green as it could be," she commented.
"This is where the NetApp partners are really adding value to their customers. Businesses will be looking to partners to provide advice and insight on operations — from the greenest cloud provider to profiling and tiering their data, from refreshing their current infrastructure to become hybrid-clouds to replacing legacy, energy-intensive technology for lower-power solutions."