Call and contact centre solutions are proving an essential string to many reseller and MSP bows. Comms Business talks to the experts about the state of the market, recent innovations, and what's on the horizon.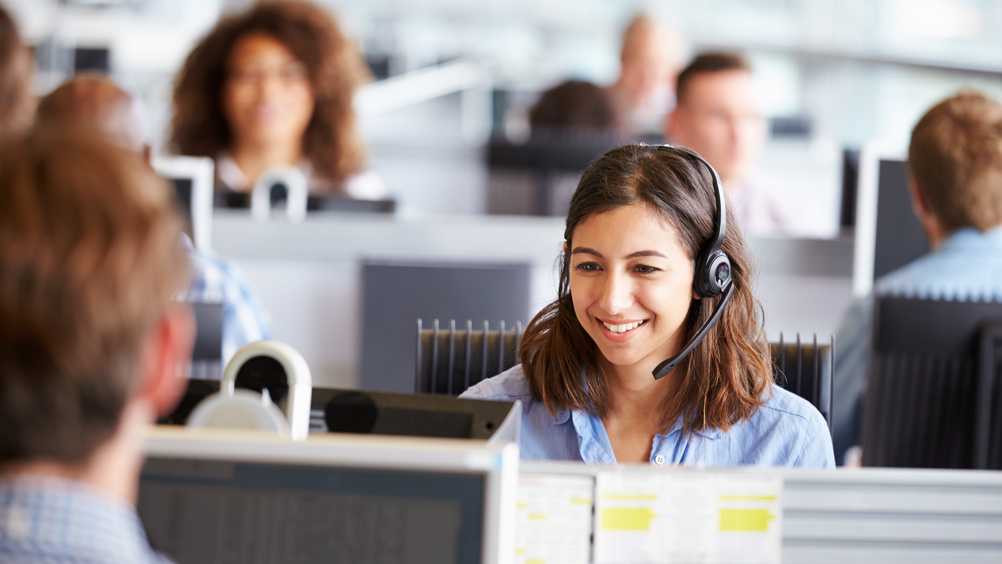 Customer experience is being transformed by technological progress and call and contact centres have been at the heart of this revolution. What's more, with many in-person services put on hold due to the pandemic, every organisation has relied on their call and contact centre more than ever before. In these circumstances, the processes and technologies in place have either proven themselves or fallen short of expectations. This presents ripe opportunities for channel companies who can help their customers evaluate their current solution and guide them through their options.
From the input we received for this report, it was clear that the pandemic has had a clear, and likely irreversible, impact on the contact centre space. Paul Lang, senior director, contact centre solutions, Avaya, explained, "The pandemic has accelerated the shift to digital and online retail and so it is imperative that customer service functions are equipped for a digital world. Digital initiatives need to be organisation-wide so that everyone is focused on the success of the customer journey and part of the total experience.
"The rise in the ability to work from anywhere means customers may demand service at any time, day or night, and contact centres must keep pace with this trend. The good news is that what used to be perceived as 'out of hours' but now might be exactly when someone wants to call customer service, can be handled by remote agents working flexible hours around school runs and family."
In the early stages of the pandemic, customers were understanding of inadequate response times but the pandemic is no longer a reasonable explanation for falling short of expectations. Andressa Marlan, senior product marketing manager, 8x8, explained, "There was a big hit on contact centre performance in early 2020, as organisations transitioned from group working to remote working, and adapted their core business processes to work online. At first, customers were understanding about an increase in waiting times, or more cumbersome processes, but customer expectations have risen, even for previously offline services.
"And it's not just other contact centres that customers are benchmarking their experience against, but the best digital organisations in the marketplace, including built-for-the-internet organisations like Amazon and eBay. A phone number with call routing is no longer enough. Today, customers want to interact with organisations using the technology of their own choosing – whether it's phone, social media direct message or web chat – and have a personalised experience every time."
Adam Wilson, regional channel manager at Vonage, agreed that the pandemic has changed customer behaviours and pointed to the cloud as one way to keep pace with new expectations. He said, "The pandemic has completely changed the way that consumers interact with businesses across all industries - from retail to healthcare, finance to education. Consumer expectations are high, and they will demand that businesses continue to offer virtual experiences that rival in-person connections. With cloud-based contact centres becoming increasingly ubiquitous, agents today are becoming empowered to service customers through a single interface from anywhere in the world, which will continue to be the case going forwards."
These changes are making businesses examine their current solution, with many looking to invest in new solutions. Jon Dailey, channel director, NFON UK, explained, "2021 has definitely been the year of the customer. The market is set for huge growth. Businesses want and need to invest in technologies that can help them deliver and measure a positive customer experience.
"When today's digitally savvy customer doesn't have a good experience, they vote with their feet. The key place for a business to win and lose this battle is with its contact centre. Consumers now expect personalised and seamless brand interactions – using their preferred communications channels – be that on the phone, over live chat, or on the web. Only cloud services provide the agility and speed need[ed] in order to adapt to changing customer preferences, new channels, and new market requirements."
A key differentiator
With so much business now happening online, organisations that prioritise customer experience can stand out from the crowd. Paul Holden, head of sales, Akixi, said, "Online buying continues to grow exponentially and during the pandemic consumers had little choice but to go online, even for everyday groceries. This has driven a huge shift in customer dynamics as many organisations have become faceless e-retailers, therefore customer experience has to be one of the key differentiators.
"Enabling omnichannel interaction in this new paradigm entices a wider demographic, therefore the impact on the contact centre is providing a high level and consistent level of service and support across traditional voice and now into social channels. This means channel partners need to understand this new direct-to-consumer marketplace and customer expectations, helping customer journey mapping to deliver a solution that can enhance the CX across all contact mediums that allow the end user to trust that whether they call, email, tweet or DM it will get treated with the same importance."
As the dust settles from the pandemic and businesses prepare for the future, hybrid working is emerging as one way organisations can bridge employee expectations around their working environment with the need for meaningful connections between employees and the business. Keith Jackson, regional vice president of international channels, 8x8, said, "As society opens up, organisations are needing to adapt as their customer support staff is now required to work in a hybrid environment – supporting both online and in-person services. Additionally, as the variety of channels through which consumers connect with organisations increases, it's become imperative that organisations – be it a local council or retailer – invest in contact centre support that has a single view of every customer touchpoint."
Jackson added that those that do not invest in multiple customer communication channels risk losing customers to competitors. He explained, "Being adaptable and offering personalised experiences is a fantastic way to ensure added value to customers. Resellers that offer specific, granular expertise – such as technology solutions to suit a specific industry – can provide that extra differentiation to customers. Resellers who provide this vertical knowledge and offer value-added insights based on experience, help customers feel more confident that they are working with a trusted advisor for the long term."
Many of these customer and employee shifts were already underway, but the pandemic has accelerated the process. Martin Taylor, deputy CEO at Content Guru, said, "The pandemic elicited a shift in contact centre remote working practices that would have taken many years to achieve under normal conditions. The move to permanent hybrid working in the wider organisation has also had a lasting impact on the contact centre. With the vast majority of organisations likely to keep some form of remote working indefinitely, internal collaboration is essential amongst distributed groups of colleagues. Front- and back-office staff benefit from using UC-style tools for internal communications, especially chat and video. Contact centre solutions now need to offer these facilities to all employees as standard, ensuring effective collaboration continues in a new world of hybrid working."
SMB and enterprise-ready solutions
A decade ago, the call and contact centre solutions used by SMBs and enterprises were vastly different. Enterprises serving large numbers of customers and needed to invest in functionalities that were not necessary for smaller businesses. Today, that gap is much closer together – if it exists at all. Avaya's Lang said, "With the growth and continued evolution of solutions delivered from the cloud, the gap is closing with smaller businesses able to afford capabilities in a pay-as-you go or subscription model. The key capabilities are those that enable the delivery of a great customer experience across any mode of communication – phone, email, chat and social to name but a few. This needs to be supported by a set of employee tools – a composable desktop that is a 'single pane of glass', a knowledge base, a digital assistant that will make their lives simpler and easier."
Andy Bannister, group head of sales, Tollring, agreed. He said, "With everything in the cloud and based on a cost per user, there is no longer an up-front investment to access call centre technologies – it is easily scaled down to the SMB market."
Bannister pointed to analytics as one element that used to be out of reach for smaller businesses but is now transformative. He commented, "Some of the more basic [analytics] tools such as unreturned missed calls can make a massive difference to a business. National business statistics show that 56.7 per cent of all missed calls never leave a message and never call back. Businesses need to understand if calls are answered on time, or not answered, how long callers are willing to wait, assess if staff spend the right amount of time on each call and if they respond to customers appropriately – across the business.
"With analytics, managers across every department, including the contact centre, can measure and compare the effectiveness of call groups and queues, then structure teams to ensure the right people are available when needed to deliver a resolution on first contact."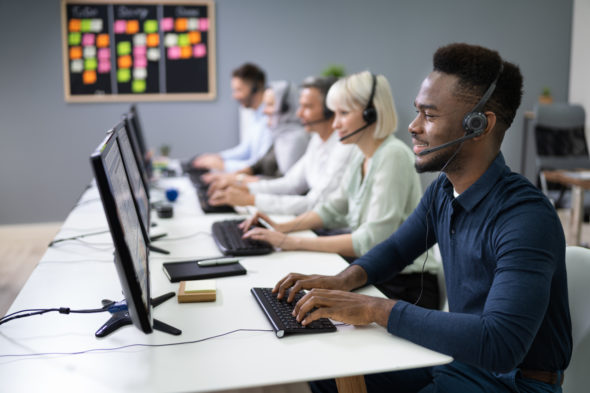 Emerging trends and capabilities
Many innovations in the call and contact centre space focus on refining recent advances, such as artificial intelligence (AI) and analytics. With the shift to many call centre agents working from home, instead of across the floor of an office, the channel has an opportunity to guide customers through employee-focused innovations.
Christian Bleakley, chief executive officer, Firstcom Europe, said, "Employee satisfaction innovations have been crucial – there is a risk that the remote employee feels disenfranchised and isolated. Companies are trying to enrich the experience of working from home by using gaming tools, active feedback, reward schemes. The challenge going forward will be around creating the buzz of the contact centre at home. A central task in any contact centre environment is to maintain a positive can-do culture. This is a lot harder with a remote workforce that is not able to have water cooler chats with colleagues."
Bleakley said that being an agent can be harder when you're on your own at home, instead of surrounded by colleagues and with your manager sitting nearby. He added, "The task is to strive to create an environment that has the convenience of being at home yet provides the interpersonal rewards and energy of the office. Solutions for this are a growth area for the future."
Taylor, from Content Guru, discussed innovations in the AI-space. He said, "While not a new trend, the pandemic has accelerated the move to using new tools like AI and automation. AI-powered web chats, for example, have enabled organisations to rapidly handle basic customer queries, offer self-service options, and direct people to the resources and information they need during times of peak demand.
"As well as delivering voice-led interactions with customers, natural language processing and sentiment analysis are now able to detect keywords and tone of voice to ensure that callers with more complex queries can be quickly routed to the people best equipped to help. The best examples can now even recognise moods in their human counterparts and respond accordingly, deploying bi-directional human-like communication, all designed to optimise the customer experience at every stage of the process."
Taylor expects to see intelligent automation delivering "effective and immediate service to hundreds or even thousands of customers" starting in 2022 and beyond. What's more, these conversations will be "indistinguishable from those with a 'real' person".
That viewpoint chimed with Natassia Allery, sales manager, 3CX. She said, "We expect to see more innovation across IVR [interactive voice response] and automation spaces, as these have proven to drastically improve business agility."
Allery explained that V18 of 3CX's call centre solution includes an integration with Microsoft Teams that enabled users to set up advanced call routing and queues required in call centers. She expects more improvements to eliminate tedious, time intensive tasks for call agents, as well as saving customers from explaining their issue multiple times.
She added, "We are expecting more businesses to implement live chat to a live call option, as all software companies are actively looking to shorten customer journeys and give immediate access to the operator who can help. Currently, we are working on adding iMessaging and Google messaging integrations as the value of any system today is heavily reliant on how well it interacts with others.
Evolving portfolios
For resellers and MSPs that are considering a new call and contact centre offering, it is important to work with the right vendor or vendors. Bleakley, from Firstcom Europe, said, "Business is built upon relationships so any partner should complement your business and your strategy. Technology has advanced to a point where all service providers will offer something very similar. It's up to the reseller and MSPs to identify a provider whose knowledge and values are a good fit. If you enjoy working with them then it's likely your customers will too."
Vonage's Wilson also emphasised the importance of good connections with vendors. "Relationship building and long-term thinking are core to any channel strategy. Picking a vendor who understands how delivering cloud products and services with partners provides reciprocal value is vital. Channel partners can help vendors reach into new territories and new markets, whilst vendors can help train and certify partners to provide sales and sales support, API development services, service desk support services and Customer Success to end-users.
"To make this work effectively, visibility on the vendor side is critical, and this means resellers and MSPs should be looking for vendors who build trust through consistency in their support. At the end of the day there's a pound or euro to be made from each component part of a joint sale or delivery to an end customer, and channel partners should be looking for a vendor who understands the value of such a relationship."
Allery, from 3CX, said, "Partners must always consider how the product accompanies existing solutions in their portfolio as well as how well it can stand on its own. The more affordable, diverse and open standard systems can accommodate a larger market share and be combined with more integrations - an immediate boost to a reseller's profit.
"As a channel centric vendor, we would also urge the resellers to look into what type of relationship they want to build with a solution provider. By understanding success as an interdependent relationship, we laid the foundation to foster a community of dedicated resellers. With access to training material, multilingual Forums, Partner Portal, and personal account managers, resellers can not only meet, but also outperform their initial targets.
Channel companies have a unique opportunity to help their customers make sense of the data available to them, and partnering with the right vendors will allow resellers and MSPs to do this effectively. Taylor, from Content Guru, said, "Right now, partners should be occupied with ensuring they are providing a true, holistic omnichannel solution to their customers, avoiding data silos, multiple points of failure and integration issues. Resellers and MSPs should be looking to vendors that can deliver cutting-edge solutions that deliver on all the necessary channels that customers expect and can integrate seamlessly into existing technology.
"The channel has a compelling opportunity to help its customers make momentous gains over the next few years by adopting industry-leading omnichannel best-practice, and 'connecting the dots' between the many customer data-points and the consumer's overall experience of the brand."
Success rests on bringing together all customer channels so an organisation has a complete view of all customer interactions, as well as individual customer journeys. Marlan, from 8x8, explained, "The industry broadly agrees that standalone contact centres are the past, and the future is a single platform that brings together contact centre with voice, video, chat and web. So, as a channel organisation, you need to check that your suppliers can deliver the right solution set now, and that they have a good approach to future planning. If, like many suppliers, this is achieved through industry partnerships, they should look carefully at how many partners they need, who those companies are, and how well they can partner together."