The world of sales has been turned on its head. Comms Business looks at the types of skills that are needed to survive and thrive in the current climate.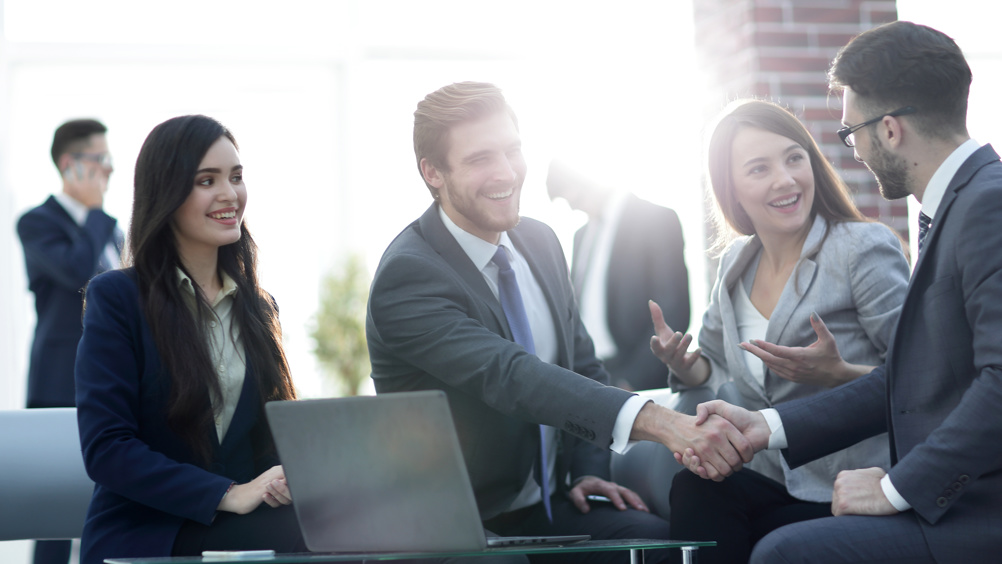 The global economy is shrinking but deals are still being done, and better days will return. With social distancing and working from home the new normal, salespeople have had to dramatically adapt to get achieve success during the pandemic.
Lee Fletcher, channel manager for the UK & Ireland at Snom Technology, said it's hard enough to build rapport with a customer or prospect over the phone but, at least before the pandemic, there was the opportunity to strengthen that with a face-to-face meeting over a coffee or some lunch.
He added, "With the pandemic I think salespeople have had to adapt to technology they were not using before all this happened. Their day-today may have just been phone call after phone call, whereas now they have the freedom to use platforms like Google Hangouts etc… which allow them to build bigger and better relationships that, actually, they may not have had before."
Simon Whatley, director of sales operations at Tollring, pointed out, "Although we have always promoted part-remote working for our sales team, the change to working practices has been a real eye opener and we've introduced tools and new ways of working that are hugely positive. For customer and partner engagement, our operations have become more time and cost-efficient with less travel and more capacity for voice and video meetings. So rather than one or two meetings in person, our team is engaging in five or six online sales calls per day."
Gavin Jones, director of channel at BT Wholesale, thinks salespeople rely on communication as a core part of their role, but the channel has reacted quickly to embrace new connectivity and relationshipbuilding tools. He said, "No longer being able to meet face-to-face and sell solutions has forced teams to be creative and use one of the many unified communications solutions to talk, video conference, share content and even whiteboard ideas.
"Salespeople have also had to adapt what services they are selling as new areas of demand spring up. The pandemic has introduced rapid digital transformation across many businesses. That includes the move to mass remote working, which put a strain on legacy IT systems and resulted in huge upgrades and rapid adoption of new services and technologies." He said that across healthcare, retail and critical national infrastructure services, there has been an unparalleled need for reliable and resilient connectivity.
For Simon Horton, vice president of sales for Europe, Sangoma, video calls are critical. "Little thank you gifts instead of taking them to lunch, is one idea. But with or without the pandemic, the channel salesperson always needs to adapt – constantly having to look at new technology and how that fits in with the portfolio they sell. Products will be outdated and new ones take their place.
"In some ways they have adapted without realising it! They are now using the work remote solutions they were selling and it's easier to sell a solution when you have firsthand experience of it!"
Long term changes in selling behaviour are inevitable, according to Snom's Fletcher. "The pandemic has advanced everyone's ability to use technology in a more intelligent way. A customer no longer needs to be at the office to have a meeting when, in the past, [waiting for a meeting might have] delayed salespeople from engaging sooner. The pandemic has dragged everyone into the present. What they do from now is up to them, but I really think it has changed the mentality of everyone in some way."
Whatley, from Tollring, agreed that things have changed radically over the past six months and many of these changes will be long term. Yet this isn't necessarily a bad thing. "We have found that if anything, video has brought us closer together. I think large portions of the channel initially felt a little awkward about being on video calls throughout the day. However, our team is having more contact with prospects and customers. Those discussions are more relaxed and natural than they ever were before.
"It is vital that the technology works. If someone's camera doesn't work or is switched off, it can make conversations one sided or uncomfortable unless you know that person well. The expectation is that you need to be seen, and the quality of that connection needs to be good."
BT's Jones agreed that the world has changed rapidly and it's unlikely to return to what we once knew. He said, "Advice around returning to work is constantly changing which means we need to be on our toes as messaging moves between returning to the office and working from home if possible. Rapid digital transformation has demonstrated that what we thought was possible in a fewyears' time is actually achievable now and as many adopt remote or hybrid working for the long term, we're unlikely to see a return to the office en masse." Sangoma's Horton pointed out that video calling will become part of the regular sales cycle. "I think the video check-in call will become more standard. Also, it's much easier to have experts on the video call so the customer knows you care about them."
Technology fatigue
Another area that needs to be monitored is technology fatigue, according to Bimal Modha, sales director at Highlight. "Regular Teams calls with the sales team have really helped with getting face-to-face – albeit across a mobile phone or laptop screen. However, there is the issue of Teams fatigue. We have overcome this by encouraging everyone to take regular breaks, go for walks or in some cases do outside 'walk and talk' catch up calls.
"The team has had to replace impromptu catch-ups with scheduled meetings via Teams or Zoom. To add a bit of variety, we have introduced things like quizzes and escape rooms to make working remotely more engaging and fun.
"Most importantly, in the current situation, sales leaders need to be more present and more accessible to their teams. Mental health and wellbeing should be forefront of their minds and be a key part of regular one-to-one conversations. As always, if you put your people first, you will always drive a better outcome for both your customers and your organisation."
The principles of selling
Snom's Fletcher said it is hard to say whether the principles of selling remain the same. "You could ask ten salespeople what the key principles are, and you will get ten different answers. Ask ten executives and get ten more. However, I don't think the principles of selling will ever really change. You will still need to prospect, and due diligence will remain key before approaching any person, meeting, or presentation.
"Will you still need to build relationships? Yes of course, because people buy from people. If you're not nice people, then the customer will happily pay a little more with someone else they trust. In short, the principles will always be there, they will just be presented in a slightly different way."
Tollring's Whatley said the art of selling will always be the same, but many principles are amplified when selling over video. He added, "The etiquette is evolving. In larger meetings when someone is doing a presentation, attendees are turning off their cameras so that the presenter can take centre stage and be the focus of attention."
Jones, from BT Wholesale, emphasised that sales execution and planning has changed. "One of the key principles of selling in the channel is establishing strong relationships with partners. In this sense, things have not changed at all – we're continuing to maintain our relationships and communicate openly. However, new communication and video collaboration tools mean we can continue to network and communicate closely, without the need to travel. This saves us time and means we can be even more productive."
Horton said the principles of selling should always be the same. "You need to understand the customer problem and then suggest the best value proposition to them. Above all you need to have integrity."
Redundancies and recruitment
Tollring's Whatley said his company has been recruiting in departments such as marketing and software development, where there are a lot of talented people looking for work. "It's not a time to be opportunistic, but you should recruit to support your growth strategy."
Fletcher, from Snom, does not believe that redundancies are a given. His company is currently looking to recruit 26 people. He added, "I would say restructuring of your business is inevitable in this current situation. I believe the pandemic has forced businesses to look at their future, evaluate needs and become more streamlined, if you will, into how they operate and function.
"I don't think there is ever a right time to sharpen up recruitment and bring on talent, because that time is taken for granted. In fact, I think time is the most valuable and actually the most wasted asset we all have, and it's a sad statement that it takes something as serious as a pandemic to make everyone release that fact. The time is and always should be now."
BT's Jones said businesses in the telecoms space are 'certainly having to change their goto-market approach' and, in some cases, that is leading to redundancies. "However, some organisations in the channel are growing despite the difficult circumstances of this year, adapting their offerings and actually seeing more business as a result. So, while many businesses aren't looking to recruit at the moment, preferring instead to conserve cash to remain safe in these uncertain times, those growing will be on the lookout. With more than usual numbers of talented channel pros looking for work at the moment, the talent pool is deep and the opportunity is there to recruit the very best for your teams."
Horton, from Sangoma, added, "If redundancies are having to be made because of a downturn in business then you wouldn't be in a position to recruit. Why would you make your experienced staff, who have knowledge of your business and the market redundant? And then replace them with someone less experienced. If companies are making people redundant and using the pandemic as an excuse, that's a different matter entirely."
The distributor view
Steve McIntyre, CMO at Nimans said adapting to working from home and making sure salespeople have the right equipment to engage with our customers remains crucial. "Presenting your offerings virtually takes a different skill to do properly over whichever platform they are using. The same goes for simply chatting with your customers.
He added, "In this competitive landscape, the salesperson needs to clearly articulate the value proposition and they should quantify the value of their service or product in monetary terms. [That way], the buyer can evaluate the value [compared to] that of their competitors."
Fit more into your day
Jeff May, UK sales director at Konftel, said you can get a lot more done in a day as there is less travelling now which means salespeople can take more control of their own diaries. He said, "Today's world calls for different skills. You used to build relationships face-to-face but you can do it remotely too. There's much more reliance on technology now, without it, sales people wouldn't be able to do their jobs. You've got to be savvy, to know how to use it and interact with people at the other end.
"It's important your personality still shines through even though you're not physically there face-to-face. You need to be confident with the technology and confident overall. You are not going to have too many second chances to build relationships if they are blighted by technical issues."
May highlighted how companies should always be looking out for good talent but in such uncertain times it depends on business performance. He said that "resourceful, adaptable and resilient people are the future".
He added, "You need to more inquisitive because you very often don't have the luxury of going into an office and seeing first-hand the environment [a prospect] works in. You need to ask a lot more questions and investigate more because you can't see as much."
A digital-first mentality
Technology will play a frontline role in the world of work. David Sparrow, director at Blabbermouth said, "Primarily, we've all had to adapt to a digital-first mentality, especially with sales cycles. Salespeople have been forced to move their traditionally face-toface interactions online and digital assets like playbooks and automation throughout the sales cycle, have helped to keep the process as efficient and personal as possible. Not only helping to educate prospects on new products but guide the conversation as well, and ensure the right questions are being asked at the right time to maintain the momentum of the customer journey.
"Now that the traditional charm of a first face-to-face meeting is gone, and first impressions will become increasingly digital, genuine sales skills like knowing the solution, the market and customer in front of you, will have far more impact than slick sales pitches."