Internet Service Providers increasingly face the challenge of differentiating themselves – it's never just about the price.

Fixed line access is starting to face the same challenges as fixed line telephony – people are switching and or using alternative methods.
The latest UK Communications Market Review by industry regulator Ofcom last month gets straight to the point when it says in its opening remarks, 'The availability of technologies and services that offer faster and more reliable internet connections has continued to grow this year. 4G mobile services are now available to 97.8% of UK premises, and superfast broadband is available to more than eight in ten households.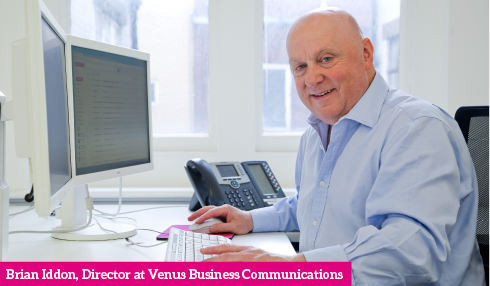 Consumers are increasingly embracing these services. 4G take-up has increased to 48% of UK adults and 37% of fixed broadband connections are providing actual speeds of 30Mbit/s.
The greater choice of where and how to access the internet is driving greater use of online services. The smartphone in particular has become an ever more important device for many consumers, and take-up of this device has increased again this year. Seventy-one per cent of all adults now own a smartphone, up from 66% in 2015'.
And with 5G availability, and its supercharged upturn in bandwidth starting to become visible the market looks set fair for future disruption.
This market has always suffered from a bit of smoke and mirror antics by suppliers. The old strategies of claiming headline speeds as being the norm, although frowned upon by the advertising standards authority, are still there and small print fair usage policies still catch out some users.
One problem for ISPs is the inexorable rise in the amount of data being consumed by all user groups by the adoption of different communication applications.
For example, more traditional means of communication are being substituted for over-the-top (OTT) services. The amount of time people spend texting and emailing has fallen, while the proportion of people who use instant messaging services, VoIP and video calling has increased.
OTT services are also being used for audio-visual and audio content. Viewing to live TV has fallen, while use of on-demand services has grown.
The changing way in which younger people are engaging with content is affecting the way that they interact with media and communications activity overall. This age group is now watching less live TV and more on-demand content, so their attention is focused on the specific content that they have chosen to watch, rather than on texting and web browsing at the same time as watching live TV.
Significantly, the increased use of on-demand and online services has also led to an increase in demand for data. Industry regulator Ofcom reported last month that the average fixed broadband line used 41% more data each month in June 2015 than in the same month the previous year.
In business the ISP market is also in a state of flux in terms of the way in which channel partners are interacting with suppliers.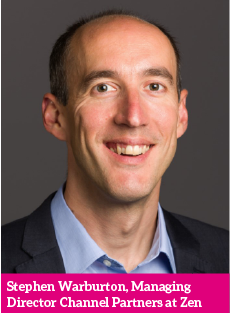 Stephen Warburton, Managing Director Channel Partners at Zen agrees.
"The traditional role of an Internet Service Provider is changing. Increasingly our Partners are expecting to buy other value added services from us and it is that demand which is driving the expansion of our portfolio, as much as our own aspiration to create new profitable revenue streams.
Partners recognise that buying the connectivity and value added services from one provider can bring significant benefits. Consolidating the number of providers in the supply chain makes it easier to find and resolve problems, as the ISP can identify if it is an issue on the network or with the value added service, avoiding the 'blame game' which I'm sure some partners have experienced. There is also appetite from partners and customers to manage a smaller number of suppliers for their IT needs due to the overhead of managing the supply chain."
What makes a good ISP partner?
Stephen Warburton, Managing Director Channel Partners said "First and foremost it's critical to find an ISP partner with a really robust network infrastructure. The reliability and scalability of an ISP's network is critical for delivering a good service to your end users. It's this network that will deliver your value added services and not something you can take for granted, the benefits of Cloud Computing or Hosted Voice are of no value if you can't connect to the cloud. At Zen we have a great track record of offering an award winning service giving our partners a robust & reliable platform they can count on.
All too often we hear about problems with outages on a provider's network or customers not getting the full bandwidth available on their line due to network congestion. You should look for a provider with a good track record of network stability and visibility of ongoing investment to provide sufficient capacity. At Zen we recognise the importance of network investment and we are in the process of making a multi-million pound investment in our network infrastructure.
If things do go wrong, or you need some support, it's also important to find an ISP partner that has the depth of technical skills to help you to resolve any problems without being constantly passed around. Whilst this sounds like an obvious minimum expectation, many providers find it difficult to get you to the right people that can help to resolve your problem, they can be hidden away as they are "back office" or not "customer facing". At Zen we focus heavily on trying to resolve as many queries as possible at 1st line by investing heavily in skilling up our staff to 'solve customer problems'.
Another key requirement is for a really good self-service portal. You want your people to have the tools to resolve queries themselves as you can't afford to have your people tied up on calls trying to resolve queries. This can result in a poor service experience for the end user whilst you try to find the answer and can make them question what value you are adding. It also erodes valuable margin and can create challenges scaling the business. At Zen we have invested significantly in our portal and API's to give our partners the tools to manage their services online."
Zen says that their portfolio has evolved significantly over recent years.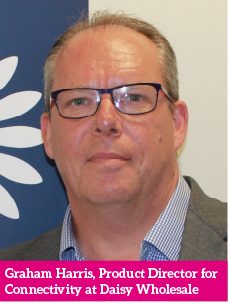 "Whilst internet connectivity (Copper & Fibre Broadband, Fibre to the Premises, Leased Lines, MPLS) remain the cornerstone of our offering, we also have a range of value added services which include: IP Voice (Hosted Voice, SIP), Hosting (Cloud Hosting using Amazon & VM Ware, Data Centre), Hosted Applications (Hosted Exchange, Data Backup).
I don't see us competing with our Reseller partners here as our aspiration is to provide the infrastructure and expertise giving our partners the ability to add their own layer of value. It's common for our partners to source the infrastructure from Zen and they will then provide consultancy, design, configuration, installation and support adding a significant layer of value. In our experience the ISP and our Partners both have a key role to play in delivering a successful solution to a customer."
According to Rob Hamlin, Commercial Director at City Fibre, we're in the middle of a fibre revolution.
"For the first time in history the telecoms industry is switching from one type of underlying infrastructure to another. It's a move that marks the beginning of the end of the aging copper network and everything that's been familiar to ISP sales teams for so long. But it's also a once in a lifetime opportunity to truly differentiate and even help define a whole new range of products and services.
In a bid to punch above their weight and compete on a level playing field, cash-conscious small businesses these days are hungry for low capex, flexible, subscription-based, cloud services. Voice has become an app that sits on a platform, enabling calls to be made to the other side of the world completely free of charge. It's just one example of a technology switch that's invisible to others… unless the infrastructure it relies on isn't up to the job.
With fibre now clearly heralded as the future, the large-scale, copper-asset advantages of the incumbent are no longer representative of what is truly valuable to UK businesses going forward. It's this environment that's opened the door for us to build a much-needed alternative national infrastructure based on a pure fibre, modern network architecture. And of course, to attract forward-thinking partners to sell across it – with tremendous success so far."
Choice is the Word
Whereas some ISP's may focus on price, portfolio, brand reputation or network availability, Fluidata does not believe that there is a single catch all and says that by offering partners all of the above, ISP's can differentiate themselves in ways that suit their particular market, niche or skillset.
The company says they can offer such choice through their Service Exchange Platform.
Fluidata's Managing Director Piers Daniell says their Service Exchange Platform (SEP) is the largest of its kind - providing customers with an unrivalled choice in technology availability. SEP is continuously growing with the business recently adding Gigaclear and Metronet to the marketplace.
"The SEP is Fluidata's wholesale platform responsible for winning The Queen's Award for Enterprise in Innovation 2014. SEP supports over sixty ISPs with Layer-2 access to over eighteen different network operators across the UK.
The platform has been used to create a network, reaching not only urban sites but also poorly served areas, for delivering high-speed internet connectivity and choice of broadband provider. Without public funding, we have managed to build an aggregated network of individual network operators deploying fibre, satellite and wireless technologies to many ISPs. We developed software to support the integration of various carrier networks and their disparate systems. The platform offers broadband services where there were none and competition between service providers where there was none. Costs are shared between providers, so broadband is affordable both for providers and end-users. The innovation has been commercially successful; being valuable to businesses and the wider UK community.
By delivering customers with a simple portal or Application Program Interface (API), multiple relationships can be avoided, gaining higher commercial advantages. By bringing multiple ISPs to one network customers receive more choice while ensuring a high take-up of services making the Data Delivery Network an important part of our UK network investment.
We're concentrated on helping resellers develop long-term and sustainable market share across a large portfolio of cutting edge services and solutions. Our partners receive a world class service with in-house developed systems to make data connectivity simple and affordable for all businesses."
Difficult for Differentiation
Graham Harris, Product Director for Connectivity at Daisy Wholesale, says that differentiation is very much the topic of conversation as both Ethernet and broadband services become more and more commoditised.
"The sophistication of our network and the breadth of the internet access we provide are all good things, but they are very difficult to wrap up and differentiate from the competition.
Therefore it is apps and add-ons that are the way to differentiate. But with the price competitive nature of the market for both broadband and data, just bundling stuff in and increasing the price probably doesn't work because of the impact to the headline price."
And according to Harris, when it comes to pricing, there is a race to the bottom at the moment on connectivity pricing.
"So focusing on what you can potentially package together is definitely the way forward to getting in front of that decision maker. However, on the other hand, if you bundle things in and become uncompetitive in terms of price, you are also going to find yourself struggling. So it is important to be able to find that balance of adding value with services that a business will really benefit from, without adding too much to the price tag.
When it comes to being competitive on price, the nature of the ISP market means that you can only really be as competitive, as your relationship with the carriers is strong. What we are starting to see is some providers installing their own equipment at the exchanges in order to leapfrog the middle man and therefore they are able to offer a much more competitive price. However, that does require a lot of investment from the service provider in order to get that infrastructure in place."
Adding Value
Daisy's Harris says that when it comes to value added services, there is now a whole host of services and solutions that resellers can incorporate.
"From security – firewalls and more complex DDoS protection – to other services such as back-up for resilience; these are not just wrap-arounds but really valuable services to a customer and so it does make it an attractive offer.
Similarly, just by simply flipping a connectivity sale on its head, it allows you to approach the customer in a different way. Rather than focusing on selling the connectivity itself, move the emphasis onto the applications that it delivers. Not only does it make for a more compelling offer, but usually a more successful one. The customer embraces a new connectivity service whilst reaping the benefits from value-adds."
Brian Iddon, Director of Venus Business Communications, says his company has differentiated itself by focussing on what it is best at and providing superior connectivity with superior customer support.
"We are not trying to be all things to all men. Our market research shows us that customers are looking for quality above all, at good prices with high levels of customer support. Our reseller network is growing because we provide fibre optic leased lines at highly competitive prices with speeds of up to 100 gigabits per second.
Because we own and operate our network we can ensure quality and we support this with local engineers and great customer service. Our resellers have a dedicated account manager that understands their business and can provide them with information rapidly. Importantly, we understand resellers' business models and tailor our offering around the feedback we get from them.
There are many ways to add value to a service proposition and often diversifying or bundling together products and services that are not core to your business can be a double-edged sword. Get it right and there are undoubtedly some benefits, but get it wrong and you compromise your core business.
We are foremost a network operator and differentiate ourselves by being very good at what we do, so resellers know and value the core product and service they get from us: speed service and reliability."
Ed Says… I was surprised to hear many suppliers say that bundling services is a double edge sword for them. We had assumed that the bundle was the way ahead but I get what they are saying about having a core focus and determining the business needs of each customer. I particularly like the Daisy Graham Harris idea in this respect when he proposes consideration being given to flipping a connectivity sale on its head and instead focussing the sales emphasis onto the applications that it delivers.