At the end of last year Zen took the opportunity at their annual partner day to address technology changes in the market and ask their partners for feedback on their proposed product roadmap. David Dungay went along to find out how Zen plans to tackle the next phase of its growth and what they have put in place to help them achieve some pretty lofty ambitions.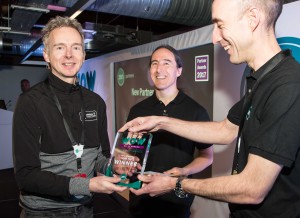 When it comes to the Channel clearly Zen aren't mucking about. They have invested heavily in their infrastructure core and hired some pretty heavy hitters to help them reach their next big milestone, £100m in revenue in the next three years.
Richard Tang, MD of Zen, has welcomed two new senior members of staff on board to help him on his journey. Chairman Paul Stobart was officially introduced to the audience at what he described as an "incredibly exciting time" for both Zen and its Channel Partners. Paul brings huge experience to the role, having been part of the executive team that took the turnover at business software company Sage from £120 million to £1.3 billion between 1996 and 2011.
Justin Fielder has also stepped into the CTO position having previously been instrumental at Easynet.
Tang commented, "We hired Justin quite deliberately as he is probably only one of two people in the UK that has built a network of our scale and bigger."
Head of Channel Sales, Ian Millward, conducted much of the proceedings on the day which included an open Q and A with Zen senior staff. Many of the partner questions centred around Zen's new hosted voice offering.
I spoke to Zen partner John Blackburn, Head of Operations at Central Networks and Technologies on the day. He said "We are particularly interested in the Zen Hosted Voice, we have used Gamma in the past but so many of our customers have Zen connections the fact that we can introduce Zen's hosted voice without having to change any of the background infrastructure is really interesting for us."
Zen also handed out several awards during the day to the partners that had performed particularly well over the last twelve months.
Award Winners

• New Partner of the Year –

Frontier Voice and Data

• Connectivity partner of the Year – Evolving Networks

• Voice Partner of the Year – Crystal Clear Telecom

• Solutions Partner of the Year – Kevin James Ltd

• Spirit of Partnership Award – Eclipse Networks

• Partner of the Year –

Evolving Networks
The Roadmap
Zen pride themselves of listening to their partners and acting on feedback, the day included going over the Zen product roadmap with partners to decide what they want Zen to develop next.
Stephen Warburton, Managing Director for Channel, commented, "Our roadmap session earlier was talking about what we have coming up with partners, but based on the feedback we have had today we will look at changing the order in which we develop those products. We have always genuinely tried to build the services the customers want and not just what we think is best. It's easy to get wrapped up in what is going on in technology and the market but actually it's really important to listen to the customer, which in this instance are the partners. We have always taken the approach where we give our partners early visibility of what we are doing before any customers so they can help shape what products look like."
Commenting on the technology discussed during the day, Richard Tang added "SD-WAN is definitely a buzz word right now. That ability to configure and re-configure private networks in software will generate a new way of delivering IPVPN's, that's really exciting. Cloud continues to develop at pace, many of our customers are doing cloud for the first time so we aren't having to displace an incumbent to win the business."
Ed Says…
Zen is investing a lot of time and effort in educating its Channel for the next phase of SDN (Software Defined Networks) and NFV (Network Functions Virtualisation). Although their ambitions are lofty, they have been supported by significant action and investment. Zen are definitely one to keep an eye on.