TRACKING ROMEX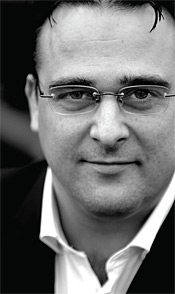 Jason Laight, sales director at Romex
ROMEX, ALSO KNOWN AS ROMEXWORLD, IS A MOBILE APPLICATION SERVICE PROVIDER. IT DELIVERS GPS TRACKING ON MOBILE DEVICES TO PROVIDE USERS WITH A HIGHLY ACCURATE SOLUTION, THAT IS COMPARABLE IN TERMS OF DATA INTEGRITY WITH A TRADITIONAL BLACK BOX VEHICLE TRACKING SOLUTION. THE DIFFERENCE IS IN PRICE AND EASE OF USE, ACCORDING TO JASON LAIGHT, SALES DIRECTOR AT ROMEX, WHO EXPLAINS THIS COMPANY'S OBSESSION WITH TRACKING.
Romex has a vision; to knock black box telematics systems out of the way with an accurate application that can be implemented on any mobile device at an affordable price, bringing the ability to track not only vehicles, but people, to the masses.
Brave new world
"One of the key barriers to closing those traditional hardware-based vehicle tracking sales was always the fact that the customer had to enter into a costly third party lease, as telematics companies wanted cash up front for their services," explains Laight. "Romex is a pure subscription-based business with no third party leases, no hardware or installation and no lengthy contract to sign. We have effectively taken the negatives out of investing in GPS technology, which always required boardroom or CAPEX sign off".
The unique selling point for Romex is its ability to offer the marketplace its
solution on all of the key business mobile device operating software platforms, including BlackBerry, Windows and Symbian smartphones. By adding the solution to rugged devices also, Romex has opened up the transport, logistics and delivery sectors that have traditionally implemented black box solutions to track their vehicles rather than their employees.
Laight states that Romex is not selling rocket science, but common sense. He says this is all about helping both customers and Romex partners to make the most of the latest technology available, in a tough climate that demands efficiency and the use of existing products and systems.
"We are selling a subscription-based service that enables companies to utilise existing assets such as smartphone's to deploy more than one solution. We are not locking customers into high value long term contracts, but are integrating with their existing mobile cost, and more importantly by implementing our solution they are differentiating themselves from their competition by increasing efficiency and improving customer service"
Launch ready
In December 2008 Romex attempted a "one size fits all" approach to the design of its product but this did not deliver the high standards of quality the business required. The company then spent the first three months of 2009 testing and developing the product only releasing it last month when it was finally ready.
Laight says: "Although delayed, this has given us a fantastic opportunity to float our whole concept across partners and end users and I can honestly say we have not had one serious knock back, in terms of what we are trying to achieve, and more importantly, from those partners selling and those end users using our product. This has enabled us to add lots of useful features requested by end users in live environments, and to streamline our order processing systems to mirror existing communication dealer administration."
Launched in June, the Romex product consists of four parts. The first is MyFix, the handset software that collates the positional data for the GPS tracking element of the product. It also doubles as a user interface to manage business and private mileage, giving the user the ability to define what type of journeys they are doing and what type of journeys they will take during the remainder of their day.
The second part is TeamFix. This is the web portal where customers log on to the internet and view everything related to the tracked devices. This is where remote workforce management becomes simple, with a complete suite of reports that deliver timesheet management, expenses, mileage, driver behaviour and alert management systems.
"Some of the really neat new functionality we have recently completed includes scheduled email reporting, allowing information to be sent remotely to any relevant person in the business, including a calculator on the Romex website identifying CO2 usage on unnecessary mileage driven," says Laight.
The third part, MobiFix, is also known as the field manager. When a mobile manager has not got full internet connectivity but does have mobile access to the internet, they can very quickly see the status of their mobile team to help indentify where they are in relation to their daily schedule in real time.
And finally, LoneFix is Romex's integrated lone worker protection solution with its partner, SitexOrbis, enabling customers the facility of a panic button on the handset alerting a 24/7 monitoring centre, plus a live voice channel to enable escalation for critical situations.
Laight adds: "We deliver revenue through our partnerships with other software vendors on a 24/7 remote monitoring centre to handle the man-down facility, that works hand in hand with our core tracking product. This enables us to give our customers a one stop solution for asset and remote worker tracking, plus lone worker protection."
Utopian future
Romex is developing its product roadmap, focusing on TeamFix. Laight comments: "While we haven't ruled out development on to other mobile platforms, our roadmap is currently focused on the delivery of a range of additional modules. Functionally, these fall in to two categories. The first is horizontal solutions that add value to the core TeamFix application. The other category is modules focused on vertical markets. For example, we will be launching our Job Despatch module in September, to meet the needs of the field service marketplace.
"These additional modules offer our channel partners the ability to offer industry specific solutions to improve new business win rates, and secondly to add value to the core TeamFix product to improve customer retention," he notes.
Romex delivers its product to market through three channels: distribution; channel partners; and value added partners. All leads Romex receives through its own marketing efforts and campaigns are pushed back into the channel for execution by partners.
Laight notes: "The Romex strategy and vision has always been to deliver a global solution, and therefore are actively engaged in looking into the recruitment of our first EMEA distribution partner. Our vision is to be a global integrator of GPS platforms and services and to deliver non-hardware dependant value added business solutions that keep customers sharp and focussed on core business activites."
Perfect state
Taking away the horror of the black box solution and its complex sales cycle has opened up a lot of verticals for dealers striving for growth and customer acquisition, states Laight. "Our offering is a clear way for dealers to retain longer customer relationships by adding Romex, or extending existing customer contract length to accommodate the Romex solution.
"We pay good ongoing revenue, which helps build critical future value for communication companies worldwide," Laight explains. "Letting our dealers bill our solution to their customers also adds great value to companies striving for growth, and helps to enforce the industry's converged message that keeps increasing by the day."
Laight continues: "The upfront margin we offer helps to support the cost of sale. The bottom line percentage of any solutionsbased comms companies will increase, not just by selling our applications, but by selling any other applications that deliver high vale at reasonable cost."
Laight states: "We see the Romex solution as a key differentiator for communication dealers who are fighting against the economic climate we find ourselves in. That differentiation is the ability to consult with customers and understand their requirements for all business solutions, not just how much money they can save customers on their mobiles or other communication costs. I really see Romex as a unique way of being different in very tough market, whether from Romex license sales or other cross selling opportunities. It is high value for the dealer community."
Hot independent
The independent retailer will play a big role in the success of customer acquisition for Desi Mobi, offering the opportunity to retail away from the big players and into the heart of the community being catered to. Networks invest heavily in brand building and product advertising, yet this can drive the consumer only so far. When at the final point of purchase, the unaffiliated retailer can make or break what network and handset the customer will ultimately choose, and hold major sway over how and where each connection is physically positioned.
It's not difficult to imagine a future where, alongside traditional merchandise like t-shirts, mugs and scarves, every major football club has its own virtual network, a badge of honour to mark out the true fans. It needn't stop there; movie franchises, popular bands and even major events like the Olympics could run virtual networks to bring like-minded fans together, regardless of geographic locations.
With tariffs hitting rock bottom, now is the time for the major networks to act. Building engaged communities of consumers through emotively driven propositions which tap into the customer mindset, select MVNOs have the ability to not only reduce churn but also give something back to the community, creating a positive brand association with higher emotive value than marketing activity alone could produce.
The Com Mobi Group is the UK's first telco to apply capability and efficiency of a major service network to the needs of a specific community, by targeting nontraditional or traditionally hard to target mobile segment groups, based on ethnicity or sexual orientation.