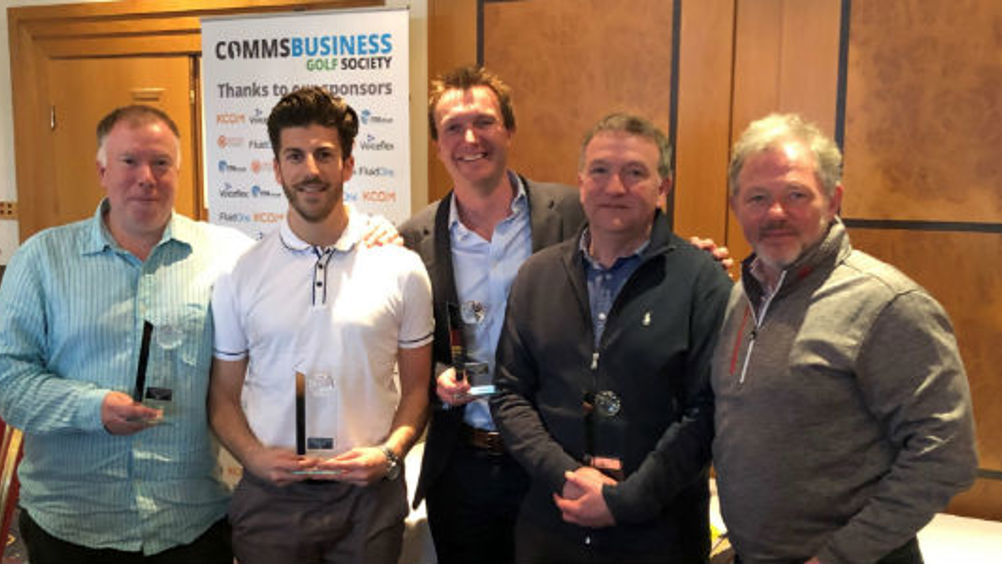 The Comms Business Golf Society 2019 got underway last month. First on the tour stop was the prestigious Oxfordshire course which always ranks highly with society members. The wet weather gear was at the ready for what would turn into a battle against the elements.
As the golfers eagerly awaited the first meet of the season spirits were high despite the threatening clouds looming over the course. What was to follow was less about skill on the course and more about sheer perseverance. Eleven teams ventured onto the course and the conditions soon changed from blustery to a barrage of wind, rain and hail. Three teams managed to complete all eighteen holes, just getting around the course on the day was an achievement.
The team warriors of the day were team Sky who managed to pull a collective 79 points together. That team consisted of Nick Powell, Jonathan Quinn, Damian Saunders and Adam Gibbons. Sky Sales Director Nick Powell personally managed to take home 31 points which was good enough for the second spot in the individual competition, congratulations!
It was a new comer to the society who shot the top score of the day, James Hallahan from Interquest scored an impressive 38 points but in accordance with society rules couldn't win on his first outing. That accolade went to Dean Gaunt, Channel Account Manager at Invosys, who came in with 37 points.
The nearest the pin competition on hole 13 went to Adam Gibbons, Sales Director of Wifinity, who managed to beat the weather, and everyone else, with a lazer-focused shot. Jonathan Quinn was the man with the muscles on the day and managed to out-drive everyone on the 7th to take the longest drive! Congratulations to all the winners, and thank you to all our sponsors for supporting such a great networking event.
These events are a great day out and we cater for all abilities. We welcome new players so if you would like to join us please email Paul Johnson at paul@commsbusiness.co.uk.