How are the mobile solutions on offer across the Channel evolving? Comms Business talks to key stakeholders to find out more.
The mobile market is constantly evolving, with new infrastructure, new standards and new technologies continually moving the needle on what channel companies can achieve for their customers. Keeping pace with shifting demands and emerging capabilities is a challenge that many resellers, MSPs and distributors approach with skill and enthusiasm.
It is now widely accepted that the pandemic drastically sped up digital transformation across the UK, with flexible working becoming commonplace in businesses in all four nations. This has put the spotlight on mobile.
Ricky Shock, head of mobile portfolio, Digital Wholesale Solutions, explained, "While the pandemic's unprecedented uptake of mobile devices and cultural shift towards flexible working may be at an end, it has paved the way for the next phase of evolution. With so many mobiles now in circulation, there's enormous opportunities to win existing accounts and upsell them with complementary services.
"This is certainly one of the trends we've witnessed in the mobile market, as partners adapt sales strategies to focus on maintaining, resigning, and uplifting their base in addition to winning new business.
"Beyond this, change is being driven by the arrival of new technologies requiring more intelligent connectivity. It's not always enough to simply connect devices. The proliferation of IoT depends on 'always on' connectivity, with supporting features such as multi-network failover options and fixed IPs.
"As these solutions become more sophisticated, there's a corresponding requirement from customers for expert consultancy and support when buying and maintaining these technologies."
Brendan Hourihane, senior director, Freshwave, expects these changes to be permanent. He said, "The trend for people using portable mobile devices is not going away and will likely only increase as people better understand the security and reliability of service that mobile technology provides.
"With bring your own device here to stay, this opens up lots of opportunities for those in the channel to provide services into a wide range of devices. But for customers to be able to use their different devices, they need to be able to connect to the different mobile networks when they're in the workplace."
It is also worth reflecting on the reality that mobile was not always central to communications requirements, yet it has quickly become vital for many organisations.
Roan Pratt, sales and marketing director, Pragma, explained, "[Mobile] has become an integral part of the communications strategy of many organisations but has not always been a conscious decision. We believe that 85 per cent of all business calls involve at least one mobile device so it is easy to see why a business should have a more considered approach to their mobile strategy.
"We are seeing business apps increasingly used on mobile devices, which is reshaping how businesses function. There are opportunities for another level of communication and helping procure a business's mobility, as well as mobile apps progressively being customised to meet the needs of different organisations."
There is a real opportunity for channel companies to guide businesses through their options, acting as a trusted advisor who both listens and reacts to concrete requirements.
Matt Mimo, CEO, Tardis, said, "While most of the Channel seems to be focusing on promoting the faster speeds 5G provides, it's not necessarily what businesses want or need. Instead, they need reliable services that include features that add value to business operations such as multi-network solutions that auto-failover, or rich visibility into usage.
"From the perspective of inside the Channel, resellers want a hands-off process and an easy ordering experience. That's what makes a difference for both sides of the Channel, ensuring end-customers are catered for, while ensuring the most efficient workflow for the seller.
"Yes, high bandwidths may be necessary in some use cases, but it's the wrong aspect to focus on for the majority of business customers."
Unified communications, or UC, is also flowing into the mobile strategies of many organisations. Mark Brunwin, vice president, product marketing and strategic planning, Tango Networks, explained, "Post pandemic, with much of the workforce out of the office, mobile UC is seen by many as the new normal. Businesses have had to adapt to new working practices and usage behaviour, and this has posed a real challenge. It's one that must be addressed, as the emergent hybrid workforce are unlikely to return to the old status quo.
"This compounds with the needs of Generation Z in the workforce, who clearly have a mobile first mindset and demand that business communication is centred around their mobile devices, as opposed to desk phones.
"There is also a significant focus on working efficiencies, cost reduction and green credentials. Having to carry two mobile phones – one personal and one for business seems excessive – and with each phone creating around 75kg of carbon in its lifetime, not very good for the planet."
The widening adoption of eSIMs is also having a significant impact on the mobile market. Gregory Gundelfinger, CEO, Telna, sees these as the future of mobile within the Channel.
He said, "eSIMs are the future of the mobile market, and Channel leaders should prepare for the increasing interest in what they can offer businesses across a variety of sectors. As well as being easy to provision, eSIMs provide the agility to reprogram remotely, which many modern businesses now need when conducting business across the world.
"Allowing local data access with lower latency and improved performance, eSIMs securely connect devices to local networks and seamlessly transition between various networks in real time with no physical SIM card or complex contracts required.
"We're now seeing more industries gaining the ability to access IoT devices thanks to a more established 5G network. For example, logistics companies are increasingly leveraging mobile data to update their tracking systems in time to enable them to provide more accurate delivery windows and eSIMs are key to ensuring these services are available when crossing territories, especially in logistics and manufacturing when connected products are sold globally."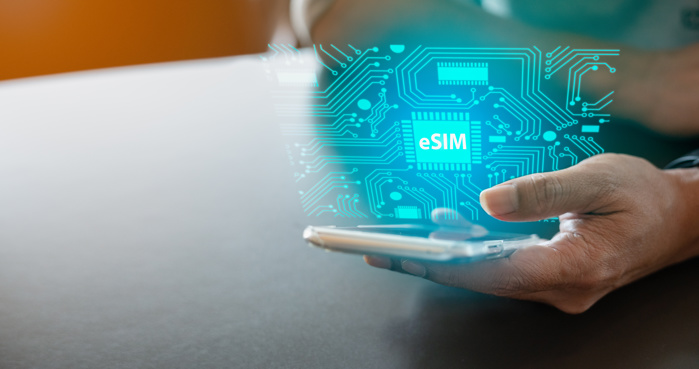 PSTN switch off
Other connectivity infrastructure projects are also having an impact, with the upcoming switch off of copper phonelines expected to ripple across the mobile market. Previously disparate connectivity solutions are increasingly coming together.
Shock, from Digital Wholesale Solutions, said, "The increasing potential for Fixed Wireless Access (FWA) to displace traditional methods of connectivity is another notable trend. This is being driven both by the imminent PSTN switch off, and the simultaneous expansion of 5G.
"Many of the obvious replacements for PSTN services are comparatively expensive, so for customers with tighter budgets, mobile connectivity through FWA has definitely become a legitimate and cost-effective alternative. As 5G coverage continues to grow, FWA connectivity will only become more attractive."
Shock also explained Digital Wholesale Solutions is increasingly finding it is "becoming much harder to offer mobile in isolation".
He explained, "Providing mobile hardware and/or airtime as part of a larger service package is unquestionably the way forward. Customers increasingly look to the channel to provide a more collaborative communications solution. They want the simplicity of dealing with one supplier, one bill, and one support department for all products.
"The whole ICT market has been moving in this direction for some time, with 'as-a-service' wraps predicted to be one of the biggest growth areas for channel revenues.
"Mobile lends itself well to this purpose, because while mobile ownership is ubiquitous and therefore not a big driver for winning new business, it offers huge opportunities for uplifting existing customers with additional value bundles, product upsells, and managed service wraps.
"There's a raft of complementary products with great margins that can be upsold to customers including software licenses, hosted voice, and solutions for mobile device management. Helping our partners to address this demand and source the right products for their customers is what we're aiming for."
Compelling offerings
So, how should a reseller or MSP go about evaluating and refining their mobile offerings? For Telna's Gundelfinger, the important thing is to keep things simple.
He said, "Resellers and MSPs evaluating and refining their mobile offering should have one key element in mind: simplicity! Businesses and end-users need reliable network mobile access fast and also need to manage and provision that network remotely."
It could also be beneficial to start with customer problems, and work towards a product offering from there. Mimo, from Tardis, explained, "Resellers need to know the challenges of their customer base. Then, they need to find a vendor with the products to solve those issues and one that doesn't just rely on Carrier data to assess network strength.
"The best mobile partners will leverage multiple sources, including Ofcom and other third parties, as well as their own data, to make the most educated recommendations.
"There are also plenty of easy wins resellers should be focusing on if they need to bolster their mobile offerings. For example, offering VoIP solutions over mobile and intelligent mobile connectivity, as alternatives to lacklustre all-IP solutions like SoGEA, for pre- or post-2025 transitional solutions can provide far more flexibility and agility, faster lead times, and therefore faster time to revenue, and far fewer headaches along the way."
Tango Networks' Brunwin emphasised the importance of understanding the end user. He said, "Resellers need to bring new mobile solutions which address both the hybrid nature of working and long-standing inadequacies in delivering business class mobile UC.
"The reseller needs to look at the needs of the end user – and particularly the user experience with mobile UC. For instance: is the mobile UC app fit for purpose? Do users want to have to open an app to make a business call on their mobile phone? What happens to voice call quality with the app in a busy crowded environment or when travelling to a meeting?
"Is there a way in which the native dialler on the mobile can be used to make a business call? Can personal mobile devices be used to make business calls securely? What solutions are available which meet these needs?
"CSPs and MSPs should look for solutions which represent dedicated business mobile offerings, rather than the resale of a carrier's plans. Switching to these solutions is straightforward and can be done very quickly."
Shock, from Digital Wholesale Solutions, discussed the advantages of good customer knowledge within the mobile space, compared to other solutions on offer by resellers and MSPs.
He said, "Customer expectations are relatively simple to manage when it comes to mobile because whether it's in their personal or work life, ultimately, everyone's got one.
"They're already familiar with pricing and the features that are available, certainly more so than they are with products such as hosted voice which they probably won't encounter outside of the workplace. Customer demand may change with technology but, in terms of airtime and tariffs, they will want to keep things simple.
"Therefore, when it comes to developing the basics of a mobile offering, MSPs should concentrate on finding a supplier that will help them to keep things simple and minimise their risk. Services that have long minimum term agreements, even if they offer great pricing, are best avoided to minimise exposure.
"The next step is to work out how you can lighten the load for the customer. It's not just about having a competitive proposition and focusing on airtime. Developing additional services that can be bundled into your mobile offering such as device management, pre-enrolment and device fulfilment, will greatly enhance the customer experience.
"This will add value to your proposition, make your mobile offering stickier, and improve the bottom line."
Strong partnerships
Once a reseller or MSP has identified areas for development in terms of its mobile offering, selecting the right partnerships to progress plans is essential. Some channel stakeholders feel a dedicated focus on business solutions is of vital importance.
Brunwin, from Tango Networks, said, "Many mobile solutions for business today tend to be adaptations of consumer services, so one of the tests for selecting a mobile partner – is whether the mobile service provider is really focused on dedicated business solutions.
"Secondly, will the mobile service from the partner be fully integrated with the customer's existing UC platform or service? Or is a new UC solution the only option?"
Brunwin also said resellers should ask whether a UC app the only option for making and receiving business calls, as well as considering whether a personal mobile device be used for business communications.
He added, "When selecting a new mobile partner it is essential that the relationship is focused on the real value drivers which will solve problems and drive business transformation for the customer. Not just the opportunity for a me too mobile offer, at a low price."
Hourihane, from Freshwave, said, "For people to be able to use mobile tech and all the applications that run on it, they need to have access to the mobile network. And this is not always a given indoors, with energy efficient glass and modern building materials often blocking outdoor signal from penetrating buildings.
"When evaluating partners who design and deploy indoor mobile connectivity systems, make sure that they have agreements in place with all four of the UK's mobile network operators.
"With so many people using their own devices they will be using different networks, so you need to partner with a company that has those trusted partnerships with all four operators and can provide connectivity across all of them if a building needs it."
Shock, from Digital Wholesale Solutions, said, "At a high level, resellers need to be satisfied that their partner is easy to do business with, and that the partner's proposition provides a worthwhile profit that will enable rapid growth. If the price isn't right, it's never going to work, so a potential partner must have a competitive proposition that's in sync with the market.
"When assessing how easy a partner is to do business with, resellers need to look at that partner's enablement and support capabilities. This includes the partner's presales support and material; operational support; the features of their provisioning portal; turnaround times for order fulfilment; billing support; and SLAs for that support.
"Resellers also need to know what the risk is. Ideally, a partner will offer 30-day agreements that enable resellers to minimise their exposure. If the partner is asking the reseller to commit to 24 or 36 month contracts, this will leave the reseller on the hook should the end customer default.
"Another big consideration is the partner's potential to assist growth into other areas. Business customers increasingly expect suppliers to support other ICT requirements. A good partner should make it easy to access products that complement a mobile portfolio, making it easy for resellers to expand and grow into other verticals."
Deeper ubiquity
In terms of the future of mobile offerings within the channel, Brunwin, from Tango Networks, expects to see the rise of dedicated mobile UC solutions.
He said, "New dedicated mobile UC solutions for business will open up many new opportunities for the channel. This will be particularly the case for driving mobile UC deeper into the workforce – particularly to the many frontline workers, who are not near a desk phone or do not have a UC solution on their mobile today.
"There are opportunities for the channel to offer mobile services to businesses as [part of a] cloud UC service. They can offer this to meet the needs of the modern workforce, reduce the number of company provided business phones and as a real value generator for their business."
There is some expectation that mobile will take on the role that has been played by traditional desk phones.
Pratt, from Pragma, said, "We see this progressively aligning to the corporate requirements of a business and providing a true alternative to a traditional desk phone. Solutions like [ours] allow businesses to track and monitor call traffic to mobile devices, keeping business traffic in the business ecosystem and ensuring compliance requirements are met.
"By bringing mobile devices into the corporate communications platform, users will take calls to their DDI, be part of a hunt group or make calls from their mobiles as if they're in the office. The increase in mobiles also provides opportunities in the channel to promote the eco benefits of not having an additional physical phone for every user."
Due to this shift, Pratt explained, we could see a decrease in users carrying two devices and the separation between a business and personal phone will diminish. He added, "The use of eSIMS will increase in response to the popularity of personal devices being used for work, offering the ideal solution to provide a business line for a user on their personal phone."
Mobile is broadly expected to eat into the fixed market. Shock, from Digital Wholesale Solutions, said, "The biggest change that we're likely to see, at least over the next five years, is the mobile market's expansion into areas traditionally held by fixed technology. The speed and efficiency delivered by 5G as it becomes more readily available, is certain to be a match for the majority of fixed services on offer.
"Demand for data consumption is certain to continue to grow, and it's likely that unlimited data bundles with the advantage of a fixed price and low risk, will increasingly be seen as the obvious choice for end users."
Shock also pointed to the IoT as playing a key role in the future of the mobile market. He said, "IoT connectivity, and the enhanced feature rich offerings that come with IoT, will play a huge part in the future of mobile providers as well. Globally, the number of IoT devices is expected to triple over the 2020s.
"It's a huge growth area that cannot be ignored, and resellers should look to partner with suppliers that can help them facilitate robust and reliable IoT solutions."
There is a possibility that this dynamic market will pick up speed, and the Channel must be ready to adapt to new possibilities and requirements.
Gundelfinger, from Telna, said, "The mobile market has evolved fast over the last decade, but nowhere near as fast as it will develop over the next 10 years, especially as the Channel expands the number of services that need robust mobile connectivity."