How is technology shaping the construction and manufacturing sectors? Comms Businesses identifies how technology is dictating the pace of change and playing a pivotal role in recovery.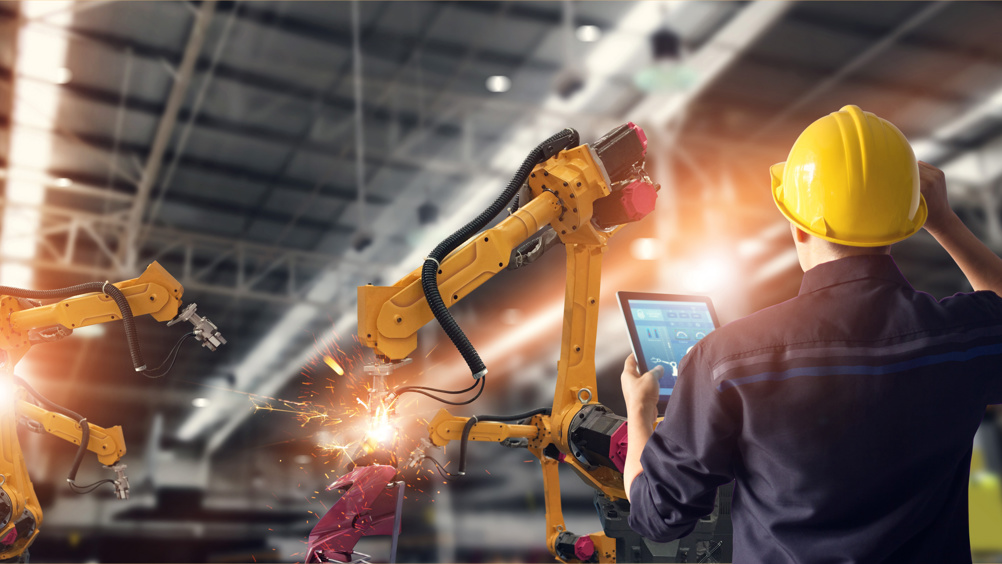 The challenges facing the construction and manufacturing sectors are complex – from supply chain issues and high energy costs, through to labour and material shortages. But technology is playing a key role in creating more flexible, efficient and dynamic ways of working. With greater adoption of IoT, 5G, drones and even augmented reality, brighter and more consistent days seem to be on the horizon.
After turbulent times, the coming year is being hailed as one of recovery and growth for the construction industry, according to Nick Sacke, head of IoT solutions at Comms365. But he warned, "With labour shortages, supply chain disruptions and stricter regulations, challenging the industry to innovate must be a priority in order for the sector to recover and become resilient.
"To do this, it is key for technology to be at the heart of this transformation by accelerating the adoption of new and innovative technologies and processes to create high performing systems that work together, adding value to society. The adoption of new technology and smarter processes can deliver tangible benefits for construction firms, but there remains a fundamental stumbling block for those organisations looking to capitalise on new innovation – which is finding the best connectivity to do the job."
Cherie Howlett, CMO, Jola, believes technology is helping companies in construction to improve their waste management, reduce costs and improve employee safety. She said, "On a construction site, an array of tools are used by trained operatives to complete jobs at each stage of the project. Cranes, for example, need to be fitted with data loggers to record key operational parameters, so lifting operations can be reviewed and monitored. In addition asset-tracking devices can now be glued to almost any construction tool.
"Bluetooth technology combined with an app on a smartphone allows for a near-real-time tracking of location. It also records where the device was last seen should it go missing. Push-to-talk radios, monitoring and recording devices all help improve communications and support safe systems of work. CCTV cameras as well as intrusion alarm systems are often used to monitor sites remotely. This is creating mobile data opportunities the channel can win."
In demand
Technology continues to inspire change. Comms365's Sacke (pictured right) highlighted, "The available technology in construction has advanced rapidly and we are now starting to see examples of how advances in digital technology can deliver efficiency and productivity opportunities at the start of all projects – truly revolutionising the construction sites of the past.
"Drones, robotics, 3D printing and augmented reality are no longer works of fiction but are now increasing in demand."
Howlett agreed the role of technology is vital. She said, "4G and 5G are in demand right now for primary connectivity, IP CCTV cameras, bodycams, PDAs, laptops, tablets and tracking and monitoring devices."
But for Sacke the market has been hampered by technical challenges relating to projects that can be large, complex and geographically dispersed.
"Combined with varying proficiency and maturity levels of smaller subcontractors, advancing at scale has been difficult and has subsequently led to the slow progress of the digitisation of the construction industry."
Differentiation
Howlett noted how their most successful partners provide end-to-end solutions. "Our partners are agile, offer differentiation and full visibility of data usage globally. Most construction sites are temporary and do not have fixed connectivity infrastructure. Mobile data solutions on 30-day contracts can be up and running within 24 hours and are perfect for these sites, which often need connectivity for telephony, Wi-Fi, security and health and safety."
She added that many channel partners already supply construction customers, so taking the time to understand needs is essential. "The key here is knowing your customers and being close enough to them to gather their current and future requirements. Suppliers such as Jola offer training programmes and support to help their partners uncover and win opportunities in their existing customer base and use these deals to win new business in the same sector."
As for future trends Howlett pinpointed how experts such as McKinsey suggest that 5G will create opportunities for channel partners in mobile broadband, IoT, mission-critical control and fixed wireless access. She said, "We will see faster connectivity speeds, lower latency and greater capacity which is likely to enable on-the-go, ultra-high-definition video, virtual reality, and Internet of Things. We are likely to see more time-critical applications such as real-time monitoring and measuring devices and a move to using 4G and 5G as primary connectivity."
Mobile momentum
But while there are many types of businesses that require mobility solutions for their workers, the construction and manufacturing sector have some specific critical needs in common. That's the view of Craig Barras, region lead for Northern Europe at Spectralink.
He revealed, "Factors include the need to cover large, distributed environments seamlessly, safety features for lone workers or those operating hazardous noisy machinery and crystal-clear voice quality from any area within the site.
"Construction and manufacturing sites are typically very extensive environments with a high-risk profile for workers, so these specific demands are critical to ensure worker safety, but also regulatory compliance."
Barras also highlighted how manufacturing sites specifically are typically environments that have expanded over the years, adding base stations to respond to their communications demands as they added square metres to their sites.
"This ultimately results in a mish-mash of single cell DECT stations covering each new area. the handsets and devices used by staff depend on the single base station and only work within the specified small area. As a result, once the user leaves that area, the handset is no longer able to provide data services, or indeed the critical voice quality that these high-risk environments require.
"Although the entire site may be covered, each handset is useless outside its area and workers are not able to work effectively and safely. Multi-cell DECT which can cater for legacy cabling and increased large coverage, brings enhanced roaming and flexibly over the single cell solutions, which suits the larger sites."
He added, "What manufacturing and construction businesses don't realise, is that it's now possible to design and set up an integrated and holistic communications system, where workers are able to use their devices fully across the entire site, without overhauling their legacy systems. Multicell DECT and cloud servers are key enablers that can help improve communications and save money, especially if they integrate with existing technology and provide enough flexibility to accommodate future site extensions as well as the introduction of new enterprise-grade features or capabilities."
Beginning to boom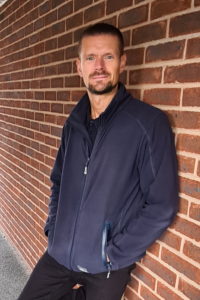 The construction industry is beginning to boom with new ways of working at its heart. Ashley Thompson, a senior project manager for Liverpool-based Assent Building Control (pictured right) has been working in the industry for 17 years. Thompson explained, "I'd say it's as busy as it's ever been and technology is helping us do more in less time.
"We specialise in education, high rise residential and health care and lots of drawings are now sent by email and meetings conducted online rather than having to commute. We can be much more productive now."
Thompson said the role of technology is a major factor. "Obviously construction is a manual hands-on job so there are limited ways it can adapt. But from the design side there's a lot more scope and diversity. It's become considerably more flexible. You are not always expected to be in the office or onsite and there's a lot more meetings via video and sharing documents. The pandemic accelerated previous trends and it's been a big bonus because we save a lot of travel time and can get work done at a more productive rate rather than driving around everywhere.
"There are environmental benefits too. We can achieve more in less time and I don't see it ever going back to the way it was before. Obviously you've still got to meet people onsite and inspect work but more flexible ways of working are here to stay."
It's a view echoed by Jeff May, UK sales director at conferencing specialist Konftel. May said, "There's little doubt the positive impact conferencing is having across almost every industry. The days of constantly having to travel to meetings are over. Work can be performed quicker, easier and more intuitively via a conference call even out in the field with good connection."
For Barras at Spectralink, the channel urgently needs to educate customers about what is possible – so that a mentality change is finally brought about – and construction and manufacturing businesses finally enter the 'new era' of communications.
He concluded, "Introducing unified communications no longer means reinventing the wheel and swapping out old systems, rather, it can be achieved through flexible integration of legacy systems and cloud technology. For the channel the ability to save their clients the massive cost of re-cabling and still get the shop floor mobile workforce into the UC environment is a major advantage and protects their investment for another five to ten years."