With provisioning portals becoming ever more powerful, Comms Business examines how these platforms are opening up new opportunities across the channel.

Access to instant information is critical for the development of any successful business and provisioning portals have a crucial role to play in a 24/7 'always-on' world.
For Nicola Bryan, operations director at Zest4, end-users are becoming more tech-savvy which in turn means they are getting more information online; from sourcing insurance quotes through to purchasing weekly shops.
She added, "The new normal is access online to information. Provisioning portals are developing to deliver more information, more capability and increased functionality. We offer different portals for all the requirements our partners require. People need to be able to access the information they want, as quickly and efficiently as possible from wherever they are. All our portals are iPad/tablet friendly and host all information through that one pane of glass, visually pleasing and easy to understand and operate."
Matt Dykes, COO, Abzorb, said that, with the constant introduction of new technology and applications, it's critical that provisioning portals are intuitive and comprehensive, in providing everything a channel partner needs for their customers. He explained, "The Abzorb portal presents access to all products and solutions in our portfolio therefore facilitating business for our partners to provide standalone products or blended solutions saving them time to provision, design and deploy.
"Customer experience has grown phenomenally, and our portal also acts as a CRM system because it captures all the data from the customers. This is hugely beneficial in terms of using the data to improve customer experience so channel partners or end users can segment and target customers more effectively."
Ben Merrills, CEO, Zapappi, highlighted how 24/7 business activities have driven the need for far more automation in provisioning and support roles. "Being able to provision or make changes at 11pm on a Sunday is now considered the normal. Being able to self-diagnose an issue at any time of day is also now a reality, as more and more providers surface up key information and tools."
Portal requirements
When asked what good provisioning portal looks like, Zest4's Bryan said the bare minimum a provisioning portal should have is "24/7 access to the numbers that matter". As such, specific requirements will vary, but for Zest4, those vital numbers include unbilled usage, the ability to set alerts on CLIs (stands for command line interface, which connects a user to a computer program or operating system) and to be able to add and lift bars. Users on the Zest4 Partner Portal can also put through SIM changes.
She added, "Ease of use is imperative; a decent portal needs to look good and be available all the time. No unexpected outages or multiple maintenance rollouts. We have strict monitoring tools in place, supporting our portals day and night.
"Listening to our partners and focusing on the requirements of them and their end-users is how we develop and continue to improve our portals. If we don't have something they need we make sure to add it to our roadmap, keeping them updated, so they know when they can expect the release."
Eric Gourmelen, vice president IT for Arrow's enterprise computing solutions business, discussed the importance of user experience. He said, "Most B2B users have exactly the same expectations as they do when using a state-of the art B2C ecommerce marketplace. They are looking to have a great user experience which includes search engine functionality to find suitable products and solutions, quote capabilities, a shopping cart, and ultimately fast and straightforward provisioning of services by API integration. While this list seems obvious, the challenge is to offer this level of user experience across all products and services. Cloud is far more complex to sell given its heterogeneous nature."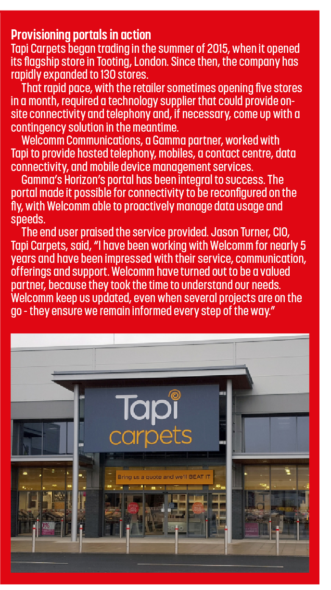 According to Dykes at Abzorb, a provisioning portal should be intuitive with the ability to support channel partners to simplify business with both the vendor and their customers. He said, "Our portal enables our channel partners to quote, provision, order, manage, and bill their customers. It also automates day to day tasks and sends alerts in real time. We strive to simplify mobile and unified communications by delivering end to end solutions to partners through the single portal.
"A portal should not only be about facilitating the commercials between the channel partner and their customers but also to provide support from the vendor. Our portal offers total support including sales, marketing, training, and a learning zone complete with guides and videos to educate and assist partners."
APIs are another important element for Dykes as this is often the only viable way for different technologies and applications to talk to each other seamlessly. He added, "Our portal is API enabled which delivers flexibility to channel partners presenting them with the options to either use Abzorb's portal or develop their own and then integrate into ours."
Merrills meanwhile thinks a portal that can deliver on both functionality and ease of use is paramount for today's resellers. "Most resellers will have multiple departments utilising a portal to achieve different goals. A well-designed portal should provide tools, information, provisioning and support and allow customers to truly make self-service a reality."
For Lee Broxson, CSO, Jola, a good mobile data provisioning portal gives control and visibility to manage global SIM estates in real-time. He explained, "[Provisioning portals give you] control you can even extend to your customers. A portal you can white label as your own is great, to build your own brand. One which communicates with multiple networks in real-time so resellers only need to contract with one supplier, but can order a wide range of options from all the major mobile networks."
He added, "A portal which allows you to make the changes your customers need instantly is helpful, such as activating a SIM, swapping a SIM, barring it, changing its tariff, adding a bolt-on or ceasing it. These things need to be done quickly and resellers want the ability to complete them at the touch of a button. Real-time data visibility is useful as is reporting and alerts so resellers have the chance to take action before their customer is billed data overage charges."
In flux
The pandemic has changed things is numerous ways. Perhaps most significantly, with working from home and flexible working practices now more common the working landscape has changed immeasurably. Bryan at Zest4, explained, "The enterprise edge is no longer a bricks and mortar building. Businesses need to track usage of their employees, and employees want to know that they're operating securely from wherever they are. We've seen an uplift in usage across all our portals as business owners seek to keep their teams on track through working remotely.
"From our operational point of view, we've increased our partner base significantly throughout the last year, and yet overall calls in and tickets raised haven't increased as Partners and end-users access information through our portals."
Gourmelen, from Arrow's enterprise computing solutions business, who emphasised the role provisioning portals have played in encouraging cloud adoption throughout the pandemic. He said, "The pandemic has been a catalyst for organisations to accelerate their digital transformation journeys. Cloud brokerage platforms, such as ArrowSphere are acting as an amplifier for channel partners."
Agility is key in today's world for Abzorb's Dykes. He said, "We have seen this from the pandemic that companies need to move with speed, there is no time to stand still. Therefore, it is essential to have provisioning portals that offer an end-to-end solution that is easy to use and saves the channel partner and customer time.
"The pandemic has transformed the workplace and employees will now work more remotely so accessibility to portals is vital wherever you are. Everyone needs to be able to access the portal and we would advise setting up permission-based access, for example only finance can access finance information to protect privacy and for security reasons.
"In this new world of work, education is important, and portals need to provide the necessary information and tools to educate and train channel partners. In our portal our partners can access tutorials via online workshops, guides, and videos."
Merrills at Zapappi, added, "Hybrid working once considered niche is now a baseline expectation. Resellers expect the same secure, user experience regardless of location and are now looking at collaboration tools as primary method to interact directly with customers."
Preparing for the future
Channel companies need to keep an ear to the ground to ensure they are prepared for how portals will evolve. User expectations and the capabilities of these platforms will continue to shift, and those that provide such portals will need to keep pace.
With advanced technologies playing an increasingly prominent role, portals are becoming smarter and more powerful. Zest4's Bryan noted, "AI and machine learning is all about getting into the skin of the user; understanding the journey they take and predicting what their next move is. In doing so, we increase our efficiencies creating portals that instinctively know what a user wants.
"We expect to use these technologies a lot more in the coming year, to make the workflow easier for our partners and their end-users."
Arrow's Gourmelen also pointed to the evolving possibilities presented by AI and ML advancements. He said, "Machine learning and artificial intelligence are already being integrated into modern digital platforms. Their application is of paramount importance, particularly for monitoring and intelligence around usage prediction, usage anomalies and security incidents, as well as an opportunity to upsell, for example, to recommend other products and services."
Similarly, Dykes said ML and AI are disrupting the market and will continue to do so. "Integrated into portals they will continue to simplify processes and deliver benefits such as saving both costs and time and overall delivering improvements in communication, efficiencies, and customer experience.
"Portals that are API enabled will have the ability to seamlessly integrate these technologies that will result in benefits for both the channel partners and end user customers."
In terms of what will come next, Bryan, from Zest4, pointed to increased user functionality alongside ease of use. She added, "At Zest4 we're planning on consolidating portals, bringing them together under one user login to make the process of usage simplified. [We] offer [our] partners a white-labelled end-user portal, [and] this puts our partners at a real advantage in the eyes of their customer bases."
In broad terms, these portals will simply become more powerful and more integrated with channel companies' services. Merrills, from Zapappi, said, "I expect to see deeper integrations with core services over the next few years. Customers expect to be able to get more real time information from their products and services, without having to interact with remote parties."
This feature appeared in our December 2021 print issue. You can read the magazine in full here.