Air-IT has announced key changes to its management team.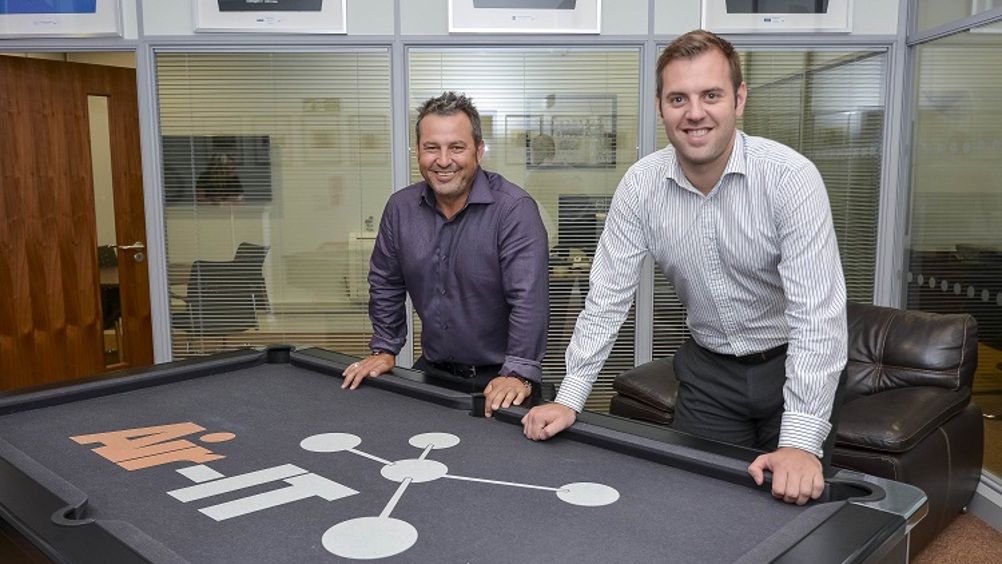 After 11 years, Founder and Managing Director, Todd McQuilkin is stepping up to a new position as CEO, and Technical Director, James Healey is taking over MD from 1st September, 2016. (Todd McQuilkin, CEO and new Managing Director, James Healey at Air-IT head offices are pictured here)
McQuilkin comments: "I am very proud of what we have achieved to date and James has been an integral part of that journey having been by my side every step of the way.
"We've experienced significant growth, consistently reporting over 20% increase year on year and to top it off in my final year, we're expecting an increase of 30% or more."
Air-IT was established in 2005 when McQuilkin invested a £20,000 redundancy payment from his previous position as Head of IT at Femcare Nikomed. Initially, the business operated out of residential cottages in Nuthall, Nottinghamshire, and Healey was recruited as the very first member of staff in a leading technical role. Since then he has quickly risen through the ranks before settling in to his position as Technical Director in 2011.
Despite humble beginnings, Air-IT has excelled during its first decade in business. In 2010, it relocated to commercial premises at Nottingham Business Park and in 2011, additional offices in Derby were secured providing further coverage of the East Midlands region.
In 2013, the business acquired local telecoms provider Managed Business Communications (MBC), enabling it to offer a full portfolio of IT and Communication services under one roof.
A year later, the company celebrated a host of prestigious business awards including the Nottinghamshire Chamber of Commerce Small Business of the Year and Best Use of Technology Awards, whilst McQuilkin went on to represent the East Midlands as Entrepreneur of the Year.
Most recently, Air-IT gained international recognition in the MSPmentor 501: 2016 Global Edition rankings. The listing placed them as the No.1 Managed Service Provider (MSP) in the East Midlands and 240th worldwide, having moved up 39 places from the year before.
The business now employs more than 40 full-time staff, manages over 400 clients with 97% retention and enjoys turnover in excess of £3M.
Regarding his plans for the future, Healey comments, "This is a very exciting time for Air-IT and I'm delighted to take on the position as MD.
"Having been on board since day one, I have seen the company experience significant change and high growth in an industry that's fast paced and always evolving.
As CEO, McQuilkin will continue to drive Air-IT's business strategy, working closely with employees to maintain its 95% staff retention rate. He will also be heading up a new venture under Air-MSP Consultancy, which is aimed at helping others in the ICT service industry benefit from operational improvements, by driving strategic innovation, and offering thought leadership.
McQuilkin explains: "Most service providers who see improvements in efficiency, customer service, and profitability, stall or fail. We'll provide the help and experience to put things right, and will help them to achieve world class performance, using lessons learnt in the real-world through our own experiences.
"With a clear vision for Air-IT and Air-MSP ready to launch, the time has now come for James to captain the ship and I can't wait to hand over the helm to a very capable young man."