Avaya has announced the opening of its new Customer Experience Centre (CEC) in Guildford. Built in collaboration with Avaya partners, Avaya has invested months of work to create fully immersive showcases that allow visitors to experience the very latest in digital and customer experience technologies. The CEC showcases act as a blank canvas for innovation and can help create highly bespoke, vertical-specific solutions for customers of any kind.

Ioan MacRae, UK Managing Director at Avaya, said, "The CEC has been designed to spark conversations with partners and customers around how we can help them create intelligent experiences and solve their customer journey and employee productivity challenges."
The CEC showcases illustrate how the latest artificial intelligence, cloud and communications technologies are enabling the very best in customer journeys and employee experiences. At the core of these demonstrations are Avaya's extensive contact centre and team engagement solutions. These operate via open platforms which integrate such advanced technologies as:
•sentiment analysis to identify potential customer dissatisfaction;
•voice-enabled virtual assistants to support natural language voice interactions and perform a range of tasks such as taking minutes, scheduling meetings and connecting participants into calls;
•real-time language translation to facilitate customer dialogues regardless of language;
•real-time speech analytics to instantly identify potential issues such as customer satisfaction, training and non-compliance; and
•integration with the back office to facilitate communication both externally with customers and internally in the organisation to facilitate First Contact Resolution and strong Net Promoter Scores.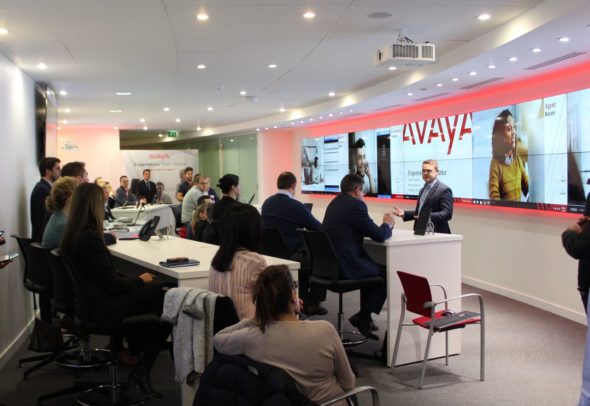 Ioan MacRae continued, "What differentiates the Avaya brand in the UK is the element of trust. From large enterprises and public sector organisations to small and medium businesses, Avaya contact centre and unified communications systems have been solid and strong for decades. Today, Avaya carries that trust to the next level, taking experiences to the digital age through open platforms that enable building the right solutions for specific problems.
"From that perspective, the Guildford CEC is a point of reference for all UK organisations to learn how they can take their customer and employee experiences to the next level. Together with Avaya R&D and innovation centres in Dublin, Galway and Leeds Beckett University, the opening of the Guildford CEC will help ensure that world-class innovation continues to thrive at within UK organisations."