South West Communications Group's engineering director Brian Lodge has completed a challenging mountain climb to raise funds for two local charities.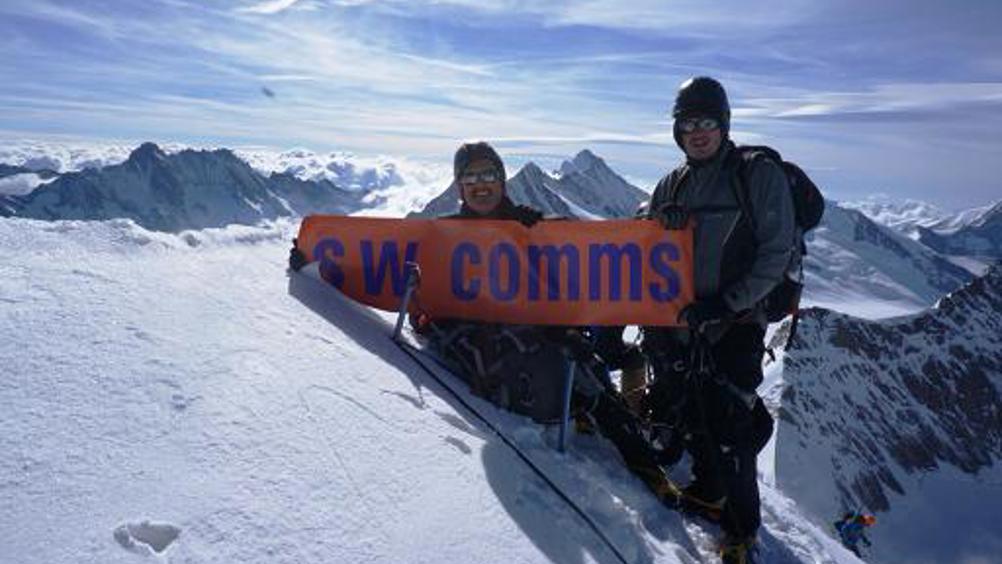 Brian was joined by his son Sam along with Greendale Farm Shop and Ladrum Bay Holiday Park owner Robin Carterand his daughter Joy for the expedition, which was originally destined for the top of Mont Blanc.
This plan had to be aborted when the mountain leaders deemed the conditions on Mont Blanc unsafe.
"After hours of climbing in the dark with head torches one morning, we hit a new crevasse and ice wall at around 4000m which had not been there previously. We could not cross, so had to turn around," recalled Brian. "I fell on the way and practised self arrest technique with my ice axe as learned in training; clearly it pays. We ended up climbing along a rock ridge on the way back with a 3,500m drop on one side. I was genuinely scared to death."
Attention then turned to Mönch, which is one of a group of three mountains including the Eiger and Jungfrau in the Alps, with its summit measuring 4,100 metres.
Brian said: "Mönch was described to us as less plod and more technical. We needed to be confident in exposure at height as the summit was approached by a one-foot wide ridge at over 4km high. Each of us was roped to two mountain leaders just in case."
The team endured rising as early as 2.30am on climbing days to acclimatise themselves to the conditions and to put in some frightening preparations for the final climb.
Brian has been on two other mountaineering expeditions, to the Himalayas and Kilimanjaro, in the last two years but this time decided to rope in his son.
He said: "It was the ultimate father-son bonding trip and a win-win scenario for me, as we also got to raise money for two charities that truly change people's lives."
The Exeter Foundation raises funds for a number of charities in the city while The C Group supports wounded Royal Marines. Brian and Sam have raised £840 towards their £1,000 target.
If you would like to congratulate them for their efforts by making a donation, please go to: http://uk.virginmoneygiving.com/team/montblanc2014