Brother UK has launched a new hardware-as-a-service platform called Managed Label Service (MLS) that it says will help resellers capitalise on the growing market for label printers. MLS provides a complete labelling solution in a single package, including software, accessories, servicing and tech support. This enables businesses to start selling online or make their delivery function more efficient, without a big upfront investment.
Reseller partners can use the platform to provide customers with a subscription for labelling devices, giving businesses the option to spread the upfront cost of new Brother label printers, third party hardware, software, services and supplies over an affordable monthly payment plan.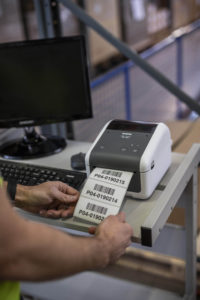 Ged Cairns, head of auto ID business unit at Brother UK, said, "We're always looking for ways to support our resellers as they work to break and expand into new markets. Online sales surged during lockdown and the elevated levels that we see now will continue post-pandemic. Retailers are investing in technology as they reshape their business models and make their logistics operations as efficient as possible. But they are also experiencing pressure on their cashflow, and MLS can enable them to have the latest labelling solution, with no large upfront cost and a predictable monthly payment instead.
"Resellers get their entire payment up front and Brother can support them in using the platform and throughout the sales process. This service will enable them to provide their customers with flexible payment options at a time when many are making significant changes to how their businesses operate."
Brother offers a portfolio of thermal printers, with products covering an extensive range of applications, including receipts and shipping labels. The TJ series of industrial barcode label printer offers up to 300 dpi resolution for clear text and barcodes, whereas the TD series of desktop printers is designed for high-volume, low-cost labelling, using direct thermal or thermal transfer technology.
For mobile printing, PocketJet printers into briefcases and laptop bags, supporting flexible ways of working. In addition, the lightweight yet tough RuggedJet range of mobile printers produce receipts, quotes and labels, with IP54 certification ensuring durability and a free three-year warranty as standard across the range.