We are delighted to announce a new date for our webinar with BT Wholesale looking at how the channel can capitalise on the FTTP opportunity. This will be held at 16:00 BST on Wednesday 21st October.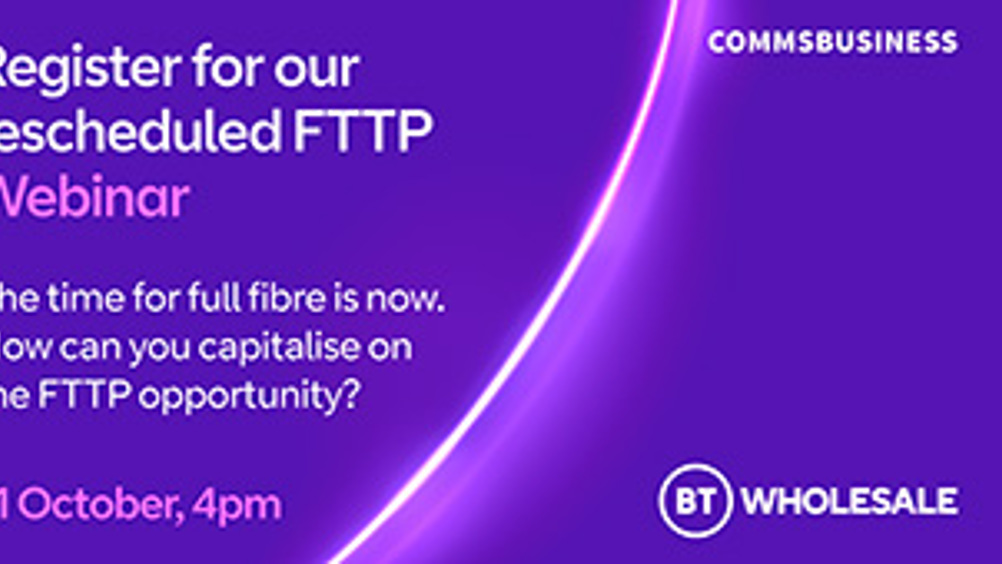 This webinar was initially scheduled for earlier this week but, owing to technical difficulties with our webinar platform provider, we were unable to host the session as planned.
Comms Business apologises again for the inconvenience this caused for the many attendees waiting for the webinar to start. This is not the level of service we are used to delivering and we have been in discussions with our platform provider to ensure this situation does not happen again in the future.
We wanted to make clear this issue related only to a software provider used by Comms Business, and was not due to a service or solution provided by BT Wholesale or Megabuyte.
If you signed up for the previous session, you will be automatically registered for this event and will be sent a link to join the webinar. If you would like to join us but haven't yet registered, please sign up here.
The webinar will examine why, with the 2025 PSTN switch-off fast approaching and digital transformation growing, the need for full fibre access solutions is more important than ever.
Philip Carse, chief analyst at Megabuyte will share the latest insights on the changing connectivity landscape and the role Fibre to the Premises (FTTP) has to play in this.
Philip will be joined by Paul Beacham (pictured above), senior manager for data networking at BT, to discuss the full fibre opportunity and how BT Wholesale can help the Channel capitalise on this with their latest FTTP developments.
The webinar will cover:
The potential market opportunity of FTTP and how to maximise this

The importance of FTTP in the transition to all-IP

The latest FTTP product evolution

Is FTTP the solution for Digital Britain?

BT Wholesale's full fibre roadmap
Register now on this link.