UK company Digital Field Solutions, has developed an app that enables businesses to create their own mobile forms that can also capture and convert handwriting to text. The innovative 'Formworks' iPad app has the potential to cut data processing time in half while freeing up field staff to focus on their core task.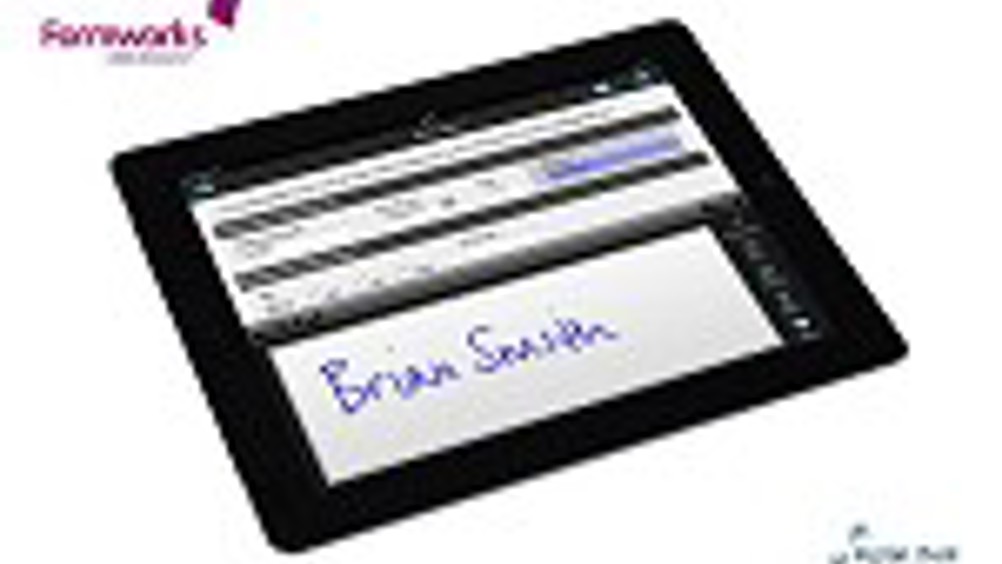 "We developed Formworks to make the data collection process more efficient for every business or organisation that needs to capture information remotely," explains Director Tim Howard. "We found that many data capture products were fiddly to use and actually made life more difficult for the user. We wanted to design electronic forms that are even simpler to use and more efficient than paper forms, and with its intuitive handwriting recognition technology we are confident that Formworks delivers on that goal."
Formworks gives organisations greater control over their data capture process in a fraction of the time it takes to use traditional pen and paper, making it easier for sales and field staff to record information and have it authorised on the spot. It reduces the potential for errors and allows everything from estimates and quotes to orders and claims to be processed quicker.
"Formworks uses simple drag and drop tools with easy navigation in a familiar web-based environment so it is really easy to create your own customised forms in minutes, and with minimal training – no programming is required," continues Tim. Forms can be personalised with the company logo and include the option of typing or writing using the best handwriting recognition technology available. They can also be updated remotely by an administrator to ensure everyone can instantly use the correct and up-to-date form, even while on the move.
Field workers are often a company's most valuable asset, and Formworks has been specifically designed to make their life easier and their time more productive. It can be used by anyone who collects and records important information remotely and securely, including: sales reps, surveyors, health professionals, social workers, claims handlers and site inspectors to name but a few.
Using Formworks will save time and cut errors by reducing the amount of manual data re-keying. For example, existing client information can be automatically added to the form prior to the visit, and once a form has been completed the field worker simply uploads it to a central server where it is output directly to the company's own database or forwarded wherever required in an email as a PDF report, spreadsheet or XML file.
In most cases Formworks can completely eliminate the need for paper forms as it allows users to upload text, photographs, drawings and handwritten signatures straight into their office system. It is not only sustainable, it is secure too: information captured via the Formworks app is processed on the Digital Field Solutions server and immediately outputted to the client. The forms are password protected and all information is automatically deleted from the iPad once it has been sent to the office. In addition, administrators can remove users remotely and block their access to the system at any time. Updating electronic forms is also much quicker than updating paper forms, as field staff can automatically receive updates from head office direct to their iPad while on the move.