Resellers from across the country went back to the classroom with Nimans to learn more about Unify's OpenScape Business SMB Unified Comms platform – and discover how the growing impact of UC is set to accelerate even further.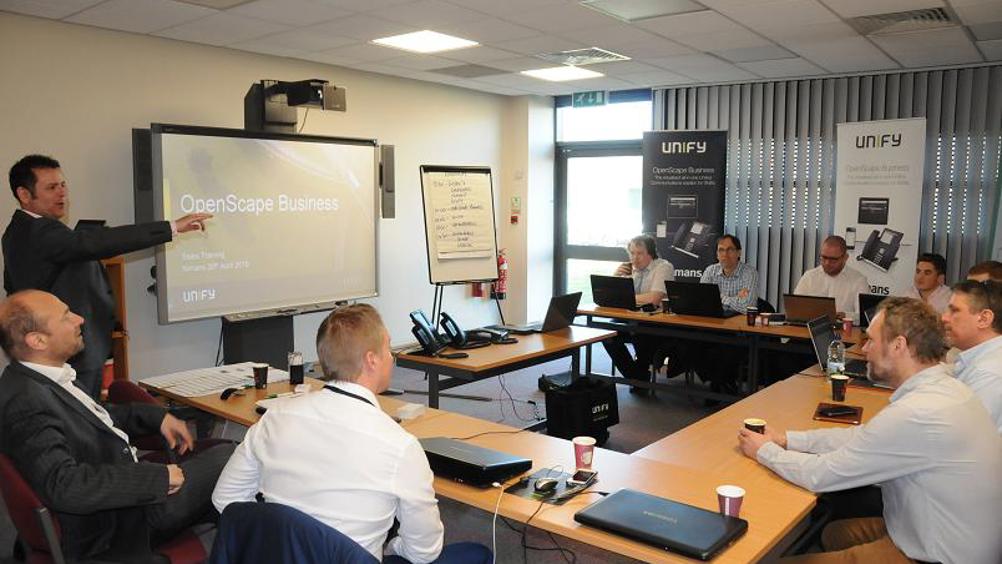 Attendees travelled from as far as Aberdeen to Nimans' Manchester headquarters for the distributor's first-ever OpenScape Business sales training course. The day-long event ended with an exam where resellers earned official Unify certified expert status.
Stuart Trigg, Unify's UK Distribution Account Manager, explained how UC is playing a growing influence on the global comms stage – with 80% of SMB's currently implementing or planning to implement a more cohesive comms strategy.
He explained how UC provides the opportunity to improve team collaboration, enhance customer service and increase mobility. "It's important to understand customer pain points and look at why UC could be the answer," Stuart highlighted. "Interest is growing on a massive scale."
Configurations, networking and deployment, solution manageability, sales support and also hardware and licensing were all on the agenda supported by system demonstrations of OpenScape Business, an award-winning all-in-one UC and voice solution for up to 1,500 users.
"It's been very good. From my perspective it's been a good refresher but my colleague who is relatively new to telecoms found it extremely worthwhile providing a valuable knowledge and confidence boost," said one Telford-based reseller.
"OpenScape Business is easily upgradeable. I also like how Unify is looking after the installer base and there's a nice migration path for people on older systems looking to upgrade to the latest technologies."